Loup Ventures: Detroit Auto Show Strengthens AV Timeline, Inspires Confidence In Motor City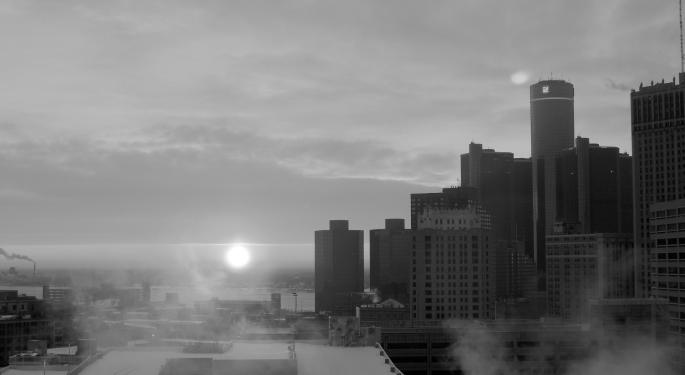 Loup Ventures wagers the future lies in autonomous and electric vehicles, but it's certain that future is further off than most expect.
The North American International Auto Show only reaffirmed this thesis.
"It's almost as though, as far as autonomous systems, we've built like 90 percent of the way there, and the last 10 percent to actually make them suitable for mass adoption is going to take just as long if not longer than the process leading up to where we are now, it seems," Loup Ventures analyst Will Thompson told Benzinga.
'Infinite' Number Of Tasks Ahead
Between regulation, infrastructure development and OEM-startup negotiations, mass adoption of AVs and EVs might take a while.
"There are an infinite number of things that have to happen that are seemingly so small but it's a problem that gets blown up to as big as you can imagine," Thompson said.
The minutiae are nearly inconceivable. From V2X — vehicle to anything — technology to the mimicry of human instinct and emotion in self-driving software, mobility players are still finding new solutions and new problems.
"Some of the companies are working on something so nuanced that I didn't even think about," Thompson said.
Old Dogs Are Learning New Tricks
The NAIAS also inspired confidence in Detroit's committment to new technology. Loup discovered a stronger pulse in the Motor City — a presence of EV and autonomy indicative of "times shifting."
"If there was any doubt that Detroit is on board with the changes that are going on, I think not only are they on board, they're going to drive those changes going forward," Thompson said. " ... As far as Silicon Valley being the leaders in electric and autonomy, most of the self-driving startups are coming out of there, but Detroit really is the hub for mobility, just because all the OEMs are located here and that's who's going to ultimately make all the changes."
In fact, the development of AV and EV themes is seen to hinge on their participation.
"The technology's not going to move forward if only a few OEMs get in," Thompson said. "It's not 'innovate or perish' like it was when the smartphone came about and you just had to get on mobile or your business was going away. For a company like Ford or GM, it almost seems like they drive it more than having the possibility of being left behind by it."
The timeline seems to lie with the OEMs, and Loup said developments could accelerate if the automakers worked with a little more haste and focus.
"The pace of change would quicken if they would end their obsession with model years and incremental, annual updates and focus on wholesale changes to their business," Loup managing partner Gene Munster said in a Friday note.
Related Links:
Ford Maintains Fleet Sales As GM, Fiat Chrysler Scale Back
NAIAS 2018: VW Works To Earn Back Trust; Toyota, Ram Introduce New Models
Posted-In: Loup Ventures NAIASAnalyst Color News Events Top Stories Interview General Best of Benzinga
View Comments and Join the Discussion!