Mama Don't Take My KODAKCoin Away: What Photographers And Crypto Experts Think Of Eastman Kodak's ICO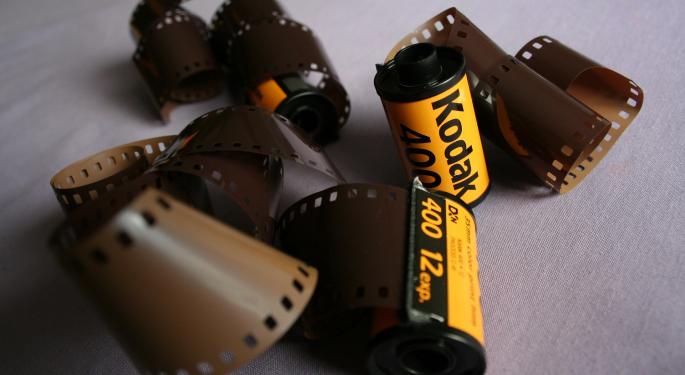 Life as a 21st-century artist ain't easy.
"So many photographers are hesitant to post things online because all you have to do is copy and paste," Jessica Dietz, a Detroit photographer and instructor at Oakland Community College's Photography Lab, told Benzinga. "It's a huge problem. You can put in the metadata of the file that this is your image, but it doesn't necessarily mean users will follow that, and it's very hard to police."
Eastman Kodak Company Common New (NYSE: KODK) is trying to toss the "starving artist" community a bone.
The firm announced Tuesday the upcoming launch of KODAKOne, an image rights management platform to facilitate licensing sales with signature cryptocurrency; monitor IP use across the web; and enforce payment of unlicensed content. The KODAKCoin "allows participating photographers to take part in a new economy for photography, receive payment for licensing their work immediately upon sale, and sell their work confidently on a secure blockchain platform."
'It's A Good Thing'
The new technology is meant to improve the photo-tracking process and accountability among licensers.
"I think helping with the image rights and managing so photos can't be used [without authorization] is good," Marc Dixon, agent at Vertical Reps in Bloomfield Hills, Mich., told Benzinga. "The web use of imagery has always been a difficult thing for us, because anybody can pull things off a site, and to track it down and personally monitor use is difficult."
Joe Gall, a Detroit photographer known colloquially as "Camera Jesus," agrees.
"I think it's a step in the right direction now that so much unique content is created daily and just uploaded to the web," Gall said. "As a photographer, it's easy to be taken advantage of as potential clients use our work without proper licensing. I would be very interested to see where my work is being used without my knowledge."
The Drawbacks
But whether it's the right solution is hard to tell.
"I love the aspect of paying for the KODAKOne protection because they're going to be searching for companies or individuals using your image without permission, but the paying for it part is where I'm not sure," Dietz said.
Dietz is wary of the auto payment process, which could open photos for unwanted applications. For example, a photographer may find their photos licensed by organizations with missions they don't support.
"If someone uses the photo, pays for it with this currency, then they have the right to use it, but they might not use it in a manner where I would have approved," Dietz said. "If you're selling it directly or through a stock warehouse, you have more control over it."
For now, though, the platform's got a tentative seal of approval from the target market.
"A searchlight looking for infractions is a valuable resource," Dietz said. "I think it would be adopted, and as far as what I read today, I would recommend it."
It's Good, But How Good?
So experts concede potential for KODAKOne, but not necessarily to the degree Wall Street expects.
"I don't know that it justifies a 300-percent increase in stock price, but I think it's good for the industry," Dixon said.
Kodak is up 242 percent since announcing the technology earlier this week, and even CEO Jeff Clarke said the Street's overreacting.
"This doesn't change the fundamentals in a way that means the stock should double," Clarke told Barron's, despite affirming his commitment to blockchain.
Just Another Buzzword Bust?
Bloomberg columnist Matt Levine criticized the announcement, saying the solution Kodak's proposed — a database, web policer and marketplace — can easily exist apart from blockchain.
"You certainly don't need your own currency to do that; lots of markets -- the stock market, the supermarket, the existing market for photographic licensing -- run on dollars, and what is convenient about dollars is that if you get dollars for licensing your photographs you can spend them at the supermarket," Levine wrote Wednesday.
By his consideration, Kodak is just another market struggler capitalizing on the vague blockchain buzzword.
'A Really Smart Move'
But Kris Nelson, COO of the blockchain-leveraging Social Reality Inc (NASDAQ: SRAX), disagrees. Nelson considers Kodak's foray into blockchain neither casual nor unusual. Rather, it's "fantastic."
"I think digital rights management is a fantastic use for the blockchain," Nelson said. "It's probably up in my top three for blockchain use cases. What you're looking at for blockchain is a completely secure record or asset management system. When you add in the layer of digital rights, you can encode into them the actual blockchain IDs...you can create the tokenization of digital assets, and not only do you have a very efficient record and management system but a very efficient payment system."
Nelson said the timeline to truly integrate blockchain may bleed into next year, depending on Kodak's technology foundations, but the investment is ultimately productive.
"I think a company like Kodak, though, it's a really smart move and great application of the technology," he said. "I don't see this as something like Long Island Iced Tea making an announcement to get attention. This is what the technology should be used for."
Jim Angel, cryptocurrency expert and associate professor of finance at Georgetown University, agreed that Kodak's blockchain interest makes sense, as the application for intellectual property protection has long been discussed.
Take The Blockchain, Leave The Crypto
But the technical methods of pirate surveillance and enforcement are yet unproven, and the adoption of cryptocurrency doesn't seem entirely justified, Angel said.
"The notion of prepaying with the coin to use the photographs later sounds rather dodgy to me," Angel said. "It's one thing to directly buy the rights to something. To speculate on the fact that I might want to buy a picture later, I'm not quite sure how to value such a coin. So it looks to me like they're taking advantage of the crypto coin craze."
And that merits caution.
"All of these coins are in a very murky regulatory area and given the fact that it's such a new area and appropriate disclosure is not necessarily available, that means the buyer needs to beware," Angel said.
Will Exclusivity Limit Growth?
Uncertainty in the cryptocurrency market leads some to believe Kodak may run into problems drawing funds into its system.
Levine criticized the inaccessibility of KODAKCoins, the standard of transaction on the KODAKOne platform. According to Securities and Exchange Commission rules around 506(c) private placements, only accredited investors — millionaires or people with $200,000 in income — can participate in Kodak's initial coin offering.
This excludes a significant portion of the population from KODAKCoin ownership and the KODAKOne economy.
Additionally, photographers may be resistant to participate considering the lack of guarantee that they will ever be able to cash in payments. The SEC has warned private-placement securities investors that they "should expect to hold the securities indefinitely."
Blockchain's Blessing
But the Street's excited nonetheless, and Kodak boasts the blessing of both the photography and blockchain communities.
"The KodakOne ICO is very compelling and fills the need for managing and monetizing digital assets globally," Shidan Gouran, president of Global Blockchain, said in a press release. "Given the size of the marketplace, the people involved and technology partnership, this has the opportunity to be a very large and active community. Our deep industry roots and relationships have allowed us access this new ICO in short order, one of the first involving a significant brand name issuer that is widely recognized by the public."
The firm will supplement its blockchain business with a coin mining operation and branded bitcoin mining hardware, the "KashMiner," which will be rentable by the public.
View Comments and Join the Discussion!
Posted-In: BlockchainAnalyst Color Cryptocurrency News Top Stories Exclusives Tech Interview Best of Benzinga