A Strategy That Beat The S&P 500: Here Are Your 2018 'Dogs Of The Dow'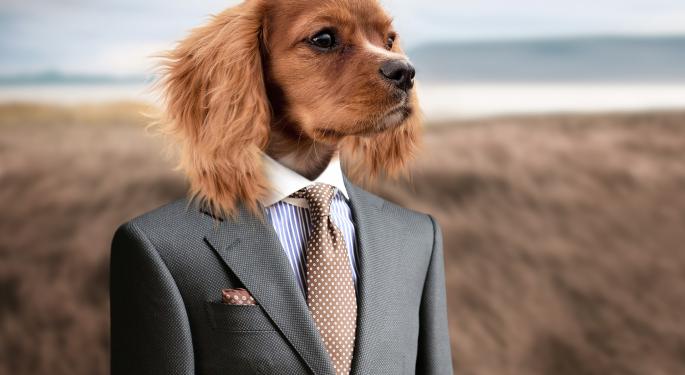 Blue-chip averages carved out mouth-watering gains in 2017, thanks to a favorable macroeconomic milieu and still-accommodative monetary policy environment.
The S&P 500 Index, a broader gauge, added 19.42 percent for the year, while the more narrow Dow Industrial Average advanced 25.08 percent. The tech-weighted Nasdaq Composite Index gained 28.24 percent.
Finding value in an overbought market is tough, and a trading strategy called the "dogs of the Dow" has shown to be a safer bet for picking stocks that can consistently beat the total market return.
A Dividend-Based Strategy
The investment strategy by money manager Michael O'Higgins chooses 10 of the 30 components of the Dow Industrial Average.
The 10 stocks are picked after the last trading day of the year and are the 10 Dow stocks with the highest dividend yields.
A dividend yield is the dividend divided by the current stock price and expressed as a percentage.
To follow the strategy, traders invest equal amounts in each of the 10 stocks on the first trading day of the new year and hold them in a portfolio until the end of the year. This process is repeated at the beginning of each year.
The dogs of the Dow method is a long-term trading strategy.
See also: The Companies That Led 2017's Biotech Rally
2017: A Good Year For Dogs
The Dow dogs outperformed the S&P 500 in 2017, with the average total return of the former being 23.67 percent compared to 21.83 percent for the index, Bank of America Merrill Lynch analyst Stephen Suttmeier said in a recent note.
The stocks have performed well relative to the S&P 500 since 2001. IIf the Dow Jones High Yield Select 10 Total Return Index is taken as a proxy for the dogs of the Dow, their average annual return since 2001 has been 10.10 percent compared to 7.98 percent for the S&P 500 Index, Suttmeier said.
2017 Dogs With Positive Returns
Of these, Boeing, Caterpillar and Cisco outperformed the S&P 500 Index.
2017 Dogs With Negative Returns
Exxon Mobil Corporation (NYSE: XOM)
International Business Machines Corp. (NYSE: IBM)
Merck & Co., Inc. (NYSE: MRK)

And the most interesting list: this year's dogs.
BofA's Dogs Of The Dow In 2018
Chevron
Cisco Systems
Coca-Cola
Exxon Mobil
General Electric
IBM
Merck
Pfizer
Procter & Gamble
Verizon
For passive investors, some ETFs and ETNs offer exposure to these 10 stocks. They include:
Deutsche Bank AG ELEMENTS Dogs of the Dow Total Return Index Note ELEMENTS Dogs of the
ALPS ETF Trust (NYSE: SDOG)
iShares Trust (NYSE: HDV)
First Trust Morningstar Divid Ledr (ETF) (NYSE: FDL)
Vanguard Telecommunication Services ETF (NYSE: VOX)
Related Link:
View Comments and Join the Discussion!
Posted-In: Bank of America Merrill Lynch Dow Jones Industrial Average Michael O'Higgins NASDAQAnalyst Color Education Analyst Ratings Trading Ideas Best of Benzinga