Commodity, Currency, Security, Or Scam: What Type Of Asset Do You Think Bitcoin Is?
Bitcoin has been one of the hottest investments on Wall Street in 2017. But with the price of bitcoin up more than 1,600 percent and the Bitcoin Investment Trust (OTC: GBTC) up 1,610 percent year-to-date, bitcoin remains one of the most polarizing investments out there.
Investors not only disagree on where the price of bitcoin is headed next, regulators and market experts can't even agree on what exactly bitcoin is.
The Bitcoin Dilemma
In the recent special bitcoin episode of Benzinga PreMarket Prep, Joe Saluzzi, partner and co-founder of Themis Trading, discussed the dilemma facing bitcoin investors and regulators.
"I think one of the reasons regulators are struggling here is they don't know what it is," Saluzzi said. "They don't know how to classify bitcoin. For instance, the CFTC may have said it is a commodity, but the SEC is leaning more toward a security. If it's a security, then it must be regulated like a security."
Related Link: Does Bitcoin Actually Hold Any Value At All?
What Is Bitcoin?
Bitcoin has certain characteristics that are similar to typical commodities, such as gold. Some argue bitcoin is useful and holds inherent value, which could make it a commodity. It also trades on the futures market, like other commodities. However, others argue bitcoin's only value is in the minds of its buyers, since the digital currency is merely a series of 1s and 0s.
Bitcoin also meets some requirements of the standard definition of a currency. Bitcoin is certainly a medium of value exchange, but it is not backed by a government and its volatile swings in value are certainly atypical for a currency.
Some argue that bitcoin is a security, or an investment contract with implicit or explicit ownership terms. Cryptocurrencies are often discussed in terms of their market capitalizations, and dozens of new currencies have raised funding via initial coin offerings, similar to the manner in which companies go public. However, bitcoin is not an entity that produces goods or services and it does not generate revenue like a company.
Traders Weigh In
Benzinga recently took to Twitter to ask traders and market enthusiasts how bitcoin should be classified.
As expected, there was no majority response. More people see bitcoin as a commodity (41 percent) than a currency (36 percent) or a security (23 percent), but opinions are clearly divided on the subject.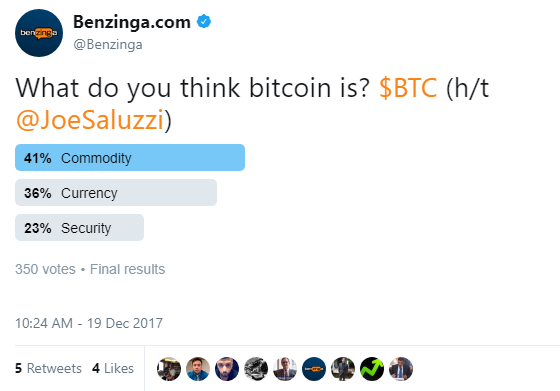 Is Bitcoin…Nothing?
In addition to the mixed poll results, many of the comments on the poll called for a fourth option for how bitcoin should be classified—as a scam.
Some high-profile bitcoin skeptics have questioned whether or not bitcoin holds any value or utility at all. Berkshire Hathaway Inc. (NYSE: BRK-A) CEO Warren Buffett famously called bitcoin a "mirage," and JPMorgan Chase & Co. (NYSE: JPM) CEO Jamie Dimon called the cryptocurrency a "fraud."
Bitcoin Is Dangerous
Saluzzi said regulators must first determine exactly how to classify bitcoin before taking measures to regulate it. In the meantime, he said an unregulated bitcoin market is a huge risk for investors.
"I think derivatives on top of a spot market which no one knows what it is is an extremely dangerous thing," Saluzzi said.
Kris Nelson, COO of Social Reality Inc (NASDAQ: SRAX), said one of the major stumbling blocks for regulators in classifying cryptocurrencies is the sheer number of them out there and the fact that they all have unique functions.
"Some of them function like securities, some of them function like commodities, some of them function like products," Nelson said. "Governments trying to wrap their arms around this is a huge task."
Related Link: Peter Schiff Says Bitcoin Is 'The Biggest Bubble I Have Ever Seen'
Bitcoin Is Everyone's Problem
Until regulators get some form of oversight in place for bitcoin and other cryptocurrencies, they will likely continue to grow unchecked as they become more widely adopted and market exuberance spreads. However, the larger the bitcoin market grows, the more of a threat it could potentially provide to the global financial system. Earlier this month, Deutsche Bank listed a crash in the price of bitcoin among a handful of significant risks to the stock market in 2018.
Want to hear more from the PreMarket Prep Bitcoin Special? Click the play button below to purchase the full 90-minute show. A preview is also available above the play button.
PreMarket Prep is a daily trading ideas show hosted by former floor trader Joel Elconin and prop trader Dennis Dick. You can listen to the show live and participate in our chatroom every day from 8-9 a.m. ET here. The show is also available on YouTube Live. The podcast is available on iTunes, Soundcloud, and Stitcher.
View Comments and Join the Discussion!
Posted-In: Analyst Color Cryptocurrency Fintech Education Specialty ETFs Commodities Forex Top Stories Best of Benzinga