A Proxy Fight With Marcato Isn't A Good Enough Reason To Buy Deckers Outdoor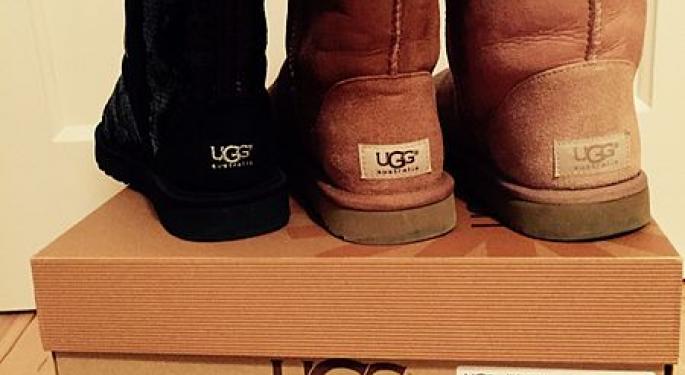 Susquehanna Financial Group believes the proxy fight Marcato is waging with Deckers Outdoor Corp (NYSE: DECK) will come to naught. The firm is of the view that Deckers' struggles will continue irrespective of whether Marcato added some of its chosen people to the company's board.
As such, the firm downgraded the shares of Deckers Outdoor from Neutral to Negative and lowered its price target from $57 to $55.
At the time of writing, shares of Deckers Outdoor were sliding 2.93 percent to $63.90.
Marcato Capital, which owns about a 6.1 percent stake in Deckers, nominated a full slate of directors to the board of the latter in mid-September following its February communication, seeking a strategic review.
Marcato's plan revealed at the Sohn Conference in San Francisco outlined a path toward $12.68 per share in earnings by 2021 and a stock value of $135-$158 by March 2021. Other parts of the plan include:
Revenue at UGG business growing at a CAGR of 2.6 percent.
800 basis point EBIT margin expansion from 2018 to 2021.
$460 million in proceeds from the sale of non-core assets.
Reduction in outstanding shares by one-half.
Rationalization of the UGG retail footprint, and retail margin expansion of 700 basis points from 2018 to 2021.
$150 million to $200 million in cost savings, driving 500 basis point-expansion in EBIT margin from 2018 to 2021.
See also: Deckers Channel Checkers Bring Good Tidings For Key Season
Analyst Sam Posersaid he believes Marcato's plan to drive shareholder value at Deckers is completely unrealistic. The plan, according to the analyst, highlighted Marcato's lack of understanding of consumer retail and the fleeting possibility that any of Deckers' brand will be sold.
The analyst said Marcato's valuations for Teva, Sanuk and HOKA are rich, and that Deckers' value today is much lower than what is implied by Marcato's assumptions.

Susquehanna clarified that its $55 price target reflected an 80 percent probability of the stock slipping to $46 and status quo remains, irrespective of who joins the board. The price target also reflects a 20 percent chance that Marcato's plan is put in place and the stock can hit $100 by March 2019.
The firm also said the stock's current price reflected a 45 percent chance the stock hits $100 and a 55 percent chance it reaches $46.
The firm sees the fiscal second quarter 2018 earnings scheduled for Oct. 25 and the board meeting due on Dec. 14 as catalysts.
__________
Image Credit: By Petrab1 (Own work) [CC BY-SA 4.0 (https://creativecommons.org/licenses/by-sa/4.0)], via Wikimedia Commons
Posted-In: Analyst Color Short Ideas Downgrades Hedge Funds Price Target Analyst Ratings Trading Ideas General Best of Benzinga
View Comments and Join the Discussion!