The History Between Deckers And Marcato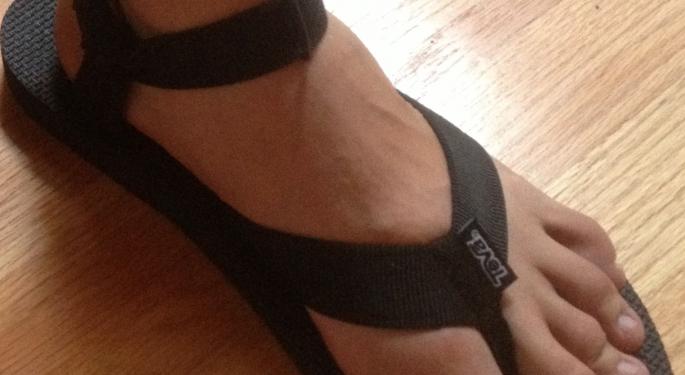 Publicly, the battle between Deckers Outdoor Corp (NYSE: DECK) and Marcato Capital Management is nascent, the blows sparse. By official records, engagement began in February.
But privately, the firms have been feuding for more than a year. Deckers' Friday proxy filing reveals a lengthy, persistent affair, during which time Marcato and other activist investors called for a board shakeup, brand divestiture, retail closures and the realignment of executive incentives with shareholder returns.
Here is a non-exhaustive timeline of the firms' most notable exchanges:
Aug. 17, 2016: Marcato representatives met with Deckers CEO Dave Powers to discuss retail strategy and company outlook.
Nov. 6, 2016: The firms met to discuss quarterly results.
Feb. 8: Marcato's 13D filing revealed a 6.1-percent stake in Deckers and an intention to influence leadership.
Feb. 21: Marcato sent Deckers a letter pressing for a review of strategic alternatives, leveraging a board shakeup as penalty for unresponsiveness.
March 15-16: Deckers' board met to review Marcato's requests.
April 25: Deckers announced its initiation of a strategic review and plans to improve profitability, including the restructuring of corporate overhead expenses.
June 21: Marcato sent a letter to the board requesting the appointment of two new directors, including a Marcato representative. Deckers rejected the proposal the following week.
June 27: Marcato sent a letter to the board questioning the firm's transparency and long-term profitability. Deckers told Benzinga it would continue on its course to conduct a strategic review.
Aug. 4: Marcato submitted a settlement proposing the addition of two board members, brand divestiture, $500 million in share repurchasing and the hiring of a management consultant for cost-cutting advice. Deckers rejected the offer.
Aug. 30: Deckers replaced chairman Angel Martinez with director John Gibbons.
Sept. 13: Marcato nominated 10 candidates to replace the entire board. Deckers began reviewing nominees but affirmed its confidence in the existing board roster. Two weeks later, management decided not to recommend any Marcato candidates.
Oct. 5: The board proposed the addition of three Marcato nominees, which Marcato rejected in favor of replacing a board majority.
Oct. 6: Deckers' proxy filing urged investors to vote down all 10 Marcato candidates in the Dec. 14 election.
Some expect an impressive climax at Deckers' annual shareholder meeting.
"Based on the parties' inability to reach an agreeable settlement that does not involve Marcato taking majority control of the Board, it increasingly appears as though a proxy contest at the annual meeting on December 14 is likely," Baird Equity Research analyst Jonathan Komp wrote in a Tuesday note.
With uncertainty around Marcato's case, Baird issued a Neutral rating on Deckers with a $67 price target. At the time of publication, the stock was trading up 1.3 percent at a rate of $71.96.
Related Links:
Deckers Channel Checkers Bring Good Tidings For Key Season
Deckers Outdoor Potential M&A: From Rumor To Reality
__________
Image Credit: By JVO27 - Own work, CC BY-SA 4.0, via Wikimedia Commons
View Comments and Join the Discussion!
Posted-In: Baird Equity Dave Powers Jonathan Komp Marcato Capital ManagementAnalyst Color News Price Target Analyst Ratings Best of Benzinga