Auto Sales Ramp Up In September Buoyed By Labor Day Boost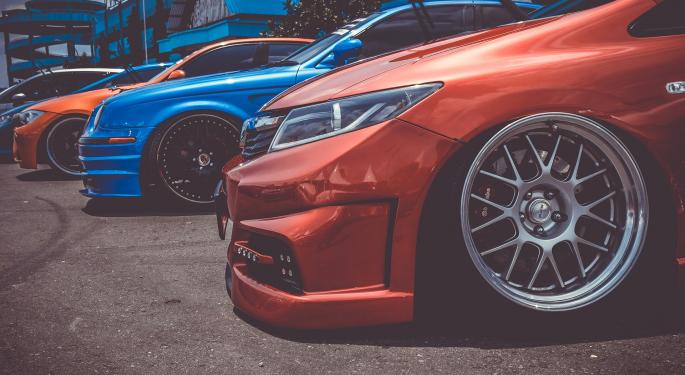 Thanks to copious incentives, the Labor Day boost and the recovery following the recent hurricanes, auto sales were higher all around in September. Detroit's Big Three had a fairly strong month, with even Fiat Chrysler Automobiles NV (NYSE: FCAU) reporting a small increase in its retail sales, which accounted for 84 percent of the total sales.
This followed a decent August, which saw a modest recovery after a seven-month lean run.
September had one more selling day in 2017 than in 2016.
"The auto industry showed renewed strength in September, bringing optimism for a third consecutive year with sales topping 17 million new vehicles," said Jack Hollis, group vice president and general manager, Toyota Motor Corp (ADR) (NYSE: TM) division.
However, all were not that optimistic, with J.D. Power suggesting, based on data collected during the first 19 selling days of September, that total light-vehicle sales would have reached 1.433 million units in September, down 4 percent from a year ago, despite having one additional selling day.
Industry Views
Forecaster Edmunds predicted new car and truck sales of 1,435,375 in September, which translated to a seasonally adjusted annual rate, or SAAR, of 17.5 million units. The SAAR represented the highest thus far in 2017, ahead of the 17.3 million-pace seen in January and February.
On a year-over-year basis, vehicle sales were up an estimated 0.4 percent, with the slight increase attributed in part to automakers pumping up the deals over the Labor Day holiday. Edmunds noted that typically auto sales over the Labor Day weekend are 33 percent higher than the average first weekend of a month.
"Labor Day weekend got September auto sales off to a strong start," said Jessica Caldwell, Edmunds executive director of industry analysis.
"Automakers are finally starting to dial up the incentives to clear excess inventory, which we anticipate will continue through the rest of the year."
Edmunds expects that vehicle sales got an incremental boost in September from the recovery that followed the recent hurricanes, with the lift likely to continue in the coming months.
Meanwhile, J.D. Power said incentives were at an all-time high, as manufacturers aggressively discount to move prior model year vehicles. Specifically, the firm noted that average incentive spending per unit in September was at $4,050, exceeding the previous high of $4,024 in November 2016.
GM Sales Growth Accelerates
General Motors Company (NYSE: GM) reported sales of 279,397 units in September, up 12 percent year over year. Among categories of vehicles, crossover deliveries were up 43 percent and truck sales were 10 percent higher, while passenger car sales fell 11 percent.
Retail sales accounted for 80 percent of sales and were 8 percent higher than last year. The company termed the September retail sales performance as the best September showing since 2007. The company said its share of the U.S. retail sales rose 0.6 percentage points.
See also: Automakers Shift Lanes As Disruptive Technologies Take Over
Ford Sales Back In Black
Meanwhile, crosstown rival Ford Motor Company (NYSE: F) said its September sales were up 8.7 percent to 222,248 units. In August, sales were down 2.1 percent. Retail sales were up a more modest 4.4 percent to 169,544 units, while fleet sales jumped 25.1 percent to 52,704.
Among vehicle categories, truck sales soared 19.9 percent to 103,625 and SUV sales rose 1.8 percent to 68,705 while car sales fell 1.3 percent to 49,918.
"Our September sales were strong across the board – including retail, commercial and government," said Mark LaNeve, Ford vice president, U.S. marketing, sales and service.
"We're pleased to say recovery in Houston and Florida is moving quickly, with all of our dealers in the area now back up. We couldn't be happier with the tireless effort from our dealers, employees and the countless first responders who are moving so quickly."
Fiat Chrysler Retail Segment Sees Marginal Sales Growth
Fiat Chrysler continued to see declining sales, as its monthly sales declined 10 percent to 174,266 in September. However, retail sales, accounting for 84 percent of the sales, inched up 0.3 percent to 146,904. Fleet sales plunged 41 percent to 27,362, with the company terming the decline as a conscious strategy to reduce sales to daily rental segment.
Foreign Automakers Join The Party
Toyota had a strong September, with sales volume rising 14.9 percent to 226,632 units following a more modest 6.8 percent advance in August. On a daily selling rate basis, sales were up a solid 10.5 percent.
Toyota division's sales climbed 16.9 percent. Lexus division's sales were up 1.5 percent.
Nissan Motor Co Ltd (ADR) (OT: NSANY) said its September sales climbed 9.5 percent to 139,932 units, with Nissan division and Infiniti sales rising 9.3 percent and 11.7 percent, respectively. The September showing was a turnaround from the 13.1 percent decline in sales the company witnessed in August.
Outlook
GM's chief economist Mustafa Mohatarem sees retail sales remaining strong for the foreseeable future, given the strength in the U.S. economy.
"All the key U.S. economic indicators point toward continued economic growth and stability. In addition, regions devastated by the recent hurricanes will continue to recover, helping spur new and used vehicle sale," Mohatarem said.
In Reaction To The Results ...
GM shares were rallying 2.75 percent to $43.31.
Ford was adding 1.94 percent to $12.32.
Fiat Chrysler was down 0.11 percent to $17.93.
Toyota shares were rising 0.35 percent to $119.73.
Nissan was surging 2.37 percent to $19.67.
Related Link: The Current Legal Minefield In Automated Autos
View Comments and Join the Discussion!
Posted-In: auto salesAnalyst Color News Travel Econ #s Analyst Ratings Trading Ideas General Best of Benzinga