8 Ways To Play The AI Boom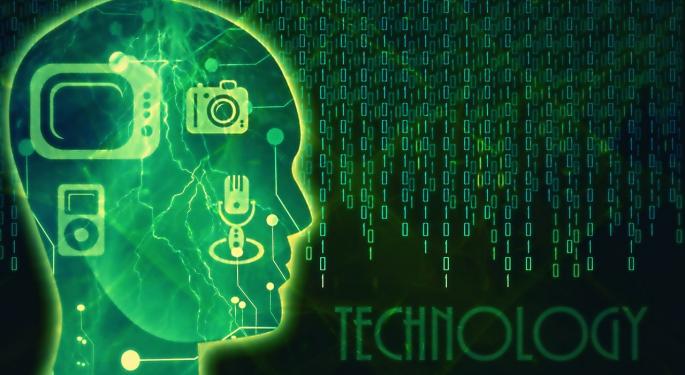 Investors hungry for pure-play artificial intelligence companies have sent share prices of a handful of smaller tech companies soaring in recent weeks. Here's a look at eight stocks with an emphasis on AI that may still be mostly under-the-radar.
1. Veritone
Benzinga first reported about the crazy run in Veritone Inc (NASDAQ: VERI) back on Aug. 21 after a positive article in Barron's sent the stock higher by more than 40 percent. Veritone's cloud-based AI system integrates a series of cognitive engines to generate insights from vast amounts of data. Since that first Benzinga report, the AI play is up another 391 percent.
2. Inseego
Inseego Corp (NASDAQ: INSG) shares briefly jumped more than 30 percent last week after traders circulated a note suggesting the $76 million company could be an AI play. Inseego's products and services include mobile hotspots, universal serial bus modems, embedded modules, integrated asset management and mobile tracking machine-to-machine devices, communications and applications software and cloud services. Inseego is well positioned in a vehicle analytics market that could demonstrate explosive growth in coming years as automakers attempt to make autonomous vehicles as safe as possible.
3. Foresight Autonomous Holdings
In the past month, Foresight Autonomous Holdings Ltd. – American Depositary Shares (NASDAQ: FRSX) is up 12.5 percent. According to the company's website, Foresight is working on "providing an automotive grade, cost-effective platform, enabling highly accurate and reliable detection while ensuring the lowest rates of false alerts." Foresight's advanced driver assistance system incorporates advanced algorithms and artificial intelligence.
4. MYnd Analytics
MYnd Analytics Inc (NASDAQ: MYND) stock is up 7.9 percent in the past five trading sessions. The company offers a predictive analytics platform that helps physicians diagnose and treat behavioral disorders. "Patients in crisis need to achieve a response quickly vs. the standard of care today, which takes months (even years) and is almost always poly-pharmacy," Maxim Group analyst Jason Kolbert wrote earlier this month. Maxim has a Buy rating and $18 price target for MYnd.
Related Link: What Is Machine Learning? Deep Learning? Here's Your AI Glossary
5. Social Reality
Social Reality Inc (NASDAQ: SRAX) is a digital advertising company that provides AI tools to help automate Internet advertising. Back in February, Chardan Capital initiated coverage of Social Reality with a Buy rating and said EBITDA growth should accelerate in coming quarters as the U.S. programmatic advertising industry expands. Social Reality stock is up 53 percent in the past five trading sessions.
6. Innodata
Innodata Inc (NASDAQ: INOD) helps publishers leverage the power of "leading-edge machine learning, natural language processing, and artificial intelligence algorithms that we have adapted for next-generation publishing processes to unlock your content and deliver it to new audiences, in new formats and in new ways." Innodata also offers enterprise and media solutions as well. Traders were circulating the microcap company as a potential AI play on Monday, but the stock failed to respond, trading mostly flat on the day.
7. Seven Stars Cloud Group
Seven Stars Cloud Group Inc (NASDAQ: SSC) develops business-to-business infrastructure based on blockchain and artificial intelligence technology. Its technology includes smart intellectual property cloud, smart sales products and transactions cloud. Seven Stars stock jumped 50 percent last week when the name was circulated as an AI play, but the stock gave up 12.3 percent Monday.
8. Cray
Cray Inc. (NASDAQ: CRAY) designs, develops, manufactures, markets and services supercomputer systems. Back in May, Cray announced two new supercomputers capable of handling the machine learning workloads associated with artificial intelligence. "The exponential growth of data sizes, coupled with the need for faster time-to-solutions in AI, dictates the need for a highly-scalable and tuned infrastructure," vice president Fred Kohout said.
A Word Of Caution
Most of the names included on this list have extremely low market caps and extremely low floats, making them particularly susceptible to short-term volatility related to trader buzz and rumors. Long-term investors should be aware of the risks these tiny companies face as they compete with the megacap, diversified market leaders in AI technology, such as Amazon.com, Inc. (NASDAQ: AMZN) and Alphabet Inc (NASDAQ: GOOG) (NASDAQ: GOOGL), which currently dwarf these smaller competitors in terms of resources.
Related Link: Veritone's Huge Move Provides Valuable Trading Lessons
View Comments and Join the Discussion!
Posted-In: artificial intelligenceAnalyst Color Long Ideas Top Stories Analyst Ratings Tech Media Trading Ideas Best of Benzinga