Akari Therapeutics Rally Continues As William Blair Upgrades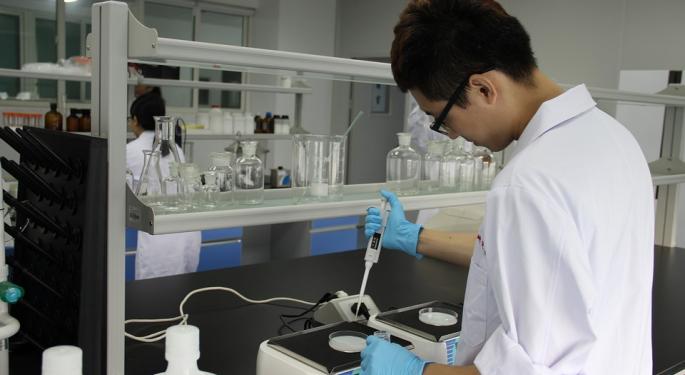 William Blair upgraded shares of Akari Therapeutics PLC (ADR) (NASDAQ: AKTX), given the $73 billion enterprise value of Akari, which is about 3-5 times lower than that of comparable complement companies.
As such, William Blair upgraded shares of the company from Market Perform to Outperform.
At the time of writing, shares of Akari Therapeutics were rallying 1.51 percent to $8.87. This was on top of the 56 percent gain recorded on Thursday.
Analysts' Take
Analysts Tim Lugo and Ashiq Mubarack noted that Akari Therapeutics is advancing Coversin for the treatment of paroxysmal nocturnal hemoglobinuria in two phase III trials, dubbed ASSET and CAPSTONE, following its end-of-phase II meeting with the FDA. The analysts expect the late-stage trials to commence during the first quarter of 2018.
The analysts noted that the FDA will allow the company to use a co-primary endpoint, based on hemoglobin level and transfusion rate data. Though LDH levels are likely to be assessed, the analysts think they will not drive the primary endpoint.
William Blair views this as a positive, as LDH levels observed in the admittedly small four-patient phase II readout was positive but the improvement was not as good as Soliris and ALXN1210. The lower LDH improvement, according to the company, was due to lower Coversin dosing or just a smaller number of patients studied. That said, the firm noted that transfusion freedom and hemoglobin level measurement data points were much more impressive.
See also: Attention Biotech Investors: September Ushers In Another Slew Of PDUFA Catalysts
The firm sees these two endpoints as less variable, giving the two trials a higher likelihood of showing significant benefit with Coversin. FDA's flexibility on the primary endpoint in the study implies the need for additional complement inhibitors, the firm added.
Current Valuation Vs. Value Proposition Of Coversin
On valuation, the firm said it sees the shares as undervalued at their current $103 million market cap, which it believes heavily discounts the value proposition of Coversin. The firm clarified that Coversin, while also showing efficacy in complement inhibition, may also see utility in LTB4-driven diseases.
The firm put the probability of success to the PNH program as 55 percent and estimate U.S. peak sales in excess of $500 million, which represents a modest penetration into the growing global complement market. However, the firm said its model does not assign any value to the other Phase II pipeline indications including aHUS, atopic keratoconjunctivitis and bullous pemphigoid, which could lead to additional upside.
"Ultimately, we believe that there will be a role for Coversin in a percentage of PNH, aHUS, or the two additional indications being developed by Akari," the firm said.
Related Link: Versartis' Somavaratan Still Has A Path Forward; Cantor Reiterates Buy
Posted-In: Analyst Color Biotech Long Ideas Upgrades Top Stories Analyst Ratings Trading Ideas General Best of Benzinga
View Comments and Join the Discussion!