Tesla's Building Blocks To Reengineering The Future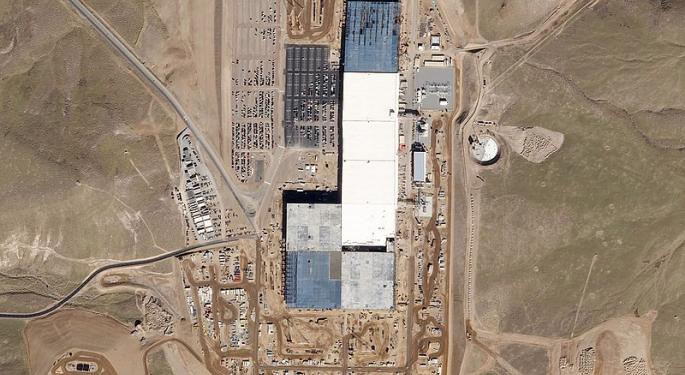 Tesla Inc (NASDAQ: TSLA)'s fanbase is swelling, with the latest to heap praises on its business model and technological proficiency is Gene Munster of Loup Ventures.
In a note released Tuesday, Munster identified Tesla as an agent of change, with a mission to accelerate the transition to sustainable energy. The analyst also delved deep into the company's building blocks designed to reengineer the future. Munster thinks the media attention Tesla gets as a maker of electric vehicles is misguided, focusing on too narrow a scope and too short a timeframe.
The analyst referred to a blog post by CEO Elon Musk in 2006, titled "The Secret of Tesla Motors Master Plan (just between you and me)," wherein he shares the vision of the company, which is to help expedite the move from a mine-and-burn hydrocarbon economy toward a solar electric economy.
This was later unveiled as the "Master Plan Part Deux."
"Musk knows that his ambitions to manufacture electric vehicles, develop autonomous driving software, double the world's output of lithium-ion batteries, be the largest solar panel installer in the U.S., and modernize energy production, storage, and consumption, must be executed in steps, each building on the last," the analyst said.
See also: Catalysts That Keep Tesla A Top Pick At Baird: Model 3, Semi-Trucks And 'Tesla Energy'
The Silicon Valley Approach
Loup Ventures said Tesla embraced the most efficient way to bring about a change, by following a consumer-facing, product-focused approach. The firm added that Tesla proceeded with the assumption consumers can be baited to adopt electric cars by making them faster, safer and sleeker than the one they currently owned.
People could take to a solar roofing if it looked great and more durable than traditional materials. Accordingly, the firm believes people are drawn to better products, not to intangible environmental and sustainability benefits.
The Future Is Here But Not Equitably Distributed
Munster said the usage of Tesla products, be its electric vehicles, Solar Roof or Power Wall, effectively removes one from the grid and reduce his/her carbon footprint to zero. However, the analyst noted that the technology is not accessible to all due to the upfront cost, making distribution uneven. The analyst sees this largely as an issue of manufacturing scale.
Biggest Hurdle: Scaling Up Operations
Loup Ventures believes scaling up operations will be Tesla's biggest hurdle, which is also the single most important determiner of its success. Quoting comments by Tesla chief technology officer J.B. Straubel, the firm said the company's focus is to reduce cost in a bid to grow volumes and reach a broader customer base.
The firm referred to Tesla's focus on creating the machine that builds the machine, with the company viewing the factory as a product, carefully crafting and optimizing it just as it would a Model S.
"We suspect that people will be shocked by Tesla's manufacturing output ability in the coming years," the firm added.
From Planning To Implementation
Munster feels Tesla can accelerate the process of capturing, storing and utilizing the energy through grid-scale energy storage, renewables, plus batteries and setting up of micro grids.
"The faster Tesla reaches economies of scale in its existing businesses, the sooner we could see Tesla tackle these important issues, extend its operations to their fullest potential and, most importantly, further accelerate the transition to sustainable energy," the firm concluded.
Related Link: What Happens When Tesla Starts Taking Used Car Market Share?
___________
Image Credit: "Tesla Gigafactory 1," By Planet Labs, Inc. [CC BY-SA 4.0 (http://creativecommons.org/licenses/by-sa/4.0)], via Wikimedia Commons
Posted-In: Elon Musk Gene MunsterAnalyst Color Commodities Top Stories Markets Tech Trading Ideas Best of Benzinga
View Comments and Join the Discussion!