A Nation Of Shrinking Drinkers: Who Wins And Who Loses As Booze Sectors Contract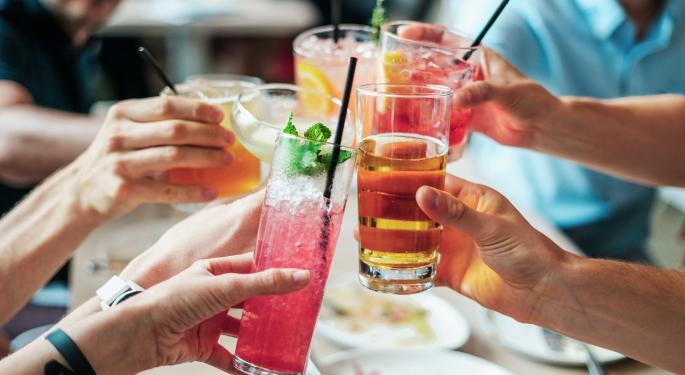 Generation Z is growing up with an aversion to alcohol, in part because its members don't want to look wasted when they take selfies with their fancy smartphones.
Millennials? They're starting families, furthering careers and acting more responsibly, which makes their trademark binge drinking less desirable.
Then there's Generation X, the supposedly nihilistic blank generation. They'll take on the drinking habits of their parents, the Baby Boomers, as they age.
And those Boomers? They're declining in numbers because, well, they're old.
All this is bad news for the alcoholic beverage industry, according to an exhaustive new report by Berenberg analysts that breaks down the demographic drivers that will continue to flatten the booze business in general and wallop Big Beer in particular.
"The Baby Boomer generation gave way to the Generation X ravers, who then gave way to the binge-drinking millennials," says the 68-page beverage analysis by Javier Gonzalez Lastra and Matt Reid.
"Each generation brought a fresh market of thirsty consumers from which alcoholic beverage companies could recruit. With the arrival of Generation Z unlikely to bring similar opportunities, companies may be forced to look for growth in the existing consumer market. Unfortunately, the data suggests that the older generations are unlikely to provide the required growth."
Generation Z: You're So Vain
Generation Z, who are entering the workforce as we speak, are considered by the authors to be people born on or after 1996, which would make the first batch of them 21 years old. Some takeaways from the report:
Generation Z does not think alcohol is "cool." The smartphone generation does not want to appear drunk on camera, and being hungover carries a stigma.
Members of Generation Z are drinking at least 20 percent less than their counterparts in the millennial generation.
Members of Generation Z will drink at least 10 percent less per capita than millennials did between the ages of 18 and 49.
Of those who do take a drink, Generation Z is the first generation to prefer spirits over wine or beer.
Related Link: One Secret Behind Whole Foods Deal: Amazon Wants To Sell You All The Alcohol
Millennials Are Slowing Down
Millennials drank more than Generation X. Yet millennials are now becoming more health-conscious as they age and are actively limiting alcohol consumption, the authors say, citing a raft of studies.
Some takeaways:
Between the ages of 35 and 49, millennials will begin to drink slightly less than their counterparts in Generation X.
Millennials between the ages of 50 and 64 will drink more than Generation X did at the same age.
Millennial beer drinkers are more likely to drink craft beer than any other generation.
Generation X: The New Boomers?
Generation X tend to drink more per capita than the members of the Silent and Baby Boomer generations they replace in the 65-plus age category.
Beer was the favored drink of 72 percent of Generation X when it was 18–29 years old. They drank far less wine than millennials do now.
What Does This Mean For The Markets?
Alcohol consumption averaged 164 drinks per capita in 1995, reached a peak of 183 in 2015 and is stagnating at a rate that the authors project will reach 165 by 2040.
Beer is bearing the brunt.
"What is very clear is that the beer market will continue to decline as it faces severe generation headwinds, while spirits and wine volumes will continue to grow, although far more slowly," the authors said.
Rating The Publicly Traded Companies:
Brewers
Anheuser Busch Inbev NV (ADR) (NYSE: BUD): Buy.
Price Target: 116 euros.
Molson Coors Brewing Co (NYSE: TAP): Sell.
Boston Beer Company Inc (NYSE: SAM): Sell.
Price Target: $124.
Heineken N.V. (ADR) (OTC: HINKY): Hold.
Price Target: 82.30 euros.
Carlsberg A/S (ADR) (OTC: CABGY): Hold.
Price Target: 652 krones.
Distillers
Brown-Forman Corporation (NYSE: BF.B): Hold.
Davide Campari Milano SpA (ADR) (OTC: DVDCY): Buy.
Price Target: 7.40 euros.
Diageo plc (ADR) (NYSE: DEO): Hold.
Price Target: 25.50 pounds.
PERNOD RICARD EUR1.55 (OTC: PDRDF): Hold.
REMY COINTREAU EUR1.60 (OTC: REMYF): Hold.
The authors relied on U.S. Census data, industry sources and the National Survey on Drug Use and Health.
Related Link: The Story Behind Bell's Brewery: The Stoner Beer Baron To Craft Beer Icon
View Comments and Join the Discussion!
Posted-In: Analyst Color Eurozone Price Target Psychology Top Stories Markets Analyst Ratings Trading Ideas Best of Benzinga