Playing The US Pharma Space: Buy Portola, Hold Corvus, Sell Teva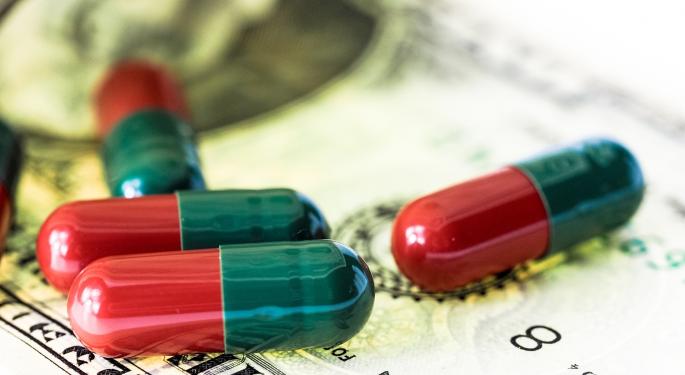 Ahead of an expected uptick in news flow next month, Credit Suisse reviewed its ratings and price targets on the shares of several pharma companies, keeping in mind the fiscal year 2017 and the first-half of 2018.
The firm downgraded shares of Teva Pharmaceutical Industries Ltd (ADR) (NYSE: TEVA). On the other hand, the firm upgraded shares of Portola Pharmaceuticals Inc (NASDAQ: PTLA) and Corvus Pharmaceuticals Inc (NASDAQ: CRVS). The rating on Alder Biopharmaceuticals Inc (NASDAQ: ALDR) are maintained.
At Time Of Writing
Teva shares were rising 0.49 percent at $16.57.
Portola was rallying 2.76 percent to $57.83.
Corvus shares were jumping 6.92 percent to $13.90.
Alder Biopharmaceuticals was adding 2.63 percent to $9.73.
Teva Faces Multiple Challenges
Rating: Downgraded from Neutral to Underperform
Price Target: Reduced from $25 to $13
Analysts Vamil Divan, Michael Morabito and Barabara Kotei do not expect the core challenges faced by Teva to mitigate anytime soon. This is despite the company reducing its 2017 guidance notably.
Among the risks outlined by the analysts were pricing pressure, increased competition in the U.S. generics business, the CEO position still not being filled on a full-time basis and the looming threat of generic competition to Copaxone 40mg.
Although Credit Suisse said it is encouraged by reports of potential non-core asset sales to pay down debt, it preferred waiting to see the final details of the transactions before giving the company full credit.
"Upside risks could come from [the] appointment of a credible CEO and attractive terms on assets disposals, helping to stabilize TEVA's story," the firm added.
See also: August PDUFA Dates: Biotech Investors Stay Tuned To A Month Of Plenty
We See An Attractive Entry Point For Portola Shares
Rating: Upgraded from Neutral to Outperform
Price Target: Maintained at $70
While noting that Portola shares have sold off following its second quarter results, Credit Suisse said it now sees an attractive entry point. The firm's price target of $70 represents about 26 percent upside from current levels.
On the other hand, the firm thinks poor execution on the Bevyxxa launch, delays on AndexXa's approval and highly positive data from blood thinner Xarelto's MARINER study will pose risks to its call. Xarelto is marketed by Johnson & Johnson (NYSE: JNJ) unit Janssen Pharma.
Impending Data Leads To Corvus' Upgrade
Rating: Upgraded from Underperform to Neutral
Price Target: Upped from $12 to $14
Credit Suisse said its upgrade of Corvus shares was premised on additional data expected at SITC in November. The firm clarified that its earlier Underperform rating was due to limited enthusiasm around the clinical data to date for CPI-444 as well as a quiet near-term catalyst calendar.
The firm said its price target increase was based on increase POS in second-line non-small cell lung cancer and Renal Cell Carcinoma.
Assumptions and Competition Keep Alder Sidelined
Rating: Maintained at Neutral
Price Target: Lowered from $17 to $11
Credit Suisse attributed the lowering of price target to higher expense assumptions, as Alder need to spend to compete in a crowded market. The firm maintains its POS and peak sales assumptions for eptinezumab unchanged.
The firm sees upside risk from positive updates on a self-administration formulation and more differentiated clinical data. At the same time, the firm is of the view that strong competitor launches or setbacks in eptinezumab development pose downside risk.
And Others ...
Credit Suisse said its top picks in the large cap space are Merck & Co., Inc. (NYSE: MRK) and Allergan plc Ordinary Shares (NYSE: AGN).
The firm named Alkermes Plc (NASDAQ: ALKS), Aimmune Therapeutics Inc (NASDAQ: AIMT) and Myokardia Inc (NASDAQ: MYOK) as its top picks in the small and mid- cap space.
View Comments and Join the Discussion!
Posted-In: Analyst Color Biotech Long Ideas Short Ideas Upgrades Downgrades Price Target Analyst Ratings Best of Benzinga