As U.S. Budget Crisis Looms (Again), 7 Stocks Affected By Government Shutdowns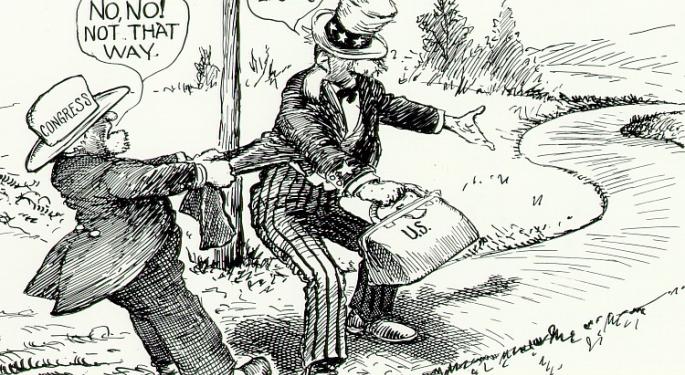 We're months away from the annual budget deadline, and if Congress and President Donald Trump fail to appropriate funds, government departments won't be able to spend money. This means contractors won't get paid.
"If the budget debate gets ugly, which is a clear possibility, we could see the shares weaken in September, and then potentially rebound fairly quickly with the conclusion of (or lack of) any shutdown, as was the case in 2013," Wells Fargo analyst Ed Caso wrote in a Thursday note.
Booz Allen Hamilton Holding Corporation (NYSE: BAH), CACI International Inc (NYSE: CACI), CSRA Inc (NYSE: CSRA), ICF International Inc (NASDAQ: ICFI), Leidos Holdings, Inc. (NYSE: LDOS), Mantech International Corp (NASDAQ: MANT) and Science Applications International Corp (NYSE: SAIC) are directly in the line of fire.
However, those with fixed-price contracts, higher exposure to the Defense or Homeland Security Departments, or more off-site work are considered to be at a lesser risk.
Related Link: Your Survival Guide To This Week's Potential Government Shutdown

What Exactly Could Happen?
During the federal shutdown of 2013, contractor stocks fell as much as 6 percent, while annual revenue and earnings per share were estimated to average a 1- to 1.5-percent hit, according to Wells Fargo. IFCI also lowered guidance.
But this year's shocks could be amplified.
"We should note that in 2013 the sector was at trough EV/EBITDA (enterprise value to earnings before interest, taxes, depreciation and amortization) multiples, while now they are in the upper quartile suggesting the potential for more volatility," Caso wrote.
But How Worried Should We Be?
Given the current political climate, Caso considers a one-day shutdown possible and a multi-day shutdown modestly likely. Still, the caprice of the Trump administration merits preparation.
"The political calculus, in our view, is even more unstable than in 2013, so uncertainty going into GFYend (September) should only be higher even with the memory that no one gained politically from the 2013 shutdown," he wrote.
Additionally, the drastic budget changes proposed could sustain debate more contentious than that driving the previous 16-day shutdown.
_______
Image Credit: By Clifford K. Berryman [Public domain], via Wikimedia Commons
View Comments and Join the Discussion!
Posted-In: Analyst Color Futures Politics Top Stories Economics Federal Reserve Markets Analyst Ratings Best of Benzinga