As EBITDA Evaporates, Plains All American Shares Downgraded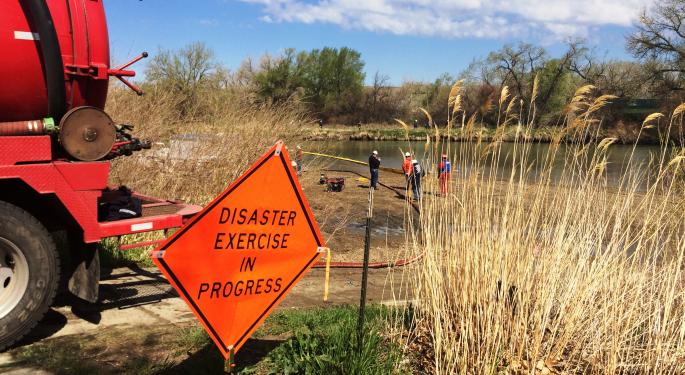 Baird downgraded the units of Plains All American Pipeline, L.P. (NYSE: PAA) and Plains GP Holdings LP (NYSE: PAGP). The firm premised its stance on the potential evaporation of $400 million in annual EBITDA in 2018 from the previously normalized level of $500 million, implied by the preliminary guidance of a mammoth $100 million to $300 million range in the Supply & Logistics.
Analyst Ethan Bellamy noted that the S&L, also called as crude marketing and trading segment, is impacted significantly by lower crude prices and supercharged market competition. From a peak annual EBITDA of $893 million in 2013, the analyst noted that it has declined to $75 million, which is estimated for 2017.
"We drastically underestimated the evisceration of this segment by this potent cocktail of reduced arbitrage opportunities and heightened competition, as did management," the analyst said (see Bellamy's track record here).
See also: Terms Of The Trade: Master Limited Partnerships
However, the firm noted that the fixed fee portion of the business remains steady for now, with the management touting highly competitive demand pull pipeline activity and long-term multiyear contracts on fixed fee EBITDA.
The management expects this to produce $2.35 billion in EBITDA in 2018, up 17.5 percent from 2017, the firm said.
Delving on the results, Baird noted that EBITDA second quarter EBITDA of $451 million, 3 percent lower than the consensus estimate. The firm also noted that discounted cash flow of $289 million trailed the consensus estimate of $293 million.
Consequently, Baird lowered its S&L estimates from $314 million to $100 million. The firm also reduced its 2018 EBITDA estimate by 12 percent to $2.4 billion, which takes its DCF/unit estimate from $2.46 to $2.22.
Based on valuation, Baird downgraded units of both Plains All American Pipeline and Plains GP Holdings from Outperform to Neutral. The price target on Plains All American Pipeline goes from $36 to $24 and that for Plains GP Holdings was lowered from $36 to $23.
At The Time Of Writing
Plains All American Pipeline was plunging 16.07 percent to $21.15.
Plains GP Holdings was slumping 15.41 percent to $21.85.
_______
Image Credit: "Natrona County Fire District and industry players Anadarko and Plains All American Pipeline deploy a boom to collect the simulated oil spill with a vacuum truck at Control Point #2 from the North Platte River during the simulated oil spill exercise." By USEPA Environmental-Protection-Agency (May 14, 2014 – Casper, WY) [Public domain], via Wikimedia Commons
Posted-In: Analyst Color News Downgrades Price Target Commodities Markets Analyst Ratings Movers Best of Benzinga
View Comments and Join the Discussion!