Analyst: Here's What To Expect From Congress On Debt Ceiling, Tax Reform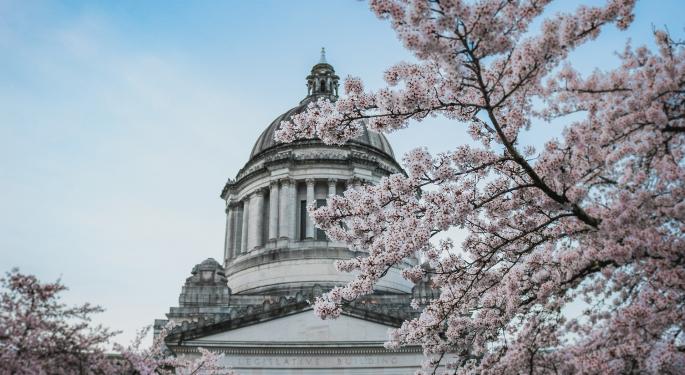 Nearly seven months into President Donald Trump's term in office, his administration is still struggling with his top campaign promise: healthcare reform. Investors hoping that Trump and Congressional Republicans would quickly breeze their way through healthcare reform and tax reform have been sorely disappointed. Seven months in, there still appears to be no light at the end of the tunnel on health care reform.
For investors banking on tax cuts providing a major tailwind for U.S. companies, Height Securities provided an update for investors on Friday morning.
Debt Ceiling
Height is now calling for Congress to simply "punt" the debt ceiling debate by enacting some form of stop-gap measure prior to the Sept. 29 deadline. With just 11 legislative days left until the deadline and the possibility of a heated debate on the issue, Height is looking for Congress to kick the proverbial can down the road until December.
"Tackling the debt ceiling again in December will be dicey, but the idea is to demonstrate enough progress on other issues important to the GOP rank-and-file (including tax cuts/reform) that they will understand the momentum-sapping impact of getting into a nasty debt ceiling standoff that would also delay Christmas vacation," the firm wrote.
Related Link: Fannie & Freddie Both Changed The Way They Talk About Their Dividends, And It's Not By Accident
Tax Reform
When it comes to tax reform, Height says investors shouldn't get discouraged by vague comments this week from House Speaker Paul Ryan and Senate Finance Committee Chairman Orrin Hatch. Instead of providing a firm timetable or deadline for tax reform, Ryan said his goal is to get a tax reform bill through the House by the end of the year. Hatch says he expects to "hold multiple hearings" on a tax reform bill "this fall," again opting to provide any specific dates.
While it may be tempting to interpret this vagueness as a sign that tax reform efforts could drag on indefinitely, Height says the language was carefully chosen to keep expectations low. "In our view, the Republican leadership has learned hard lessons about setting arbitrary deadlines by now," Height wrote.
For now, investors don't seem too concerned about the dysfunction in Washington. The SPDR S&P 500 ETF Trust (NYSE: SPY) is up 10.6 percent so far in 2017.
View Comments and Join the Discussion!
Posted-In: Analyst Color Futures Politics Top Stories Economics Federal Reserve Markets Analyst Ratings Best of Benzinga