Could Barack Obama Be The New CEO Of Uber?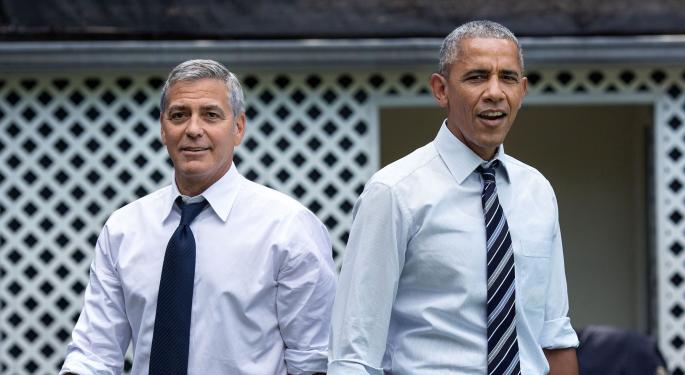 Obama to lead Uber? It is a realistic possibility according to Trip Chowdhry, the managing director of Global Equities Research.
"Developers believe that US Ex-President Barack Obama may become the new CEO of Uber. Ex-President Obama would be an exceptional, out-of-the-box and a perfect CEO for Uber," Chowdhry noted.
Since leaving office, Obama has been spotted golfing in Palm Springs, kite surfing at the Virgin Islands and signed a book deal in New York. Is Uber headquarters in San Francisco his next stop?
Could Obama Help Uber Escape The Controversy?
While Chowdhry noted Uber's valuation will still most likely collapse if Obama was named CEO, it could be a move to prevent the company from completely falling apart.
Uber has been hammered as some of the company's largest investors have become more and more vocal on Uber's poor leadership structure. Uber has been dealing with public relations nightmares for several months, after being hit by several scandals. Most recently, Uber's co-founder and CEO Travis Kalanick resigned on Wednesday.
Developers told Chowdry this would be an upsetting demise for the technology company, as "Uber has the best scheduling algorithms and the best facial recognition software deployed at scale, FedEx Corporation (NYSE: FDX) and United Parcel Service, Inc. (NYSE: UPS)."
Obama Loves The Tech Industry
In March, media outlets reported Obama traveled to the media capitol of the world to meet with several technology companies. While the names of the companies were never disclosed, this was Obama's first visit since he left the White House.
Further, It has been speculated Obama has wanted to enter the tech industry following his second Presidential term, with Steve Case, a co-founder of AOL, telling the New York Times in an article entitled "Next Job for Obama? Silicon Valley is Hiring," "I wouldn't be surprised if that was one of the key focus areas for him post-presidency."
Obama's presidential campaign has been seen at least 10 times on visits to different technology companies in California.
"I would be surprised if he did not spend a significant amount of his post-presidency time and effort connecting the resources and ideas and capabilities that he has learned about in Silicon Valley with the kinds of causes that he will choose," LinkedIn co-founder Reid Hoffman, a big Obama donor, told the New York Times.
An Uber Connection?
Another interesting link between Obama and Uber is David Plouffe. Plouffe was Obama's campaign manager for his 2008 presidential campaign. He then went on to serve as a policy advisor for Uber.
Overall, even with this new development, Chowdhry concluded by stating this could all be speculation by developers, and to "take the above as you see fit."
Related Links
Brash CEO Travis Kalanick Out At Uber
Uber's New Hires Could Help End PR Nightmares
________
Image Credit: By White House/Pete Souza [Public domain], via Wikimedia Commons
Posted-In: Analyst Color M&A Rumors Politics Travel Tech Media General Best of Benzinga
View Comments and Join the Discussion!