Cramer On Kroger: Don't Forget Grocery Is Still Part Of Retail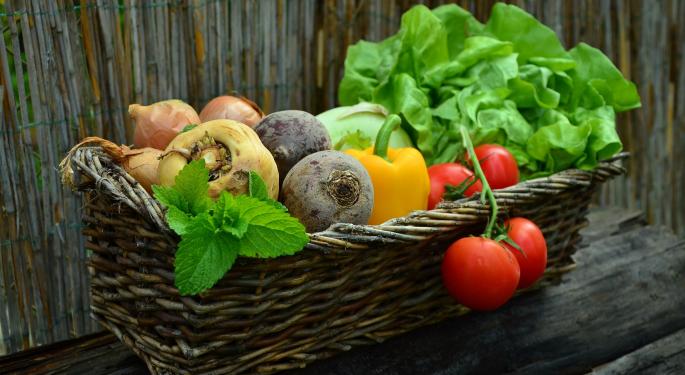 What do Kroger Co (NYSE: KR) and department stores have in common? Both are retailers and both are bringing pain to investors, CNBC's Jim Cramer explained during his daily "Mad Money" show Thursday.
Shares of Kroger collapsed nearly 19 percent Thursday after the grocery chain was forced to lower its financial outlook for the year, in part due to heavy competition. As such, Kroger's name should now be synonymous with troubled department stores like Sears Holdings Corp (NASDAQ: SHLD).
But it isn't just Kroger's name that is now part of an unofficial list of "un-investable" stocks in the retail space, Cramer said. After all, the industry as a whole is one "gigantic race to the bottom," and no one company can emerge as a winner.
Kroger Agrees With Cramer
But don't take Cramer's word at face value that Kroger is "un-investable," just listen to management's tone during its post-earnings conference call.
Kroger's management team fielded many difficult questions from analysts ranging from Amazon.com, Inc. (NASDAQ: AMZN)'s grocery ambitions, and the answers were uninspiring, Cramer continued. In fact, Kroger Chief Financial Officer Michael Schlotman "seemed to give up and agree" with the bearish thesis that is now plaguing Kroger's stock.
"At the end of the day, we always assume this industry is going to get more competitive, quarter in, quarter out, year in, year out," Cramer singled out Schlotman as saying. "And, unfortunately, I guess, we're rarely disappointed with the result."
Regardless, Kroger isn't going to go down without a fight and it certainly has the resources to compete, Cramer suggested. But all this means is lower prices for consumers at the expense of Kroger's profits — just like in the department store space.
"In the end, the only winner is you, the consumer," Cramer concluded.
Related Link:
Kroger's CFO Talks Food Deflation
Should Wal-Mart Investors Be Concerned That Amazon Invited Food Execs To Its Seattle Office?
View Comments and Join the Discussion!
Posted-In: CNBC food Grocery Grocery Deflation grocery stocks Michael SchlotmanAnalyst Color Media Best of Benzinga