Victor Anthony Gives The Lowdown On Pandora, Snap, Twitter And Amazon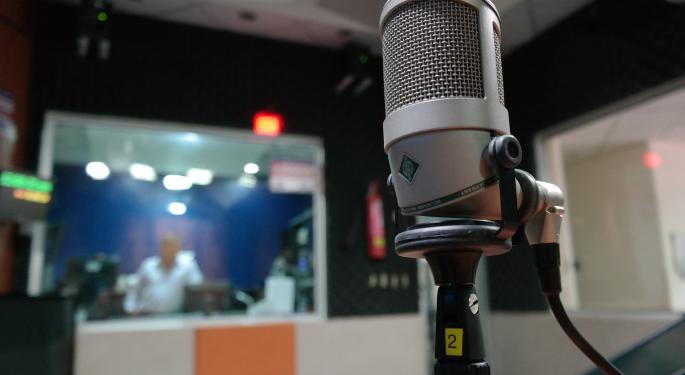 It is and always has been about technology. But contemporary disruptions in the innovative space, both inherent to sector players and imposed by outside economic forces, have bolstered some and crushed others.
Victor Anthony, managing director of internet media at Aegis Capital, broke down the dynamic sector Monday on Benzinga's PreMarket Prep radio show.
Sweet Music
Anthony said he became bullish on Pandora Media Inc (NYSE: P) for the company's recent on-demand launch and its buyout potential. Although the former "somewhat disappointed" with delayed rollout, the latter remains a point of hope considering overt interest from Liberty's Sirius XM Holdings Inc. (NASDAQ: SIRI).
The suitor had bid $15 per share last summer but recently lowered its target to about $10. Still, Anthony foresees a more profitable opportunity for shareholders.
"I think investors are thinking that's $10 inclusive of the premium, which is why the stock is where it is," Anthony said. "I think it's $10 then apply a premium on top of that, so I think investors are missing out on an opportunity to own a stock that I think could be taken out for a premium of roughly 20 to 30 percent of where the stock is trading right now."
No Twit For Twitter
Neither the recently announced partnerships with the NFL and Bloomberg nor the return of Twitter Inc (NYSE: TWTR) co-founder Biz Stone have changed Anthony's perspective on the struggling social media company.
"In my view, nothing has changed for them fundamentally," he said, confirming negative outlook.
The biggest concern is Twitter's negative advertising revenue growth. That, coupled with its general revenue decline, concession of market share and management exodus, has Anthony looking the other way. He said his assessment will only change when ad revenue growth turns positive and Twitter successfully seizes market share from Facebook Inc (NASDAQ: FB)'s Instagram and Snap Inc (NYSE: SNAP).
"The problem is you have Snap, you have Instagram, that are aggressive at pursuing the advertising dollars online," Anthony said. "They're bumping up against significant competition within the space."
The process to overcome rivals will be long and arduous, as Twitter must convince advertisers to have faith in its reaccelerating daily active user growth without providing solid figures. However, Anthony cautioned that such acceleration does not necessarily precede revenue growth, as the parable of Yahoo! Inc. (NASDAQ: YHOO) has proven, and even if a revenue turnaround materializes, it may take a year or so.
Snaps For Snap
Anthony has similar hesitance regarding Snap, whose capacity to grow its user base outside its core demographic is yet unclear. He said Snap must attract adults, but competition from Instagram, which continues to replicate Snapchat features while appealing to an older client base, is limiting impact.
To convince Anthony to upgrade from a present Hold rating, the company will need to capitalize on its ad revenue potential, improve traffic and expand its return on investment.
Under present circumstances, though, he advised investors to buy below $17 and sell when the stock hits the high $20s.
The Retail Killer
Anthony maintains Buy ratings on a number of tech giants, including Facebook and Alphabet Inc (NASDAQ: GOOG) (NASDAQ: GOOGL), but Amazon.com, Inc. (NASDAQ: AMZN) is and has always been his long-term favorite.
"Amazon is a stock that will miss estimates at least once a year, and the stock will correct a little bit, but that's always been a buying opportunity, so if I had to choose one stock of the three, I would choose Amazon," he said.
His relatively aggressive bullishness on Amazon is primarily justified by the company's untapped market opportunity, as well as its capacity for category expansion.
Amazon's market cap as a percent of market opportunity — that is, market cap versus advertising potential — is in the single digits, whereas Facebook boasts about 60-percent penetration and Google about 90 percent. Anthony sees a $60 billion global advertising market and a $10 trillion opportunity in retail, a sector Amazon is already "bulldozing."
"The adjustable market for Amazon I think is significant," he said.
Of note, the company's recently announced interest in the pharmaceutical market may not prove impactful in the near future, considering the highly regulated and complicated nature of the sector.
"The pharmaceutical market is a difficult market," Anthony said. "...If they are looking at it and if this rumor is true, it will take them a very long time to get any significant penetration or scale."
How To Listen And Watch
PreMarket Prep is a daily trading ideas show with a focus on pre-market volatility and technical setups. You can listen live and chat with our hosts, guests and listeners every morning from 8–9 a.m. ET here or on YouTube Live. You can listen to the podcast on iTunes, Soundcloud and Stitcher. The full recording of today's show is available below.
View Comments and Join the Discussion!
Posted-In: Analyst Color Long Ideas Short Ideas Top Stories Exclusives Analyst Ratings Trading Ideas Interview Best of Benzinga