Earnings Preview: What Might Be Expected When FB Reports?
Social media giant Facebook Inc (NASDAQ: FB) reports first-quarter earnings after the bell today. It's expected to report earnings of $1.10 per share on revenue of $7.8 billion, according to consensus third-party analyst estimates. In Q1 2016, FB earned $0.77 per share on revenue of $5.4 billion. The stock just hit an all-time high of $153.44 in trading yesterday and is up just over 30% year-to-date, compared to a 12.27% increase in the Nasdaq (COMP).
The options market has priced in about a 3.8% potential stock move in either direction around its earnings release, according to the Market Maker Move indicator on the thinkorswim platform. In short-term options trading at the May 5 weekly expiration, calls were active at the 155 and 160 strike prices while puts had higher volume at the 147 and 150 strikes. As of this morning the implied volatility sits at the 60th percentile, towards the higher end of the range.
Note: Call options represent the right, but not the obligation, to buy the underlying security at a predetermined price over a set period of time. Put options represent the right, but not the obligation, to sell the underlying security at a predetermined price over a set period of time.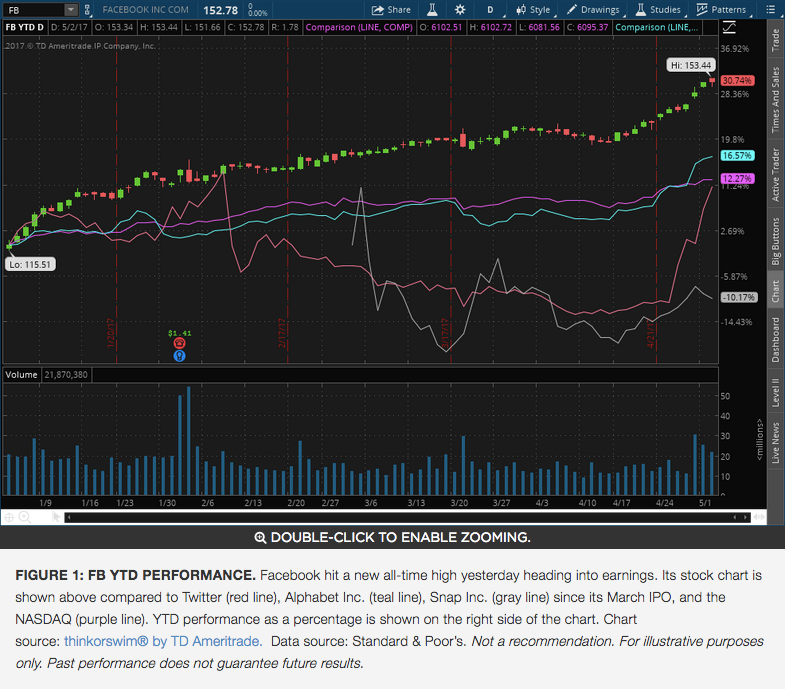 User Growth, Engagement and Advertising
User growth and engagement is one of the key metrics analysts follow for FB and other social media companies. The company reported 1.86 billion monthly active users for the fourth quarter, an increase of 17% from the Q1 2016. On the engagement side last quarter, the company reported 66% of those users checked the social network at least once a day. Across its apps, RBC Capital Markets analyst Mark Mahaney estimates FB has more than 2 billion unique monthly active users.
The reason why user growth and engagement is important to companies such as Facebook is they use data gathered from the use of its apps to sell advertising. According to the company's 10-K, advertising makes up almost all of Facebook's revenues; and in the fourth quarter advertising revenues increased to $8.6 billion, up 53% from Q4 2016.
New (Kind of) Competition
One area investors might be looking for additional insights on this quarter's earnings call is how the company is addressing competition. Even though Snap Inc (NASDAQ: SNAP) has been around since 2011, the company's recent public IPO provides investors with more information to compare the two companies. Over the past several quarters, FB has launched new features in Instagram and other platforms. With its launch of Stories across its platforms including Instagram, WhatsApp and Messenger, Facebook project manager Conor Hayes told Bloomberg "this is really something that Snapchat has pioneered".
SNAP isn't FB's only competitor, but it's one that analysts commonly use to try to compare the two. After the company's F8 developer conference in April, analysts are also drawing parallels to Apple Inc. (NASDAQ: AAPL) and Alphabet Inc. (NASDAQ: GOOG) (NASDAQ: GOOGL).
The Facebook Developer F8 Conference
Facebook recently hosted its annual F8 developer conference, which is a series of sessions that feature a wide range of topics about its apps and services. Facebook's press release about the event highlighted connectivity, artificial intelligence, virtual and augmented reality, and Building 8—a product and development research team. The company announced it is working on technology to translate thoughts into text using wearable sensors.
Investors will get a closer look at the business fundamentals on today's earnings call. That wraps up earnings previews for this week as the season dies down. Next week Walt Disney Co (NYSE: DIS), Priceline Group Inc (NASDAQ: PCLN) and Nvidia Corporation (NASDAQ: NVDA) report results after market close on Tuesday, May 9.
Posted-In: Analyst Color Earnings News Previews Options Markets Tech Trading Ideas
View Comments and Join the Discussion!