Another Bite At The Apple: Fed In Spotlight After iPhone Sales Fall Short
It's decision day at the Fed even as the market buzzes over Apple's slightly disappointing earnings. Facebook Inc (NASDAQ: FB) reports later Wednesday and investors also get a peek at the April jobs picture.
While Apple Inc. (NASDAQ: AAPL) pretty easily beat bottom-line expectations, it came up a bit short on revenue and iPhone sales, which weighed on shares in pre-market trading. Weaker iPhone sales growth actually didn't come as much of a surprise considering softer demand reported in recent earnings from Verizon Communications Inc.(NYSE: VZ), AT&T Inc. (NYSE: T) and T-Mobile US Inc (NASDAQ: TMUS).
Additionally, AAPL is expected to launch a new version of its iPhone later this year, and that might have affected Q1 sales as customers held off. Still, AAPL struggled with iPhone sales in China, a key market where it faces competition from domestic phone makers.
The Fed's latest decision on rates comes early this afternoon, and futures prices show less than 5% odds of a hike. This is a chance for investors to hear the Fed's latest thinking about the economy and get a sense of how likely a June rate hike might be. Odds of a hike by June sit at 67.4%, according to Fed funds futures. Investors might want to carefully read the statement and compare the language to what the Fed said back in March to see if it makes any changes to key observations.
One item that might help determine the Fed's future course of action comes Friday with the April payrolls report. Early Wednesday, ADP announced private sector job growth in April of 177,000, pretty much in line with Wall Street analysts' expectations but not the kind of blowout number that put a charge into the stock market earlier this year. Consensus for April non-farm payrolls growth rests at 180,000, according to Briefing.com.
Anyone who went into Tuesday hoping April auto sales might signal renewed consumer demand probably went away disappointed. Both
General Motors Company
(NYSE:
GM
) and
Ford Motor Company
(NYSE:
F
) reported large sales declines, as did most overseas automakers. And this was despite a 14% rise in incentives per unit from a year earlier. Sedan sales continue to look depressed, even as overall prices rise due to the popularity of SUVs. The slump in auto sales could buttress the theory that Americans are generally cutting back on big-ticket items, and this bears watching.
Those sluggish April automobile sales, accompanied by sinking oil prices, might be giving the bond market a lift, Briefing.com said. The benchmark 10-year Treasury yield is below 2.3%, a key support point.
Stay tuned today for weekly oil stockpiles data from the U.S. government. Supplies have fallen the last few weeks in a pattern typical for the season, but remain about 10% above their Jan. 1 levels. OPEC members seem to be doing a good job complying with their production cuts. May 25 is the date to watch, when OPEC is expected to decide whether to extend the cuts another six months. At this point, analysts say it looks likely to happen.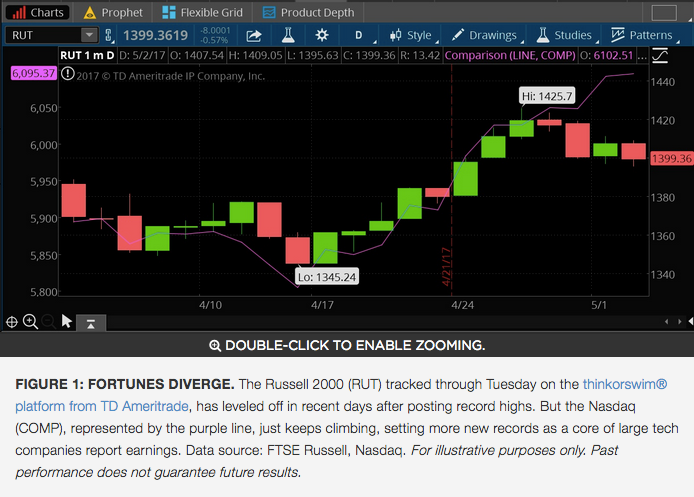 Tax Reform Hopes Could Help Underpin Market
Back in the 1990s when Alan Greenspan led the Fed, there was often talk of the "Greenspan put," or the idea that if something bad happened to the market, the Fed and Greenspan would step in to save the day. The same sort of thing seems to be happening now, but this time it might be better described as the "Trump tax reform put." Last week's tax reform plan announcement from the administration helped send stock indices to record or near-record highs, and continued hopes that Congress and the president might be able to push through market-friendly tax changes potentially could continue to prop up the market moving forward.
Vanishing Volatility
The market's best-known fear indicator, the VIX, fell below 10 earlier this week, and remains near that historically low level. In the 13 years since the CBOE began calculating VIX as it now does, VIX has spent just a few days below 10, and it rested recently at 10.6. That's down from 16 just a few weeks ago when geopolitical concerns sent it momentarily higher. The French election coming up this weekend could potentially give VIX another lift, but for now, it seems like investors are just shrugging off fear.
Market Shrugs Off Fear, But Should Investors?
It might seem odd for volatility to be so low when the market ship faces so many potential reefs ahead, including the French election, North Korea fears, Washington policy battles, this Friday's jobs report, Fed policy, etc. We all love to worry, and many people are still worrying even with the market at or flirting with new highs and earnings coming in solid. Not that you shouldn't be prepared for a possible down move, but all this helps reinforce that it's often best to trade what's there, and not what you think should be there. Remember that old saying, "The market could stay irrational longer than you can stay liquid."
Posted-In: The Ticker TapeAnalyst Color Earnings Commodities Federal Reserve Markets Tech
View Comments and Join the Discussion!