These Stocks Could Feel The Effects Of A Deteriorating Auto Lending Market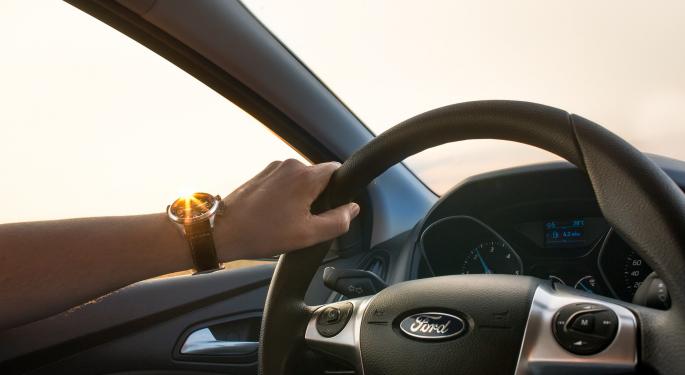 Evidence continues to mount that the subprime auto lending market has a bumpy road ahead. New data suggests U.S. dealers are struggling to sell automobiles so far in 2017, and subprime lenders are taking notice.
CNBC's Phil LeBeau reports that auto dealers are offering record-high incentives for buyers, but new vehicles are still taking longer to sell than at any point since July 2009. Even with an average dealer incentive of $3,499 as of April 16, J.D. Power reports that vehicles are sitting on lots for an average of 70 days before being sold.
According to AutoNation, Inc. (NYSE: AN), dealers are now offering incentives of around 10.5 percent of manufacturer's suggested retail price (MSRP).
"To me, the red line on incentives is 10 percent of MSRP, where they begin to lose their effectiveness," AutoNation CEO Mike Jackson said.
Subprime Auto Lenders
Major subprime auto lenders are taking notice. Fifth Third Bancorp (NASDAQ: FITB) just announced plans to reduce its auto lending portfolio by 30 percent. TCB Financial Corporation (NYSE: TCB) also recently pledged to scale back its auto originations by up to 40 percent.
Wells Fargo & Co (NYSE: WFC), the single largest U.S. subprime auto loan originator, reported a 29 percent year-over-year decline in auto originations in Q1.
"These three lenders are poised to remove $4-5 billion of credit from the used car market," Height Securities said in a note to clients on Wednesday. "The reduction in credit places additional pressure on used car prices."
Related Kink: Meet The Companies Most Exposed To Subprime Auto Risk
Black Book reports used vehicle prices declined by 6.0 percent in 2016. In March, Black Book reported used car prices declined another 7.2 percent in February compared to a year ago. Shares of used car dealers AutoNation and CarMax, Inc (NYSE: KMX) are down 10.9 percent and 6.9 percent in 2017, respectively.
Big Banks
According to Bloomberg, Wells Fargo, JPMorgan Chase & Co. (NYSE: JPM), Citigroup Inc (NYSE: C) and Deutsche Bank AG (USA) (NYSE: DB) were the four top subprime auto underwriters of 2016.All of these huge banks are so large and diversified that their subprime auto loan portfolios represent only a small fraction of their total loans, limiting their risk exposure to a possible downturn.
Automakers
The same can be said of auto companies Ford Motor Company (NYSE: F) and General Motors Company (NYSE: GM). While a downturn in used auto sales would likely negatively impact the companies' bottom lines, both Ford and GM have limited direct exposure to subprime auto loans via their in-house financing arms. In addition, the market seems to have viewed the surge in auto sales in recent years with a certain degree of skepticism. Ford and GM both currently have forward PE ratios under 7, suggesting a decline in sales may already be priced into the stocks.
Who Else?
But while big banks and auto companies are mostly insulated from the impact of a bursting subprime auto bubble, other companies have direct exposure. Certain companies specialize in subprime auto lending and could be at risk if a significant decline materializes. According to Height's Edwin Groshans, the following four companies are most exposed to the subprime auto market:
Credit Acceptance Corp may already be feeling the head of a deteriorating market. The company is part of a large, ongoing investigation by the Federal Trade Commission (FTC) into subprime lending practices. Earlier this year, the FTC requested additional information from Credit Acceptance Corp related to its use of ignition kill switches and GOS systems in debt collection.
Credit Acceptance Corp did not reply to repeated requests for comment.
View Comments and Join the Discussion!
Posted-In: Edwin GroshansAnalyst Color Education Short Ideas Top Stories Analyst Ratings Trading Ideas General Best of Benzinga