Q1 Earnings Results Collide With Geopolitics And Oil
It's an earnings extravaganza today on Wall Street, with the market likely to focus on quarterly results from a number of big names. Stock futures pointed to a higher open after a few stalwarts reported better than expected quarters, but a few others failed to meet expectations.
Meanwhile, geopolitics continues to cause anxiety, and yesterday's big sell-off in crude oil may also be on investors' minds. From an economic data standpoint, the Philadelphia Fed Index came in at 22.0, below expectations, and weekly jobless claims of 244,000 were about as expected.
Some of the stocks that beat Wall Street analysts' estimates and possibly helped boost futures prices included American Express Company (NYSE: AXP), QUALCOMM, Inc. (NASDAQ: QCOM) and CSX Corporation (NASDAQ: CSX). On the other side of the coin, results failed to meet expectations for Travelers (TRV) and Verizon Communications Inc. (NYSE: VZ). There aren't a lot of major companies reporting after the close, but Visa Inc (NYSE: V) is in the mix, following in the fumes of AXP.
Crude oil popped up a little early Thursday after falling nearly 4% the day before. Weak oil helped push energy sector prices down Wednesday, making that the poorest-performing sector. Oil prices had been slipping even before Wednesday, but heavy selling late in the session could have been technical, as falling prices might have triggered some stop orders. Today's slight recovery in crude seems to reflect hopes that Saudi Arabia could extend production cuts.
The other bearish factor Wednesday was another disappointing earnings report from a bellwether company. Earlier this week, it was Goldman Sachs Group Inc (NYSE: GS). On Wednesday, it was International Business Machines Corp.<(NYSE: IBM). While the market often reacts when big companies miss quarterly expectations, it's important to take a broader perspective and realize that to date, earnings have actually been pretty good. Going into today, 57 companies have reported and 75% have beaten expectations.
Aside from oil and the Dow Jones Industrial Average ($DJI) — which was hurt by the slide in IBM — it wasn't all bad news Wednesday. The S&P 500 (SPX) held above technical support at 2330 and the Nasdaq actually posted a gain. The bond market, which had been rallying in part due to geopolitical concerns, retreated slightly late Wednesday and early Thursday, lifting 10-year yields back above 2.2%. The 2.2% point seems to be a support level worth watching.
The last two days provide a good lesson as to why this column mainly focuses on the SPX, not the DJIA. There's a lot of talk out there about how the DJIA has fallen more than 200 points combined Tuesday and Wednesday, with GS driving it down Tuesday and IBM weighing on it Wednesday. But the DJIA is just 30 stocks, and it's weighted by price, not market cap. It remains a barometer for many people, but it's flawed because one big company can have such an out-sized effect.
Geopolitics is still a big factor, but overseas markets were pretty quiet Thursday. Asian and European stocks stayed close to unchanged. Gold prices also were rather flat. The first round of French voting looms this weekend and it seems like a deadlock at this point, and North Korea continues to saber rattle, according to media reports. There's still a lot on the horizon, and that's reflected by the caution that prevails on Wall Street. People don't seem anxious to put a whole lot of risk on.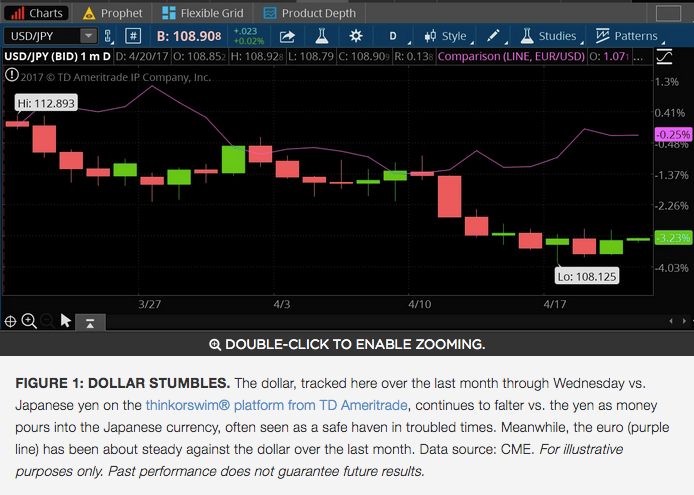 Earnings Week Far From Done
The first full week of earnings season closes with a bang tonight and tomorrow, with Visa Inc (NYSE: V) after today's close and General Electric Company (NYSE: GE) and Honeywell International Inc. (NYSE: HON) lined up for Friday before the open. Earnings have gotten off to a pretty strong start, with the notable exceptions of IBM (IBM) and Goldman Sachs (GS). Looking at GE, it's matched or exceeded Wall Street analysts' consensus expectations the last four quarters. Higher oil and gas prices compared to a year ago may have given the company a tailwind in Q1, but some of the recent weak economic data raise concerns about possible effects on the company's industrial components.
Crumbling Crude
With Wednesday's sharp losses, front-month U.S. crude oil futures fell back to nearly the bottom of the $50 to $55 a barrel range. Prices have been back above $50 for a few weeks, but the recent trend has been back down. One possibility could be profit taking after the rally. Slower growth in U.S. economic data could also be playing a role, and Briefing.com points out that U.S. crude production has remained persistently high lately. There was a withdrawal from stockpiles last week, the U.S. government said Wednesday, but not as much as Wall Street analysts had expected. The date to watch is May 25, when OPEC meets to consider extending the production cuts it instituted late last year.
Tech Talk
Keep an eye on the 2355 level for the S&P 500 (SPX). That marked the 50-day moving average as of Wednesday, and could — along with a cluster of shorter-term moving averages —be a pivot point for the market. One way to monitor this is to see if the SPX can close above that level, because that could suggest a positive technical pattern. Failure to clear it, however, possibly indicates a more bearish trend.
Posted-In: JJ Kinahan The Ticker TapeAnalyst Color Earnings Commodities Markets Tech
View Comments and Join the Discussion!