Speculative Spectrum Names In Play Following AT&T, Straight Path Deal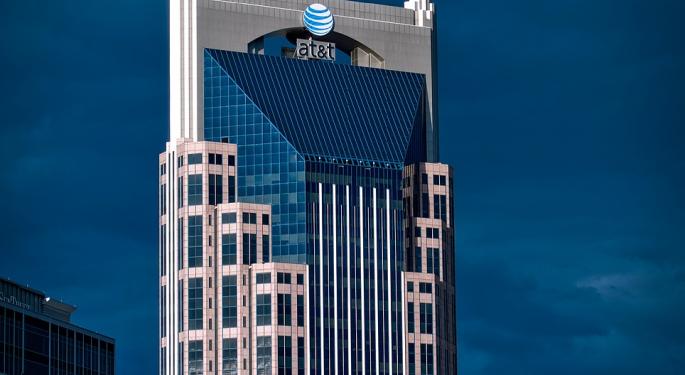 AT&T Inc. (NYSE: T)'s Monday acquisition of Straight Path Communications Inc (NYSE: STRP) was notable mostly because Straight Path isn't. The acquired company's spectrum of interest, one within the 39 GHz range, hasn't been commercially proven.
"We believe that this acquisition was designed around experimentation and that AT&T does not have a current application for the spectrum," Height Securities wrote in a Tuesday note.
The buyout corroborates Height's previous prediction of increased M&A activity ahead of 5G wireless broadband deployment, which bodes well for speculative spectrum companies such as Globalstar, Inc. (NYSE: GSAT) and DISH Network Corp (NASDAQ: DISH).
"We believe that these companies will realize gains on their assets and that the market underestimates the possibility of explosive demand for spectrum," Height analyst Nils Tracy wrote March 10.
Height's Augury
The acceleration toward 5G is an attractive opportunity for technology players poised to profit from increases in spectrum bandwidth, the Internet of Things and market demand for spectrum uses in low-latency commodities, such as medical technology and autonomous vehicles. The demand for consistent, uninterrupted streaming in high-stake devices will ultimately drive demand for and development of expanded bandwidth.
Because the technology dependent on the 5G network already exists, Height expects accelerated spectrum use after standardization is complete. This will ultimately bolster demand for spectrum corporations.
"While the spectrum held by companies such as Ligado Networks and STRP has no current usage, we believe that there will be increased interest in these spectrum assets as wireless uses climb into the higher bands," Tracy wrote in March.
Company value is forecasted to increase in advance of full realization of market demand. As yet, 5G wireless is expected to be commercialized around 2019, and telecommunications companies will continue to enhance their 4G LTE networks in the meantime.
"This means that the current spectrum uses such as media streaming may remain on the current network rather than freeing current spectrum assets for future uses," Tracy wrote. "In this case, there will be increased demand for 5G spectrum as telecommunications companies scramble to anticipate and meet growing technological demands."
Unknown Variables
The primary risk to Height's thesis is a potential policy shift in legislative and regulatory bodies.
Bears also point to present consumer trends requiring nothing more than 4G LTE service. However, a proliferation of smart devices is expected to prompt proportional consumer data use and heighten demand.
Related Links:
Straight Paths Soars 35% Higher On FCC Settlement
Did Globalstar Deserve To Move Higher On Straight Path Takeover News?
Posted-In: Analyst Color News Rumors M&A Analyst Ratings Movers Tech Media Best of Benzinga
View Comments and Join the Discussion!