Want Some Excitement? Market Has Plenty As China Meeting, Jobs, Fed In Focus
Anyone who was missing volatility, volume, and intraday price movement got plenty of all three yesterday, and more could be on the way as the week winds down.
The market threw a party Wednesday morning amid hope for solid jobs growth, but then the Fed pulled the punch bowl away with some hawkish talk. It was quite a reversal, and there's more opportunity for higher volume and quicker price moves today as President Trump meets with Chinese President Xi Jinpang.
One question heading into today's U.S./China summit is whether Trump decides to drive a hard bargain on trade. He's often said trade policy with China is unfair to the U.S. If there's friction between the leaders, U.S. businesses including info tech, agriculture, and the auto sector that get a lot of revenue from China could find themselves in the hot seat. Also, North Korea appears to be on the table, and that could remind investors of the building tension on the Korean peninsula.
Another factor on the policy front could be House Speaker Paul Ryan's remarks yesterday that a tax policy overhaul could take longer than health care. This is something investors may want to keep their eyes on. There are a ton of moving parts to tax policy, so anyone hoping for a quick fix might get frustrated.
The markets could also see a bit more excitement ahead of and following tomorrow's March Non-farm payrolls report. Consensus is for 180,000 new jobs, according to Briefing.com, but yesterday's strong private payrolls report from ADP (see below), which helped give the markets a big early boost Wednesday before the Fed minutes sapped the rally, means there are so-called "whisper numbers" out there for possible higher growth. Remember, February job growth was 235,000, but that was an abnormally warm month, and March was snowy in many areas, which could potentially affect hiring.
Fed minutes from the March meeting showed that officials might want to start dealing with the Fed's balance sheet by later this year. The Fed has a $4.5 trillion stockpile of government and mortgage-backed bonds that it absorbed over the years in an attempt to keep rates low and help stimulate the economy.
If the Fed addresses the balance sheet, it might be like getting additional rate hikes. The supply of debt could rise, potentially lowering bond prices. Bond yields move in the opposite direction of the underlying bonds, meaning yields could climb, making borrowing costs higher and potentially slowing economic growth. The question is how exactly the Fed will go about this unwinding and how long it might take. The minutes released Wednesday made it look like the Fed wants to get started relatively soon.
Meanwhile, the dollar rose against the euro today after dovish talk from European Central Bank President Mario Draghi. He basically said the bank's current easy money policy is working and remains appropriate, the media reported. From Draghi's comments, it doesn't appear Europe would be in for higher rates or an end to its asset-buying program anytime soon.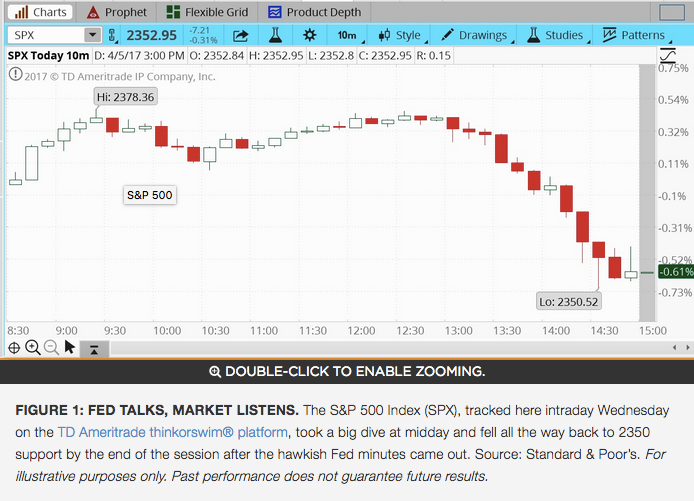 Cold Can't Stop Jobs Growth
It was a frosty month of March for much of the country, but apparently that didn't get in the way of job creation. The ADP private payrolls report for March came in much higher than expected at 263,000, and could point to strong growth in the government's March payrolls data this Friday as well. But that's not a given. Sometimes, ADP and the government's numbers match up pretty well, but not always. Still, it was nice to see goods-producing firms contribute 82,000 to the total jobs growth reported by ADP. Construction led the way with 49,000 new jobs, according to media reports. Remember that the February U.S. Non-farm payrolls data showed healthy job growth across key sectors, including construction, health care, manufacturing, mining, and professional and business services. One particular standout was 58,000 new construction jobs. The ADP report Wednesday indicated that this trend might be continuing, so that's what investors might want to watch for tomorrow in the government's data.
Jobs Not the Only Data Friday
Though the jobs report might dominate early trading action tomorrow, wholesale inventories for February also come out later in the morning. Wall Street analysts' consensus is for a 0.4% bounce, which would be a big recovery from the 0.2% decline seen in January, according to Briefing.com. One number to always watch in these reports is the ratio of inventory to sales, which fell to 1.29 in January from 1.37 a year earlier. That means demand might be catching up with supply, which would conceivably help companies with their pricing power. Still, some analysts believe the ratio would have to drop to around 1.2 to signal a fundamental change. It was last at that level about three years ago.
Rate Hike Chances Look Higher
The Fed raised rates once already this year and consensus in the market is for potentially two more hikes before the end of December. So whatever the Fed decides to do with its balance sheet, borrowing costs might keep rising. Chances for a rate hike by June are up above 65%, compared with around 50% a week ago, according to the futures market.
Posted-In: Analyst Color News Bonds Health Care Commodities Treasuries Econ #s Federal Reserve
View Comments and Join the Discussion!