No No, Power Rangers? Sizing Up The Impact To Lions Gate If Ranger Reboot Goes Wrong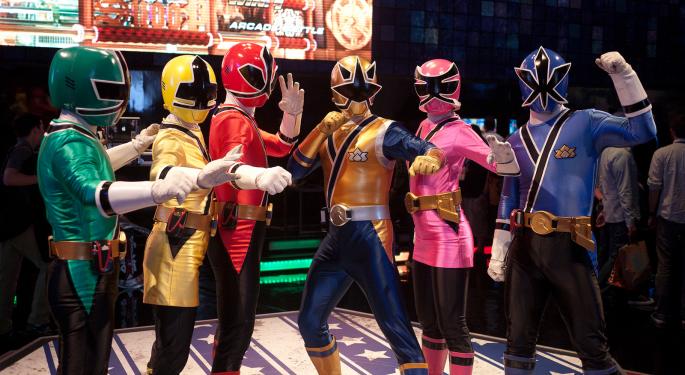 Ahead of the theatrical release of the reboot of " Power Rangers," sell-side analysts weighed in on how it is likely to perform and the general prospects of Lions Gate Entertainment Corporation Class B Non-Voting Shares (NYSE: LGF-B) and Lions Gate Entertainment Corporation Class A Voting Shares (NYSE: LGF-A), which has co-produced and is distributing the reboot.
"Power Rangers" is a superhero film belonging to the franchise of the same name and is the third film in the series.
Box Office Expectations
Loop Capital Markets said the film, which is to be released nationwide this weekend, will be screened in about 5,600 screens. The firm estimates a solid opening of $28 million for the film, with cumulative audience, or cume, estimated at $87 million domestically and $220 million worldwide.
Meanwhile, Pacific Crest Securities, a unit of KeyBanc Capital Markets, expects domestic cume of $75 million, below sell-side consensus estimate of $88 million, with the opening pitched at $30 million.
Loop Capital Markets dismissed concerns that Walt Disney Co (NYSE: DIS)'s "Beauty and the Beast" might marginalize the Power Rangers' opening, as it thinks the latter is the film choice this weekend for young boys.
Dual Concerns Going Into The Opening
Loop Capital Markets' David Miller indicated that there are going to be concerns regarding the lack of experience of director Dean Israelite and the cost. The firm indicated that the film helmed by Israelite earlier did achieve marginal profitability despite being a financial disappointment.
As an argument to quell concerns about costs, the firm said, "Yes, Power Rangers carries a $110.0mm negative cost, but after netting out Saban's exposure (Haim Saban's LLC still owns the Power Rangers IP), tax credits, and foreign pre-sales, LGF's total negative cost exposure is a mere $22.0 million, and that's a figure that gets amortized over the next 10 years."
Early Reception Mediocre
Analysts Evan Wingren and Andy Hargreaves of Pacific Crest Securities highlighted the fact that early critical reception has been mediocre. The analysts indicated that theatrical opening multiples for poorly reviewed films are about 2 times compared to 3 times for films receiving positive reviews.
Assumption On Grosses
Pacific Crest Securities said, "We estimate that at $75 million DBO cume the film would be slightly profitable to breakeven over a multiyear time frame." The estimate assumes about $70 million in Prints & Advertising, or P&A, spending, bulk of the revenue falling in fiscal-year 2018, no share in consumer product sales and 85–90 percent of the production budget being covered by international pre-sales and tax savings.
A reasonable opening would likely continue to support measured optimism around the Lionsgate film slate, the firm added.
Lowering Estimates
Loop Capital Markets lowered its fiscal year fourth quarter revenue, GAAP earnings per share and levered FCF estimate for Lions Gate to $1.18 billion, $0.25 and $0.63 per share from $1.21 billion, $0.40 and $0.78 per share, respectively. "The adjustment comes on a combination of slightly lower television licensing in the quarter, which we characterize as essentially a timing issue, plus higher "chase P&A" for La La Land throughout awards season," the firm said.
The firm suggested investors to weigh the developments in the backdrop of a messy and unusual start to the fiscal year, which saw a major acquisition, a re-levering of the balance sheet, an expansion of the share count, and a myriad of one-time charges related to the Starz integration, transaction-related costs, and debt extinguishment items.
Rating/Price Target
Loop Capital Markets: Buy/$30.
Pacific Crest Securities: Overweight/$30.
At Time Of Writing
The Class A shares were up 2.64 percent at $25.64.
The Class B shares were up 1.68 percent at $23.59.
Related Links:
Look For Lions Gate's 'Warm' Streak To Continue In Its Pending Q3 Results
Disney's Film Success Keeps Company In 'Beast' Mode
________
Image Credit: By ze_bear - http://www.flickr.com/photos/ho-fosho/7476133166/, CC BY-SA 2.0, via Wikimedia Commons
Posted-In: Andy Hargreaves David Miller Dean IsraeliteAnalyst Color News Analyst Ratings Tech Media Best of Benzinga
View Comments and Join the Discussion!