Israel Uses Advanced Outer-Space Missile Produced With Boeing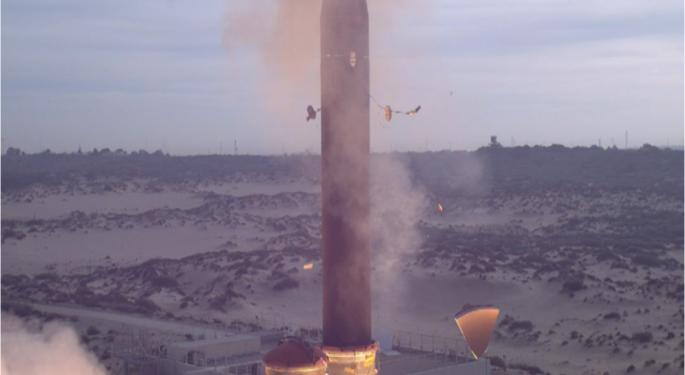 By knocking out a surface-to-air missile from Syria last week with its newest Arrow 2 interceptor, Israel successfully deployed the latest addition to its packed quiver of air defenses, which might be the most sophisticated in the world.
The Arrow 2 missile, which can take out targets outside the Earth's atmosphere, was launched after Israeli fighter jets attacked a Hezbollah arms convoy in Syria heading into Lebanon, the Jerusalem Post said. Hezbollah fights alongside Syrian government forces opposed to U.S.-backed rebels.
Syrian air-defense systems fired three missiles at the Israeli jets, and the Israeli military revealed that one of the ballistic missiles was taken out by the ballyhooed Arrow 2, which is co-produced by the Boeing Co (NYSE: BA) and Israeli Aerospace Industries.
The Arrow 2's deployment was the first successful use of the latest addition to Israeli air defenses, which once were dependent primarily on Patriot missiles developed by the Raytheon Company (NYSE: RTN). Some Patriots are still in use in Israel, and Raytheon makes other missiles that are part of this cutting-edge system.
"I don't think we can say (which country) has the best individual system, but I think it would be fair to say that Israel has the most comprehensive missile defense of any country when all the different systems, radars and integrated command-and-control are taken into consideration," said Jeremy Binnie, a missile analyst for Jane's Defence, a division of IHS Markit Ltd (NASDAQ: INFO).
U.S. Defense Contractors Guaranteed A Cut Of Israeli Missile Defense
In exchange for the U.S. contribution to the Israeli defense budget, U.S. firms are guaranteed a slice of the Israeli missile budget. According to Defense News, Boeing received $100 million for the Arrow production. Congress for this year approved $416 million for other aspects of the complex missile system, with Raytheon expected to receive half the production funding.
The Arrow 3 is only part of Israel's particular air-defense web developed by the government-owned Rafael Advanced Defense Systems Ltd. Binnie said Rafael is marketing aspects of its system to other countries.
From Iron Dome To David's Sling, Israeli Missile Defense In A Nutshell
Here's how Binnie broke down Israel's layered missile system for Benzinga:
Iron Dome: Missiles used for intercepting artillery rockets from common 122mm Russian Grads to tactical ballistic missiles with a range of sixty miles. The system will even be capable of taking out lightweight enemy drones.
David's Sling: Expected to achieve operating capability next month, it is expected to be a more affordable replacement for the U.S.-made Patriots. It's designed for intercepting heavy rockets. Binnie said Israel chose this system rather than upgrade to the PAC-3-series manufactured by Lockheed Martin Corporation (NYSE: LMT). However, Raytheon helped develop the Stunner missile used in this program.
Arrow Weapon System: The Arrow 2 anti-ballistic missile has been used for years for intercepting longer-range ballistic missiles inside the atmosphere. The Arrow 3 was formally inducted into service in January for intercepting missiles such as Iran's Shahab-3 medium-range ballistic missile even further outside the Earth's atmosphere.
Related Links:
What's A Constitutional Crisis, And Are We Headed For One Over Trump's Travel Ban?
Breaking Down Trump's 'Skinny Budget' ______ Image Credit: "Feb. 25, 2013 - The Israel Missile Defense Organization (IMDO) and the U.S. Missile Defense Agency (MDA) completed a successful flight test of the Arrow-3 interceptor missile. The Arrow-3 interceptor successfully launched and flew an exo-atmospheric trajectory through space, according to the test plan." By United States Missile Defense Agency - http://www.mda.mil/news/gallery_internationalcoop.html, Public Domain, via Wikimedia Commons
Posted-In: Analyst Color News Politics Global Analyst Ratings Tech Interview General Best of Benzinga
View Comments and Join the Discussion!