After Early Focus On Trade And Brexit, Week Ahead Brings Housing Data, Fed Speakers
Housing data, a slew of Fed speakers, and even some important earnings reports highlight the week ahead as investors digest last week's interest rate hike.
Stock futures pointed to a lower open amid pressure from the weekend's G20 meeting of world financial officials. The meeting appeared to raise concerns about possible trade wars as the U.S. convinced the group to drop a policy pledge against protectionism, media reports said. In other news from overseas, Reuters reported that Britain would begin the formal Brexit process March 29.
On the home front, most economic growth indicators have been positive of late, setting the stage for some key housing numbers in the coming days. February existing home sales are due Wednesday morning, followed by new home sales on Thursday morning.
Existing home sales and prices have been on the rise over the last few months, but limited inventory seems to be making homes less affordable for some buyers. Existing home inventories fell in January for the 20th straight month. Unsold inventory fell to the lowest level in 12 years.
Housing starts seem to be reacting, jumping 3% in February to a seasonally-adjusted rate of 1.288 million, the highest since last October. New home sales rose 5.5% year over year in January to a seasonally-adjusted rate of 555,000, so we'll find out Thursday if February sales kept up the momentum.
Another closely watched indicator—industrial output—was flat in February, the government reported Friday. But that reflected a nearly 6% drop in the utilities reading, a sign that unusual February warm weather probably affected heating demand during the month. Other parts of the report somewhat offset the utilities dive, including a 0.5% rise in manufacturing and a 2.7% rise in mining. As we noted before the report came out, it's important to read beyond the headlines, because this one actually revealed strong growth in key sectors.
Though it's not earnings season, a few reports cross the wire this week, including FedEx Corporation (NYSE: FDX) and Nike Inc (NYSE: NKE), both of which are scheduled to report Tuesday after the close. GameStop Corp. (NYSE: GME) is due Thursday afternoon. These reports could give investors a sense of how consumers are faring, with FDX of particular note. Recall that FDX missed Wall Street analysts' expectations in its previous quarter, and the earnings report it releases Tuesday will cover holiday season performance, an important quarter for the shipping firm.
There's a lot of action in Washington, D.C., that the markets might be monitoring this week, including hearings for a new Supreme Court Justice as well as health care legislation. Additionally, a herd of Fed speakers are on tap, (see below), so investors may want to stay on their toes.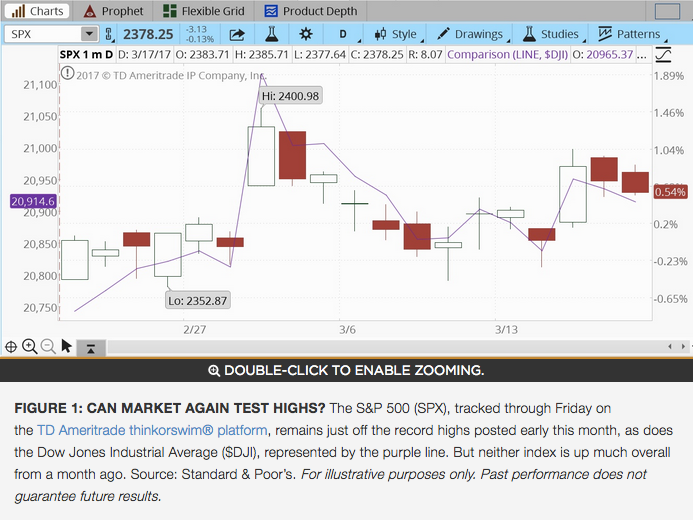 Was it The "Rate" Decision? Fed Speakers Ahead
Now that last week's Fed meeting is over, Fed speakers will be opining all week and may have more to say about how the Fed reached its decision. They also could shed light on how they see the economy moving from here, and on specifically what data they'll be monitoring. There are too many speakers to list, but suffice to say, investors might want to keep watch for any possible market-moving statements. One speaker that could be particularly interesting is Federal Reserve Bank of Minneapolis President Neel Kashkari, the sole vote against last week's rate hike.
In a statement last week, Kashkari said, "I dissented because the key data I look at to assess how close we are to meeting our dual mandate goals haven't changed much at all since our prior meeting. We are still coming up short on our inflation target, and the job market continues to strengthen, suggesting that slack remains. Once the data do support a tightening of monetary policy, I would prefer the next policy move by the FOMC to be publishing a detailed plan that explains how and when we will begin to normalize our balance sheet."
Russian Roulette?
The oil market continues to twist and turn in part on the latest OPEC production numbers. But the question that came up last week is whether Russia, not a member of OPEC but the world's biggest crude oil producer, is complying with the production cuts it agreed to. The answer, so far, seems to be no, according to the International Energy Agency (EIA). As of last week, Russia had delivered only 40% of the promised cut of 300,000 barrels per day, the EIA said, while OPEC production actually increased slightly in February. This, along with U.S. production that's about 500,000 barrels a day above last summer's levels, could be helping depress prices. On the other hand, Russia didn't promise to make a complete cut at once, so its production continues to bear watching. Oil slipped toward $48 a barrel early Monday.
You're Going the Wrong Way!
There's still buzz about how 10-year Treasury yields behaved after the Fed raised rates. Typically, a rate rise signals higher yields ahead, but the 10-year yield dropped right after the Fed announced its hike last week. Some say this might have reflected the Fed's less hawkish tone about the future pace of rate hikes, as it kept its target unchanged for a total of three this year. But there's also historic precedent for the bond market's seemingly counterintuitive behavior. Looking back at the last few rate increase cycles, yields fell on each occasion after the Fed raised rates for a third time. One more statistic to ponder: The S&P 500 Index (SPX) is now up about 15% since the current rate hike cycle began in December 2015. That's the best performance the market has ever delivered after three hikes. Ten-year Treasury bond yields were practically unchanged early Monday at 2.5%, and the dollar fell against the euro.
Posted-In: Analyst Color Earnings Bonds Eurozone Commodities Previews Treasuries Global
View Comments and Join the Discussion!