Wings Clipped: How Chicken Wings Became Chicken Wing Restaurants' Biggest Headwind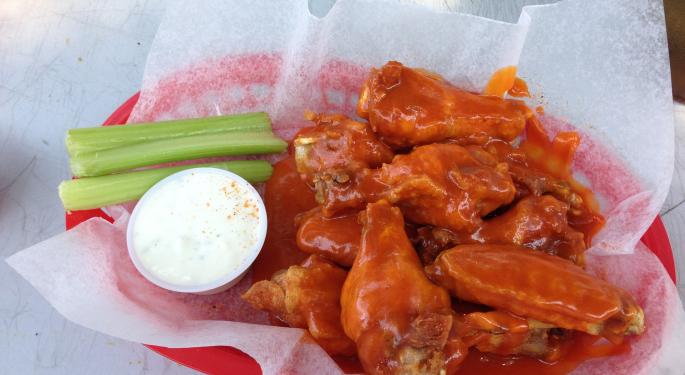 Wing price inflation is taking the wind out of the sails of chicken wing restaurants. And the proof is there to see, with some big names in the space reporting abysmal fourth-quarter results, blaming them on wing price inflation.
Chicken wing frenzy reaches the peak during the football season, although it has now become a staple in bars and restaurants across the nation year-round. Chicken wings as such are protein rich, but when they are heavily coated with breading and go through the fryer, they come loaded with carb and fat.
Hard Statistics
The chicken wing frenzy was tapped by all restaurant concepts such as casual, fast food as well fast casual. The National Chicken Council said in its 2017 Wing Report that Americans will eat 1.33 billion wings during Super Bowl LI weekend, up 2 percent estimated in the 2016 report.
A report filed in the Alberta Farm Express estimates U.S. chicken wing sales topping $839 million each year and cooked wings fetching another $633 million. The report also suggested that now 30 percent of all classes of restaurants offer a winged plate.
Wings Hit A Snag
Publicly traded chicken wing restaurants were once high-fliers, as they capitalized on this frenzy. However, these companies are now being confronted by a host of sector-wide drags, such as declines in traffic, margin pressure arising out of higher wing prices and rising wages.
Q4 Print Reveals Problem At Hand
Recently published fourth-quarter results and comments out of the earnings calls underline the problem at hand:
Buffalo Wild Wings (NASDAQ: BWLD)
Buffalo Wild Wings reported below-consensus fourth-quarter earnings of $0.87 per share and a 4-percent decline in same-store sales. Stephens' analyst Will Slabaugh attributed the weak results partly to wing price inflation.
The restaurant said on its earnings call that cost of sales, at 31.1 percent, was higher than expected, blaming the increase on higher traditional wing pricing. Traditional wings were $1.99 per pound in Q406 vs. $1.81 in Q405. This apart, the cost of labor also ballooned 90 basis point year-over-year due to sales deleverage.
Offering insights into the running first quarter, Buffalo Wild Wings said the cost of traditional chicken wings for the first two months of the year 2017 was $2.02 per pound, up 1.5 percent from Q4 levels.
Wingstop Inc (NASDAQ: WING)
Wingstop nosed ahead of earnings estimates in its recent fourth quarter, as cost discipline helped it to circumvent same store sales weakness at its domestic operations. The company's 2017 earnings per share guidance was weak.
Wingstop also harped on wing price inflation, attributing the 5.9 percentage point increase in cost of sales to 13.1 percent bone-in-chicken wing price inflation and continued labor investments. The company also predicted a 10 percent bone-in-chicken wing inflation for the first quarter over the preceding quarter.
Meanwhile, smaller rival Popeyes Louisiana Kitchen Inc (NASDAQ: PLKI) recently reported better-than-expected fourth-quarter results. The company, however, cancelled its earnings call due to its pending acquisition by Restaurant Brands International Inc (NYSE: QSR).
El Pollo LoCo Holdings Inc (NASDAQ: LOCO) released its fourth-quarter results after the market close Thursday.
Related Links:
View Comments and Join the Discussion!
Posted-In: Analyst Color Earnings News Education Guidance Commodities Restaurants Markets Best of Benzinga