Wall Street's Biggest Solar Power Bear Thinks First Solar Is Headed For A 'Dark Age'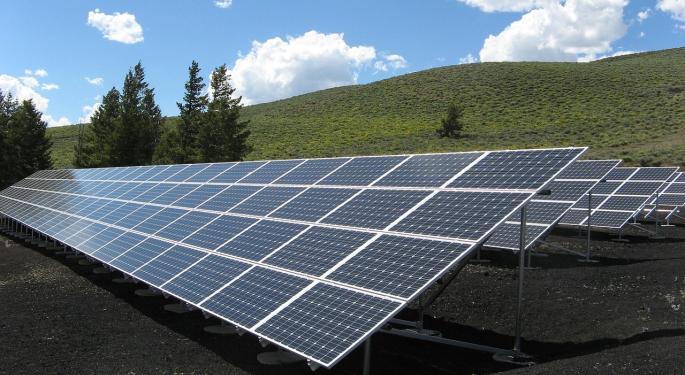 One of Wall Street's biggest solar bears is back at it.
Axiom's Gordon Johnson, who correctly predicted the downfall of SunEdison in 2016, initiated First Solar, Inc. (NASDAQ: FSLR) at a sell in a note on Tuesday and announced a $21 price target for the stock.
In a subsequent appearance on Benzinga's Pre-Market Prep show, Johnson highlighted the fact that the six large legacy projects the company has used to bolster earnings in recent years are now gone.
"The company has had — quite geniusly, I might add — a number of projects that allow them to report earnings that we believe were much higher than what [would] have been reported," Johnson said.
For years, the major risk in shorting First Solar was the existence of these legacy projects bolstered by power purchase agreements. These projects allowed the company to "defer high-quality revenue and margins to future periods, providing years of EPS buffer during earnings down-cycles," according to the note.
Related Link: Saudi Arabia's Ex-Oil Minister Has Moved On To... Solar?
"Now those projects are gone," Johnson said. "So now the company has to compete on the merits of its technology, and, quite frankly, I don't think they can compete against the Chinese."
Johnson extended that bearishness to another U.S. solar vendor, SunPower Corporation (NASDAQ: SPWR).
"We believe the US solar components and project juggernauts (i.e., FSLR and SPWR) have entered a period we will refer to as the 'dark age,'" the note said.
Major Issues For CAFD
Johnson said First Solar's yield company, 8Point3 Energy Partners LP (NASDAQ: CAFD), is another significant issue.
"CAFD we believe has major issues and the reason is CAFD uses non-amortizing revolver debt when they should be using amortizing term debt like every other yield co.," he said. "At some point, they're going to have to amortize that debt, and when they do that, their dividend yield is probably going to get cut in half, which will effectively be a major headwind to the stock.
'An Unproven Technology'
Another worry is the company's $900-million investment in developing what Johnson called "an unproven technology" to lower energy costs from more than 30 cents per Watt to about 22 cents per watt by 2020.
"Module prices today are in the low 30's range and they fell 35 percent in 2016.
"Arguably by 2020 module prices will be well into the low 20's. If that indeed is the case, the earnings power for First Solar will be sub-$1, and could potentially be even loss-making."
What Shareholders Should Know
With estimates of 2 gigawatts of component sales, 1 gigawatt of systems sales and 500 megawatts of project sales, Axiom predicts a mid-cycle margin of $424 million. This yields an EPS of 91 cents — 17.3 percent of $5.27 consensus estimates.
"As such, as module prices likely collapse following China's mid-year FiT [Feed-in Tariff] cut, we see FSLR's shares fading," the firm wrote.
And it appears that First Solar insiders see what Axiom sees. In 2016, executives sold a total of $40.1 million in shares.
At the time of publication, shares were trading down 1.85 percent, slightly above $37.
You can listen to the full interview with Johnson at 47:35 in the clip below.
PreMarket Prep is a daily trading ideas show focused on technical analysis and early morning movers. Listen to PreMarket Prep and chat LIVE with our hosts, guests, and other listeners every weekday morning from 8–9 ET!
Spencer Israel contributed to this report.
Posted-In: Analyst Color News Commodities Initiation Markets Analyst Ratings Media Interview Best of Benzinga
View Comments and Join the Discussion!