Jobs Report, Fed Meeting Out of the Way, So Market Seeks New Catalyst
The market put on its rally shoes Friday after a week that featured a truckload of earnings reports, a Fed meeting and jobs data. What can it do for an encore?
One thing that stands out about the days ahead is how much quieter they look than last week. Though earnings keep rolling along, the bulk of the season lies behind us, as about 60% of S&P 500 companies have already reported. The Fed meeting is in the rear view mirror, too, and though Fed speakers may be back in the headlines soon, the next big Fed item on the calendar is Fed Chair Janet Yellen's testimony to Congress Feb. 14-15.
A few economic data points do stand out this week, notably the JOLTS job openings report on Tuesday. But the next major economic reports are the same week Yellen speaks, and include the Producer Price Index (PPI), Consumer Price Index (CPI) and retail sales. That's all the week of Feb. 13.
Last Friday's jobs report, as we mentioned in Friday's column, was something of a mixed bag. It's always good to see employment growth in areas like construction, health care, and finance, and the report delivered that. But hourly earnings growth of just 0.1% was somewhat surprising after the 0.4% rise in December. With unemployment pretty low, it's kind of surprising to see such light wage growth. On the other hand, hourly earnings are up 2.5% year-over-year, better than the rise we saw for the same period between early 2015 and early 2016. So some progress seems to be afoot.
Fed funds futures now forecast just a 13% chance of a March rate hike, down from around 17% before the jobs report. The June meeting continues to be the one in which futures trade suggests the Fed might pull the trigger. Many market participants are starting to scale back their initial hawkish statements about the Fed's approach to policy in 2017, but the assumption remains that the Fed will continue to tighten policy, and there are still expectations for rate hikes sooner rather than later. Let's wait and see if Yellen drops any hints at her congressional testimony next week.
With economic data not as front and center this coming week, and the Fed meeting out of the way, earnings could remain in focus, with more than 70 S&P 500 companies reporting this week. Some of the major reports include quarterly results from Walt Disney (NYSE: DIS), General Motors (NYSE: GM), and Coca-Cola (NYSE: KO), to name just a few.
Stock market indices enter the week at or near historic high levels, meaning it's important for investors to keep portfolio diversification in mind. A rallying stock market can often cause investors' holdings to get weighted more heavily into equities than they may have planned, so it could be a good time to check holdings and make sure equities don't begin overshadowing investment in other categories like fixed income. Balance can often be the key to smart investing.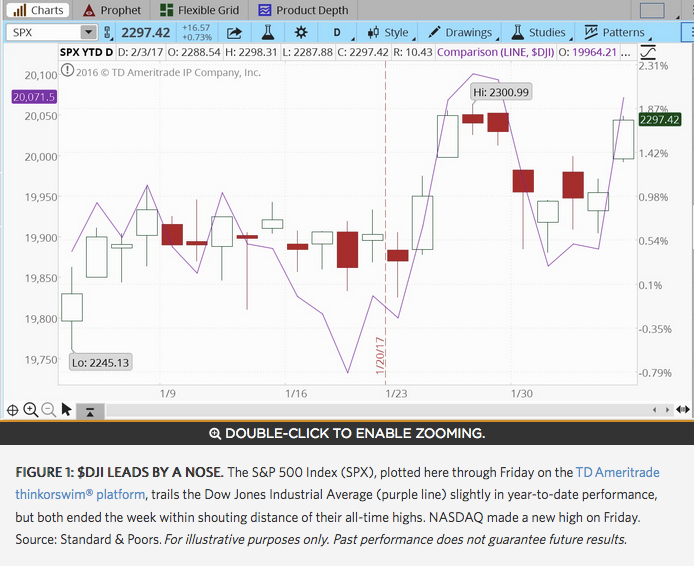 CEOs Bend Trump's Ear
One of the highlights Friday was President Trump's meeting with a roundtable of U.S. business leaders, whom Trump says he might meet with regularly. Some of topics included trade, taxes, and financial regulations. Many investors have been waiting for the new administration to begin focusing on these topics, so the meeting, and Trump's apparent willingness to listen to corporate experts and perhaps take their advice, may have injected optimism into the market as a whole on Friday.
Dodd-Frank Revisited
The controversial Dodd-Frank Act looks like it could be the subject of some examination by the Trump Administration. It may be amended or completely gutted. The legislation set tougher capital requirements on banks and other financial institutions. It had basically set up a panel to oversee capital stability, and many thought the requirements went too far. There is a hope that with some requirements changed, it could help liquidity in equities and, even more importantly, help liquidity in the fixed income market.
Oil and China -- What Happened?
About a year ago, the S&P 500 Index (SPX) sank to 1,810 in intraday trade, pinned down by worldwide economic jitters. Two of the big pressure points at that time were concerns about China's economy and decade-low crude oil prices. Both of these factors led to worries about a potential major economic slowdown that could hinder the markets. But China's economy, though far from perfect, has bounced back a bit in recent months, and the country's decision to raise interest rates last week speaks to that. And oil remains about double its price of a year ago, helped not only by the slight recovery in China but also by signs of burgeoning economic growth in Europe and the U.S. So with neither of those elements to drag down the stock market, at least for now, U.S. indices remain near all-time highs. One other note to keep in mind: Oil prices seem pretty steady at the moment, but if crude does start to fall, that might be seen as more of a reflection of bountiful U.S. production than of any economic issues weighing down demand.
Posted-In: The Ticker TapeAnalyst Color Commodities Econ #s Federal Reserve Markets
View Comments and Join the Discussion!