Ringing up the iPhones: Strong Apple Results Put A Charge Into Markets
Apple (NASDAQ: AAPL) unleashed a zinger of an earnings report late Tuesday that could help set the tone today, especially in the info tech sector. Stock futures tipped higher before the open as traders digested the AAPL results and awaited the wrap-up of this week's Fed meeting.
The iPhone maker posted fiscal Q1 adjusted earnings per share of $3.36, compared with Wall Street analysts' consensus of $3.22. Revenue easily topped estimates, as well.
Strong iPhone sales grabbed the headlines and helped boost revenue. AAPL sold more than 78 million iPhones, above Wall Street estimates. Remember, those sales occurred during the holiday shopping quarter, meaning AAPL's products remained popular as people selected gifts for themselves and others.
AAPL's results also included a full quarter from the iPhone 7 and iPhone 7 Plus, which had been on the market only a few weeks in Q4. Before Q1, iPhone sales had been trending down, so perhaps the new models helped revive consumer demand. AAPL shares have climbed to their highest levels since mid-2015 in pre-market trade, rising more than 4%.
The earnings action is about halfway over, but far from complete; and this is a big week, with almost 100 of the S&P 500 reporting. This afternoon brings results from Facebook (NASDAQ: FB), with tomorrow morning highlighted by Merck (NYSE: MRK). Amazon (NASDAQ: AMZN) and Chipotle (NYSE: CMG) come tomorrow afternoon.
Earnings have had their ups and downs so far; let's face it. Some of the big multinationals seem to be struggling, in part due to the strong dollar. And earnings yesterday from United Parcel Service (NYSE: UPS) and Under Armour (NYSE: UAA) just plain disappointed. Still, things continue to point mostly in the right direction, with some key companies surpassing expectations. AAPL is the latest among them.
The biotech sector roared back Tuesday, posting 3% gains amid optimism that the new Trump administration might light a fire under the U.S. Food and Drug Administration (FDA). Though Trump's complaints about high drug prices have pressured biotech at times, investors focused on the positive Tuesday when Trump said he wanted to speed up FDA drug reviews. The FDA review process has long been a complaint among biotechs and the pharma industry in general. The strength in biotech led to health sector gains of more than 1.4% Tuesday.
Later today, investors will get the latest word on how the Fed views the economic landscape as its two-day meeting ends. Chances of a rate hike appear slim. There's no press conference, but investors likely will probe the Fed's statement for any discussion about the inflation and growth picture. This meeting comes amid plenty of policy turbulence in Washington and in the heart of earnings, but it's never a good idea to forget about the Fed. We'll see what Yellen and company have to say.
And besides earnings and the Fed, there's no shortage of data today, with auto and truck sales, construction spending, and the ISM Index all on tap. Employment data from ADP this morning showed the private sector adding a robust 246,000 jobs in January, well above expectations.
On the technical front, it's interesting to see how the S&P 500 Index (SPX), despite four-consecutive lower closes, continues to show strength. Each of the last two days, the SPX has rallied back toward the end of the day and posted a close more than 11 points above its intraday low. And on both days, the close has been above key support at the 2275 level. Buying interest seems to come in after the index falls below 2270. We'll see if that pattern continues to hold. For now, keep an eye on the 2275 level, which still marks support just below the market.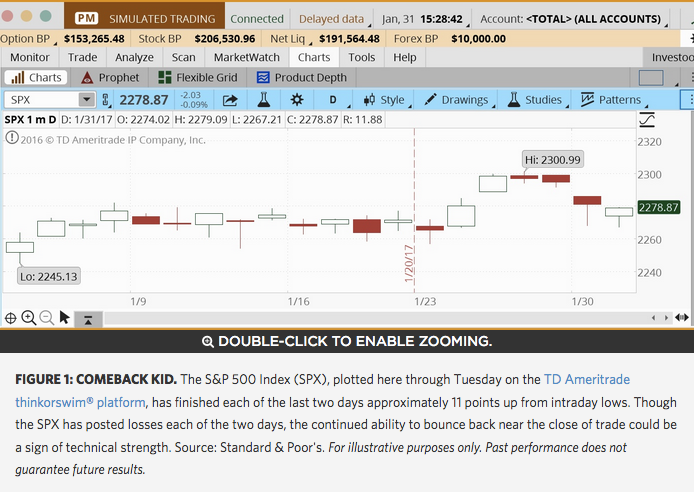 Economic Data Mixed So Far; Waiting for Auto Sales
Tuesday's economic numbers were all over the map, with the housing sector continuing to show strength even as manufacturing and consumer confidence failed to achieve Wall Street's rather lofty aspirations. On the plus side, the S&P Case Shiller Home Price Index rose 5.3% in December, beating analysts' estimates for about a 5% increase. The housing market still looks pretty hot.
But Chicago PMI at 50.3 came in well below the consensus expectations for 55, and indicated just the smallest signs of growth. Remember, any number above 50 in PMI indicates economic expansion. New orders, which fell below the expansion/contraction line, accounted for much of the weakness. The PMI data, along with last week's tepid Q4 gross domestic product (GDP) report, could have some economists re-thinking the strength of the economy. Today's auto and truck sales, ISM index, and construction spending data may provide additional perspective on the broader economic picture.
Building Up
Speaking of construction spending, it's been up nine of the last 11 months going into today's report for December, and November's 0.9% rise was the best result in some time. The uptick in November was led by increases for both private spending (+1%) and public spending (+0.8%). But Briefing.com's consensus for December is just 0.2%, the lowest since September. The new administration has promised to emphasize infrastructure going forward, so it could be interesting to see how that affects this particular data point in months to come.
Hike!
Many Americans probably look forward to sitting in their favorite chair or visiting their local watering hole to take in the big game Sunday. Could the final score affect the markets? Logically, of course not, but it's fun to look back in history and see how the market performed afterward, even though past isn't prologue. One theory posits that the Dow Jones Industrial Average (DJI) tends to have a down year when AFC teams win the game. While there's no science backing this up, the DJIA has fallen 80% of the time in AFC victory years since 1967, according to research firm CFRA.
Posted-In: Analyst Color Biotech Earnings Technicals Econ #s Federal Reserve Markets Tech
View Comments and Join the Discussion!