Stocks Could Remain Range-Bound Until Trump Policy Details Become Clearer
Last year may have been the year of the Fed, but this year looks like it could be the year of policy. And recent trading appears to reflect that.
Many market participants put the Fed as item "1A" on their list in 2016, focusing on the continued debate over rate hikes that seemed to just go on and on until the Fed finally made its move in December.
But now the Fed looks more like item "1B," as multiple 2017 rate hikes come pretty much baked in, according to the futures market. The primary focus now seems to be on President Trump's big policy priorities: especially tax reform and health care. And because investors are less certain about when and how these policies might play out, equities might remain in a trading range until there's more clarity.
That range now appears to be approximately 2252 to 2280 for the S&P 500 Index (SPX), and we could see stocks bounce back and forth there at least until early February. At that point, perhaps more will be known about how the new administration plans to move ahead. Trump did discuss cutting regulations on business Monday, media reports said. But there's a hunger for detail.
While it's hard to predict the next move from Washington, we do know earnings remain front and center in the coming days. Financial sector executives gave a generally positive tone about growth on their earnings calls earlier this month. Tech companies are coming up. Investors might want to listen to some of those earnings calls, especially to get a better read on the impact of the strong dollar, which often has a bigger effect on tech than on some other sectors.
The markets looked flat ahead of today's earnings deluge. Key names reporting this morning include Johnson & Johnson (NYSE: JNJ) and Alibaba Group Holding Ltd (NYSE: BABA). BABA executives could potentially shed light on evolving U.S. trade policy and its possible effect on their business, and JNJ could give investors some early insight into the pharmaceutical sector. Remember, JNJ isn't just diapers and other consumer products. About 51% of its business is in pharma. BABA had a strong quarter and its shares rose sharply early Tuesday; JNJ shares fell after the company beat earnings estimates but missed Wall Street analysts' revenue expectations.
Also, investors might want to keep an eye out for Alcoa Corp (NYSE: AA) earnings, scheduled after the close today. Wednesday morning brings Abbott Laboratories (NYSE: ABT) and Boeing Co (NYSE: BA). Only about 20% of S&P 500 companies have reported so far, and Thomson Reuters predicts average earnings per share in Q4 to rise 6.3% from a year earlier.
On the M&A watch, a federal judge ruled Monday against Aetna Inc (NYSE: AET) $37 billion deal to buy rival insurer Humana Inc (NYSE: HUM), saying it could thwart competition in the health insurance market. The Obama administration blocked a number of mergers on antitrust grounds, and the question is whether this might change under Trump. On the one hand, the new president has championed U.S. businesses, but he's also vowed to bring more jobs to U.S. workers. With that in mind, it could be interesting to watch the administration's approach to M&A.
Bond prices had been back on the upswing recently, with the 10-year Treasury yield falling back below 2.4% for part of the day Monday amid the policy uncertainty. But yields rose back above that level early Tuesday. A weaker dollar helped give gold a boost Monday, sending the metal to a two-month high. But by Tuesday morning, the dollar had bounced back a little and gold was down, perhaps reflective of some profit taking.
Overseas, there was another Brexit development Tuesday, with the United Kingdom's Supreme Court ruling that Prime Minister Theresa May must secure approval of the Parliament before she can begin the process of taking Britain out of the European Union, The New York Times reported.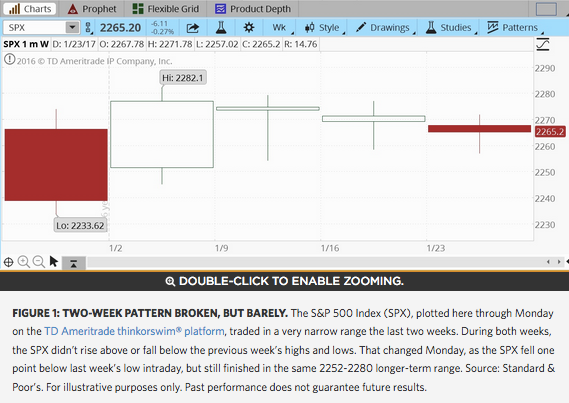 Taking Caution
Some market participants seem nervous as the market continues to trade near recent record highs. A Bank of America Corp (NYSE: BAC) Merrill Lynch survey cited recently by The Wall Street Journal found that global fund managers increased their cash holdings to 5.1% of their portfolios this month, from 4.8% in December. The 10-year average is 4.5%. A U.S. trade war and devaluation of China's currency were cited as among the biggest fears, the survey showed. The same Wall Street Journal article cited another survey showing that bearish bets against equities are on the rise.
Inside Job
An "inside" week in the market is when an index like the S&P 500 Index (SPX) spends the entire week trading within the previous week's high and low range. The SPX posted two-consecutive "inside weeks" during the weeks of Jan. 9 and Jan. 16. The last time that happened was late last September and early October, and that situation ended up resolving itself to the downside, as markets fell soon after. Volatility has been low during this recent stretch, but some analysts see potential for volatility to ramp up if the market breaks out. Indeed, it only took the SPX a few hours on Monday to fall below last week's low of 2258.41, so the inside pattern is technically over. A third consecutive inside week, by the way, has never happened.
Did Higher Mortgage Rates Bite Home Sales?
This morning brings existing home sales for December, and the report has big shoes to fill after November's data. That month, sales rose 0.7% to a seasonally-adjusted annual rate of 5.61 million, which wasn't so special in itself. But the year-over-year rise was a robust 15.4%, bringing that reading to its highest since February 2007, before the housing market crash that started later that year. The Briefing.com consensus is for a December pace of 5.55 million, a bit lower than the prior month but still above the pace of earlier in 2016. One thing to keep an eye on is whether rising mortgage rates may be starting to affect sales. The rising sales volume in November may have reflected a stronger job market, Briefing.com noted.
Posted-In: Analyst Color Biotech Earnings M&A Eurozone Health Care Treasuries Econ #s
View Comments and Join the Discussion!