Winners And Losers If The Walgreens-Rite Aid Merger Is Blocked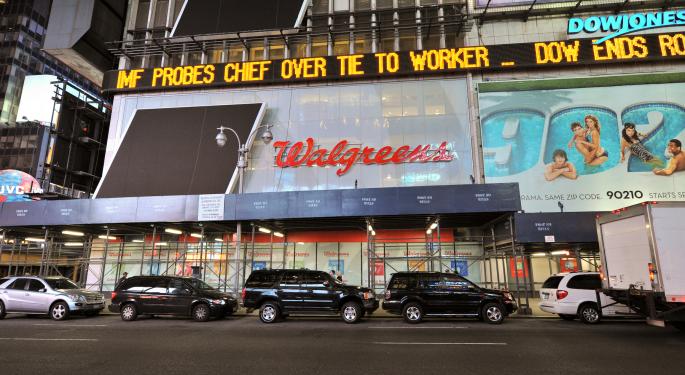 Another proposed merger is facing the risk of falling apart, if a Bloomberg report is to be believed. Citing people familiar with the matter, the Bloomberg reported that the FTC isn't convinced about the Walgreens Boots Alliance Inc (NASDAQ: WBA)'s proposed deal to buy Rite Aid Corporation (NYSE: RAD) from the anti-trust perspective.
Deadline Pushed Forward
It may be recalled that in October, the companies agreed to extend the deadline for the deal closure to January 27, 2017, from the original deadline of October 27, 2016. The deal was announced in October 2015 and vetted by Rite Aid shareholders in February 2016.
FTC Seeks Divestiture
In order to win antitrust clearance, the companies announced in December 2016 that they would sell 865 Walgreens and Rite Aid stores to Fred's, Inc. (NASDAQ: FRED) for $950 million in cash. Earlier, it was rumored that Kroger Co (NYSE: KR) might be interested in buying the stores the companies are mandated to dispose to secure antitrust clearance. Subsequently, reports suggested that Kroger wasn't interested.
Steep Selloff Predicted If Deal Is Blocked
Once the Bloomberg report surfaced, Rite Aid plunged 18 percent and subsequently, trading in the shares was halted but resumed shortly after. Evercore sees further downside if the deal doesn't go through. The firm cautioned of a precipitous fall to $3.50 in the eventuality of the deal unraveling.
After the recap of the events that have unfolded thus far, let us look at the winners and losers if the Walgreens Boots Alliance-Rite Aid merger is blocked.
Winners
Walgreens Boots Alliance's bigger rival CVS Health Corp (NYSE: CVS) could be a beneficiary, as a combined Walgreens-Rite Aid may offer a formidable threat and give it a run for its money.
Other smaller players such as Kroger, big-box retailer such as Wal-Mart Stores Inc (NYSE: WMT) and Target Corporation (NYSE: TGT) and online retailers could also benefit if the deal falls through.
Consumers would breathe a sigh of relief as their choice of stores would dwindle if the deal fructifies.
Losers
Rite Aid stands to lose as it would find it difficult to compete with larger rivals such as Walgreens Boots Alliance and CVS Health. Rite Aid already lags behind them in key metrics such as same store sales and retail pharmacy sales. Additionally, the company's shrinking gross margins don't give a chance for the company to grow organically.
Fred's, which has seen its shares nearly double, on the announcement of acquisition of Walgreens and Rite Aid stores could also be impacted. Analysts at that time saw the move as a giant leap in Fred's transformation from a dollar store to a bona fide pharmacy, positioning it as a long-term viable competitor in the space with a more national footprint.
Walgreens itself is a potential loser, as the company has been a sales laggard, having reported revenue beat only a few times in the past five years. The addition of Rite Aid was seen to boost its top line, add $1 billion in potential synergies and further scale to its most important business.
Investors in Rite Aid stock, which saw a roughly 30 percent gain in the aftermath of the deal announcement, could see the gains vaporize. If Evercore's prediction of a drop to $3.50 comes true, then investors would be staring at whopping losses.
Taking a different perspective, consumers could also be losers, as with a combined company they would have benefited from lower drug prices due to the better bargaining power a stronger pharmacy retail chain can have with drug companies.
At Time Of Writing
CVS Health was declining 0.63 percent to $82.18.
Fred's was sliding 3.28 percent to $15.62.
Kroger was slipping 0.50 percent to $34.09.
Rite Aid was plunging 10.70 percent to $7.68.
Walgreens Boots Alliance was down 2.54 percent at $81.37.
Image Credit: By Jazz Guy - Flickr: A great day in Manhattan, NYC., CC BY 2.0, via Wikimedia Commons
Posted-In: EvercoreAnalyst Color M&A News Analyst Ratings Movers Trading Ideas General Best of Benzinga
View Comments and Join the Discussion!