Inauguration Day: Trump Speech In Focus As New President Prepares To Take Office
There's really only one major story in the markets today: The inauguration of a new U.S. president.
With no major economic data on tap, the inauguration of Donald Trump is likely to draw everyone's full attention. Though an inaugural speech is generally short and not often full of specific policy ideas, it's worth listening to get a sense of any economic moves the new administration might make. And speaking of those, there's possibly going to be some executive orders going out not long after Trump moves into 1600 Pennsylvania Avenue, media outlets reported. The question is whether any of those orders might have an impact on stocks and bonds.
Equities exhibited weakness ahead of last fall's election, and the same thing has happened going into today's inauguration. On Thursday, the S&P 500 Index (SPX) posted its lowest close in more than two weeks, and the Dow Jones Industrial Average (DJIA) logged its fifth-straight down day. Real estate and energy were among the worst sector performers.
As was the case before the election, there haven't been any major plunges during this stretch, just a general feeling of lethargy. There's a sense that the markets had a great run in the month after the election amid good feelings about what the new administration might do, and now people are waiting to see exactly how the incoming president might bring such changes about. Sectors that could see a quick impact from new policies include info tech, energy, industrial, materials, health care and any sector or company with a major foothold overseas.
While there's optimism about the possibility of lower taxes, reduced regulations, and infrastructure spending, there's also concern about possible trade barriers, how the new administration plans to handle health care, and the continued Trump tweets that have often been aimed at individual companies. Trump pledges to continue tweeting once in office. Volatility, as measured by VIX, has been on the upswing the last two days, perhaps reflecting some nervousness about how the new administration might affect the market after a long quiet period starting back before the holidays.
This week, Trump's tweet about the dollar being too strong helped push the U.S. currency down and struck fear into some foreign equity markets. However, the dollar has since risen, helped in part by strong economic data the last few days and an upbeat speech on the economy by Fed Chair Janet Yellen. Her speech, in which Yellen reiterated the Fed's plans to hike rates this year and next, also lit a fire under bond yields, with the 10-year yield making a big advance Thursday and reaching 2.5% early Friday.
Trump takes office right in the middle of the earnings season, and the big banks generally did well. The financial sector, however, was one of the worst performers on Thursday. Earnings attention now turns to some of the biggest companies around, including International Business Machines Corp. (NYSE: IBM) yesterday (see below), General Electric Company (NYSE: GE) today, McDonald's Corporation (NYSE: MCD) on Monday morning, Johnson & Johnson (NYSE: JNJ) on Tuesday morning, and Apple Inc. (NASDAQ: AAPL) after Tuesday's close. It's a busy start to the week.
GE reported earnings that were in line with Wall Street analyst's expectations, but revenue that came up just short of estimates. The stock fell in pre-market trading. Procter & Gamble Co (NYSE: PG) also reported strong earnings and a good outlook. It's nice to see a healthy outlook from them.
Overseas, China reported year-over-year GDP growth of 6.8%, a one-year high. That was despite weaker-than-expected Industrial Production in December. The dollar rose vs. the euro. Gold may be on track for its fourth consecutive weekly gain, which may reflect something of a fear trade as people hedge ahead of the inauguration. Gold has been in a tight range, so perhaps market participants feel there's a little less downside if their bets go against them. VIX fell a bit early Friday.
Though stocks have been flat to lower recently, they remain solidly higher than they were on election day. The DJIA is up 7.6% since Nov. 8; the SPX is up 5.8%, and the Nasdaq is up 6.7% over the same period.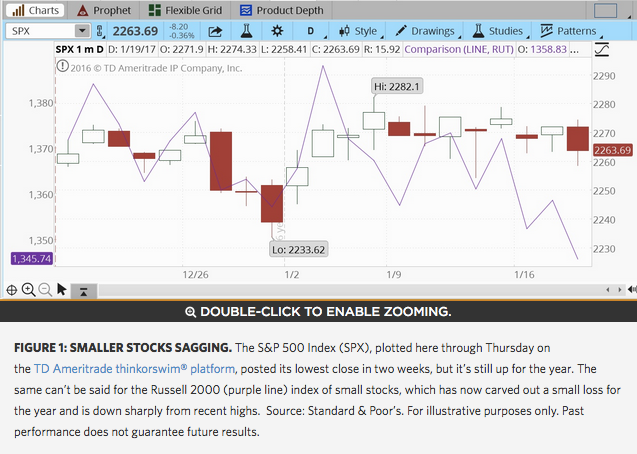 Reading the Beige Book
The Fed's Beige Book this week reported that the economy continued to expand at a "modest pace" from late November through the end of last year. Labor markets were "tight or tightening" during the period, wages increased "modestly" and pricing pressures "intensified somewhat since the last report," the Fed said. These conditions, along with the consumer price index (CPI) rising 2.1% year-over-year, the highest since mid-2014, all seem to play into the Fed's interest rate hike strategy. The Fed has indicated three hikes are likely in 2017, but the futures market doesn't point toward any until mid-year.
All Quiet in Washington Today
Looking beyond one particular event at the U.S. Capitol this morning, Washington appears rather dull from a government data standpoint. No major reports are scheduled today or Monday. Looking back to Thursday, housing starts for December at a seasonally adjusted 1.226 million came in a hair above analysts' estimates for 1.2 million. This particular indicator continues to creep higher. However, the gains were all in multi-family housing units, with single-family housing starts actually falling during December. Single-family permits, however, rose 4%, and could be seen as a positive forward indicator, Briefing.com said.
Strong IBM Earnings But Shares Fall
IBM reported earnings 13 cents above Wall Street analysts' consensus late Thursday, and also beat estimates on revenue and raised guidance. In its press release, the company touted progress in its closely watched cloud products. Revenue in IBM's Strategic Imperatives, which includes cloud computing, rose 13% in Q4. But shares fell, perhaps, according to Forbes, because revenue dropped for the 19th-consecutive quarter.
Posted-In: Analyst Color Earnings Eurozone Health Care Commodities Politics Forex Retail Sales
View Comments and Join the Discussion!