What To Expect When You're Expecting Big Banks' Earnings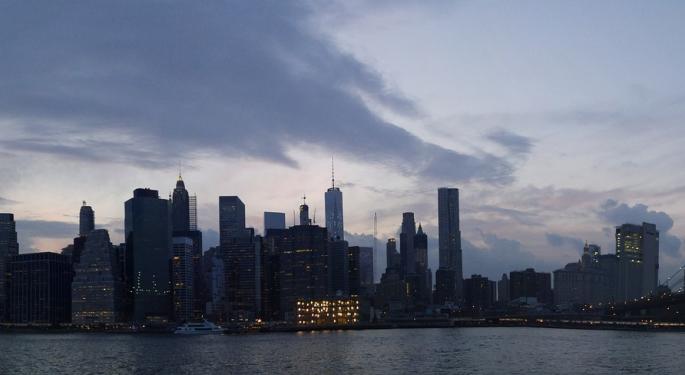 In a note released Wednesday, Barclays previewed earnings of financial services companies, including large-cap banks.
Higher Interest Rates, Capital Markets To Help BofA
Barclays expects Bank of America Corp (NYSE: BAC) to report fourth-quarter earnings of $0.39 per share, a penny ahead of the consensus estimate. The firm expects the results to benefit from higher interest rates and a stronger year-over-year capital market environment in the quarter. However, the firm expects credit costs to have moved higher.
Specifically, the firm expects net interest growth of up to 2 percent, helped by net margin expansion and modest balance sheet growth. The firm said it would watch for rate sensitivity, capital markets results, expenses/efficiency, credit costs and the outlook for strategic priorities and a path to return targets.
Capital One Financial To Beat Estimates
Barclays analyst Jason Goldberg expects Capital One Financial Corp. (NYSE: COF) to report fourth quarter earnings per share of $1.72, well ahead of the consensus estimate of $1.61. The analyst expects investors to focus on the recent disclosure that OCC approval for the Cabela's card acquisition may not be received by the termination date due to its 2014 AML consent order. The analyst also seeks to get more information on loan growth, expenses, asset quality and capital priorities for 2017.
Barclays expects higher net interest income on modest net interest margin expansion and balance sheet growth due to organic loan growth.
Goldman To Benefit From Strong Post-Election Market Activity
Barclays expects Goldman Sachs Group Inc (NYSE: GS) to report in-line fourth-quarter earnings per share of $4.80, reflecting stronger market activity post-election within equities, rates and forex. The firm expects 20 percent year-over-year growth.
With stronger equity underwriting offset by slower debt underwriting, the firm believes investment banking activity would be stable sequentially. The firm also sees higher year-over-year comp ratio. Additionally, the firm stated that it would watch out for pipeline health, comp ratio, management movement and consumer bank.
JPMorgan's Q4 To Show Cost Discipline, Loan Growth
On JPMorgan Chase & Co. (NYSE: JPM), Barclays said it expects fourth-quarter earnings per share of $1.47, ahead of the $1.42 per share consensus estimate. The firm expects solid loan growth, controlled costs, benign asset quality and continued stock repurchase.
The firm expects the company to see modest balance sheet expansion, a slightly higher net interest margin, lower fee income, higher asset management fees, lower expenses and sound asset quality trends.
Morgan Stanley To Beat Estimates On Improving Trading Conditions
Barclays expects Morgan Stanley (NYSE: MS) to report above-consensus earnings per share of $0.75, which was revised from $0.69 earlier this year on improving trading conditions and higher equity market levels. The firm sees higher expenses on a seasonal basis, although remaining contained, and continued share repurchases under its CCAR 2016 plan.
Although the fourth quarter results are expected to be softer than in the third quarter, Barclays estimates its return on equity in the 8 percent area. According to the firm, strategic goals, capital and streamline, FICC balance sheet and bank strategy/NII could be the key factors to watch for.
Wells Fargo's Net Interest Income To Rise
Barclays is above consensus for Wells Fargo & Co (NYSE: WFC), estimating earnings of $1.02 per share. The firm expects the results to be marred by the possible legal related reserves tied to its sales practice scandal, a five-cent hit for hedge ineffectiveness as well as a fall-off in mortgage activity. Still, the firm expects net interest income to rise, net interest margin to expand, core expenses to remain controlled and assets to remain benign.
Ratings/Price Targets/Date Of Earning Release
Bank of America: Equal Weight/$26/January 13, 6:45 a.m. ET.
Capital One Financial: Overweight/$105/ January 24, 4:05 p.m. ET.
Goldman Sachs - Equal Weight/$262/January 18, 9:30 a.m. ET.
JPMorgan: Overweight/$100/January 13, 9:30 a.m. ET.
Morgan Stanley: Equal Weight/$48/January 17, 7 a.m. ET.
Wells Fargo: Overweight/$65/January 13, 8 a.m. ET.
Posted-In: Analyst Color Earnings Long Ideas News Price Target Previews Reiteration Analyst Ratings Best of Benzinga
View Comments and Join the Discussion!