As Gas And Rates Go Up, The Auto Industry Is Still Riding High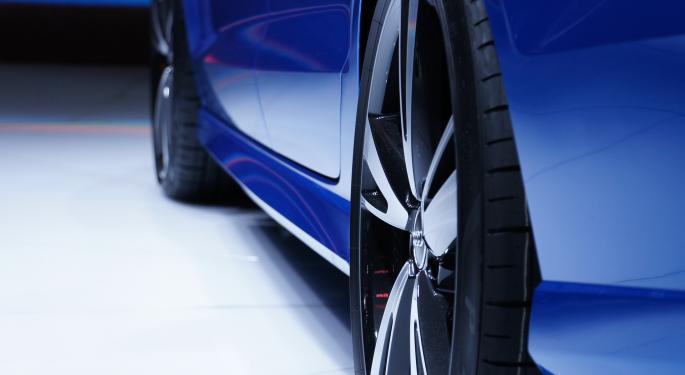 With production down, gas prices rising and most consumer sales looking pretty dismal, the end of 2016 may seem like slim pickings for car dealers and automobile companies. However, according to Michelle Krebs, senior analyst with AutoTrader, December may end up capping off a year nearly on par with 2015's record sales.
Krebs joined Benzinga's PreMarket Perp morning show on Wednesday to explain the state of the auto industry going into the new year. Krebs also discussed how some current events might end up impacting manufacturers in 2017 and what consumers might expect to see from next month's North American International Auto Show in Detroit.
The December Push
The final weeks of the year are traditionally considered the time to buy as dealers make room for next year's models. But, given the less than encouraging news of cutbacks from Ford Motor Company (NYSE: F) and General Motors Company (NYSE: GM), as well as a sharp spike in oil prices following OPEC's own production cutback, the car buying atmosphere seems less than ideal.
Krebs has evidence otherwise. While she does expect sales to be down 2 percent compared to last year, Krebs pointed to Kelley Blue Book's forecast, which has December being the biggest month of 2016 at 1.6 million vehicles sales. "The automakers are in much better shape than they've been in a long, long time," she added.
Krebs was not surprised by the big numbers this year. "We have said all along the 2016 will be neck and neck with 2015 for the sales record," she elaborated. "To sell that many vehicles, we are seeing a lot more effort and a lot more incentive put on it. If they lure enough people in they could reach that record."
Big Vehicles Make Big Sales
The main force behind these sales numbers has been car company's lineup of trucks and sport utility vehicles, which, according to Krebs, has carried the weight of fledgling car sales. She explained, "What we're seeing is two very different markets. We're seeing the car side really suffering. That's where you're seeing the biggest discounts. Then, we're also seeing very healthy truck sales, booming sport utility sales, those are where the big profits are. The profits from one side is supporting the other. Inventories are still climbing despite some of the big incentives."
When asked about the scope and effectiveness of these incentives, Krebs felt the automakers were making the best of the lack of demand, "Automakers are doing a much better job of targeting incentives instead of just lathering them up. They are getting very specific on the model they are advertising and even the region being targeted.
2017: The Rise Of Gas, Interest Rates And New Auto Tech
Many of the questions directed at Krebs focused on the variety of hurdles that the auto industry will need to tackle in 2017. However, Krebs didn't seem to think any dire predictions could be made based on gas prices, saying, "The concern is when gas prices unexpectedly spike."
As for interest rates, Krebs is less worried about their rise and the effect they will have on financing and more on whether consumers will be able to buy new cars in 2017. "We're only beginning to see wages increase. That's our bigger concern, the affordability issue," she stated.
Finally, when asked whether consumers can expect any monumental developments electric or self-driving vehicles, Krebs suggested there should be news on GM's development of the Volt, the company's more affordable electric. As far as self-driving cars, Krebs suggested that people hedge their expectations, "We're edging closer and closer to that reality, though I always caution people, it doesn't mean everybody is going to have self-driving cars in their driveway in the next few of years."
Listen to the full discussion in the clip below. Our conversation with Krebs begins at the 14-minute mark.
PreMarket Prep is a daily trading ideas show that focuses on technical analysis and actionable short term trades. You can listen to the show live every morning from 8–9 ET here, or catch the podcast here.
Posted-In: Analyst Color Travel Top Stories Economics Federal Reserve Media Interview General Best of Benzinga
View Comments and Join the Discussion!