Cut Starbucks Some Slack, Selling $10 Coffee Is A Good Business Strategy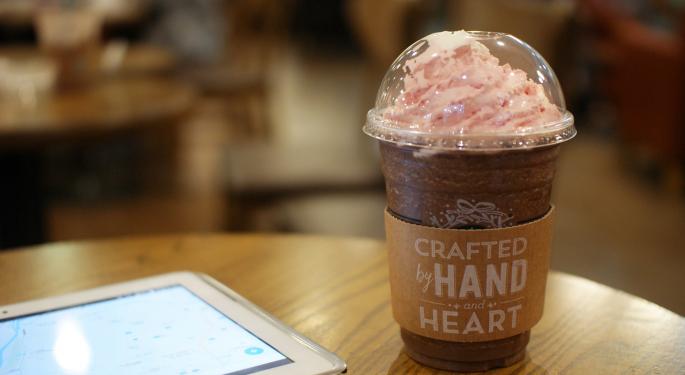 Charging $10 for a cup of coffee seems like a ludicrous idea, but this is exactly what Starbucks Corporation (NASDAQ: SBUX) wants to do.
According to Gadfly's Shelly Banjo, Starbucks isn't looking to overhaul its entire business and get rid of its tried and tested business model. Rather, the coffee chain is looking to start a completely separate and brand new chain, which "rejects the old model of brick-and-mortar ubiquity."
Return To Original Vision
There could also be another motive at work — returning Starbucks to its original roots. Back in the 1970s, the company's founder and outgoing CEO Howard Schultz hoped Starbucks would become a place for customers to spend time at when they weren't at work or at home. Over the years, the coffee chain evolved to better serve a crowd that needs their caffeine fix but also need to get in and out of the store as quickly as possible.
This is where Starbucks' new concept kicks in. Customers at Starbucks' new Roastery stores spend an average of 40 minutes in the restaurant, compared to just a few minutes at traditional stores.
Schultz's move to step down as CEO and build the new concepts will relieve him of the duty of dealing with mobile initiatives and other technology improvements and focus on building a new concept from the bottom up.
It has yet to be seen if Starbucks can be successful in its new store concept. After all, the concept of sitting down and actually talking to people instead of being glued to smartphones is a dying trend.
"As consumers let technology and screens take up more of their time, Schultz is betting people will seek out human interaction," Banjo wrote. "Millennials who may spend more time at a party posting selfies on Instagram than actually talking to others may prove him wrong."
View Comments and Join the Discussion!
Posted-In: Bloomberg GadflyAnalyst Color News Restaurants Analyst Ratings Media Trading Ideas General Best of Benzinga