Thanksgiving Break: Could Short Week Bring Calm To Roaring Markets?
Ready for some turkey, pumpkin pie and holiday shopping? This coming week offers all of that, but Wall Street could slow down a bit from all the recent excitement.
Markets are closed Thursday for Thanksgiving and will shut down two hours early on Friday, but there's still some economic data, as well as Fed minutes, to keep things simmering ahead of holiday feasts. Housing could take center stage, potentially giving further insight into the level of confidence people have around big purchases.
Mortgage rates have been rising lately, but that probably won't play much into October existing home sales due Tuesday and new home sales due Wednesday, simply because the data came in before rates started going up. As a reference, sales of new single-family houses jumped 3.1% in September, with the median sales price climbing nearly 2%. Existing home sales increased 3.2% in September, with first-time buyers helping drive sales. That's an interesting trend to watch, because it speaks to possible growing confidence among younger people. We'll see if that continues.
Wednesday brings durable orders and FOMC minutes, each of which may shed more light on the economy and how the Fed sees things. However, the FOMC minutes are for a meeting that took place before the election, when the future economic picture looked somewhat different than it does now. And since early November, when the meeting took place, Fed speakers have appeared pretty regularly (see below), so their more recent utterances may carry more weight than what they said amongst themselves three weeks ago.
Crude oil may also be a focus in the coming week as OPEC's Nov. 30 meeting draws closer. The oil market has dipped and soared on alternate days lately depending on talk blowing out of various OPEC countries, but by midday Friday seemed to have found its way back toward that old $45-a-barrel pivot point. The market's continued inability to hold above $50 speaks in part to the prospect of growing U.S. oil production, as rig count has steadily grown for months. The rig count remains well below year-ago levels, but there's been a definite bump since historic lows seen earlier this year. Meanwhile, stockpiles remain near all-time highs.
As investors contemplate turkey dinners followed by midnight trips to the local big box to load up on holiday gifts, they may want to also spend time examining where their portfolios sit after nearly two weeks of some of the most exciting trading seen in recent years. The S&P 500 Index (SPX) climbed more than 150 points from the election night futures market low near 2030 and midday Friday. Benchmark 10-year Treasury note yields surged 50 points during the same time span.
These sorts of moves are seldom seen, and investors might want to check portfolio allocations, which may have shifted during the stock rally and bond slump, and make sure they're positioned as planned. It may be tempting to relax and just enjoy the holidays, but there's a lot of trading left this year and an important Fed meeting coming up next month, so it pays to stay alert, if that's possible to do after a hefty Thanksgiving meal.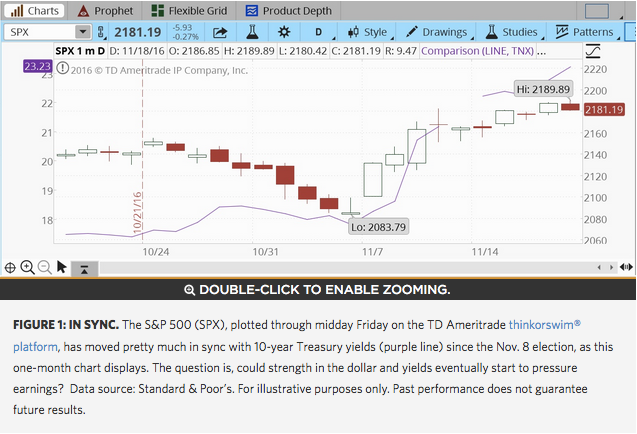 Yellen Questions Trump's Spending Plans: Industrial and financial stocks have roared since Trump's election, based in part on hopes that those sectors could benefit from Trump's proposed infrastructure spending. But is that sort of fiscal boost really such a good idea? Fed Chair Janet Yellen raised questions about the policy in her testimony to Congress on Thursday, noting that there's not necessarily a need right now for a big stimulus program. "The economy is operating relatively close to full employment at this point," she said. "So in contrast to where the economy was after the financial crisis when a large demand boost was needed to lower unemployment, we're no longer in that state."
Yellen cautioned that spending a lot on infrastructure can cause the nation's debt to rise, and also not leave much wherewithal for future stimulus should that become necessary during an economic downturn.
Data Perks Up: For the most part, the economy seems to be humming along nicely, judging from recent data, and perhaps that helps explain why investors seem sanguine about a looming rate hike. Arguably, there's a sense the economy can handle higher rates. VIX futures, sometimes thought of as the fear index, remained muted at well below $14 as of midday Friday even as the market priced in a better than 90% chance of a December rate hike. VIX, which measures volatility, has been really sluggish lately, which contrasts with the fear that gripped the market in the days leading up to the election.
Hawk Talk Continues After Yellen Testimony: Fed speakers were out in force Friday, and the tone they struck tended toward the hawkish side, according to media reports. "I've been saying for the last couple of months we are ready to remove some amount of accommodation, and I still feel that way heading into December," Dallas Federal Reserve Bank President Robert Kaplan told Fox Business Network. St. Louis Fed President James Bullard said he's learning toward supporting a rate hike in December, and Kansas City Fed President Esther George said the Fed should raise rates "sooner rather than later," CNBC reported. While a December rate hike is pretty much priced into the futures market, futures prices don't currently indicate much chance of another one until next summer. We'll see if that starts to change in coming months.
The preceding article is from one of our external contributors. It does not represent the opinion of Benzinga and has not been edited.
Posted-In: Analyst Color Long Ideas News Sector ETFs Short Ideas Commodities Topics Events
View Comments and Join the Discussion!