Salesforce's Q3 Strength Has The Sell-Side Singing Its Praises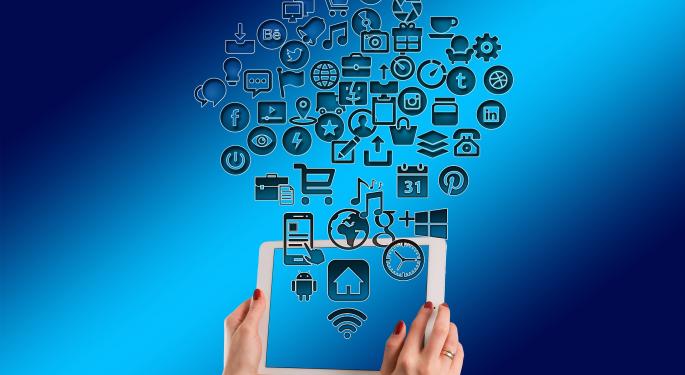 Salesforce.com, inc. (NYSE: CRM) is getting rave reviews for its Q3 show, with the analyst community singing paeans about its fundamental strength and prospects.
Q3 Results: Beat And A Raise
Below are the highlights from the print:
Salesforce.com reported second-quarter non-GAAP earnings of $0.24 per share, up from $0.21 per share last year and the consensus estimate of $0.21.
Revenues rose about 26 percent to $2.15 billion.
Deferred revenues rose 23 percent to $3.50 billion.
Unbilled deferred revenues climbed 28 percent to $8.6 billion.
Initiated Q4 guidance of $2.11 billion to $2.277 billion in revenues and $0.24–$0.25 in non-GAAP earnings per share.
Raised fiscal year 2017 revenue guidance to $8.365 billion to $8.375 billion from $8.275 billion to $8.325 billion, with non-GAAP earnings per share estimated at $0.97–$0.98. This compares to the consensus estimate that calls for earnings of $0.95 per share on revenues of $8.31 billion.
Strong Q3 Proves Q2 Underperformance A Blip
Going by the third-quarter outperformance, Goldman Sachs said it believes the underwhelming showing in the second quarter was a blip on the radar. The management has indicated strong performance in large deals, with a record number of seven-figure deals and two large deals with Citigroup Inc (NYSE: C) and PNC Financial Services Group Inc (NYSE: PNC), the firm noted. As such Goldman estimates third quarter billings growth to accelerate 400 basis points to 24 percent.
Goldman reiterated its Conviction List Buy rating on the shares of salesforce.com, as it believes sentiment has ticked down over the past few months, going by the significant increase in short interest. The firm's 12-month price target of $96 is based on its DCF, EV/Billings and EV/FCF analysis.
Re-Accelerated Billings Growth: Highlight Of Quarter
Following outperformances all around, Barclays said it sees the re-accelerated growth in billings (19.3 percent) as the highlight of the quarter. The firm believes the company is still on a high-growth trajectory at scale, with healthy growth across all regions and product segments.
Analyst Raimo Lenschow believes the company is a premium asset, which however, does not trade at a premium. The analyst still sees current levels as an attractive entry point.
As such, Barclays has an Overweight rating and a $89 price target for the shares of salesforce.com.
Salesforce.com Is At Inflection Point In Its Evolution
Brean Capital said the company is at an inflection point in its evolution. The company, according to the firm, is emerging as the de facto standard in enterprise business applications. The firm sees the significant investment by large global system integrators in building their salesforce.com practices as key turning point in the enterprise software landscape.
Brean Capital analyst Yun Kim believes this to be a key turning point in the enterprise software landscape and that the company is well positioned for incremental growth driven increasing number of enterprise standardization deals going forward. That said, the analyst believes caution from the part of investors due to the company's recent pursuit of large acquisitions could limit valuation from expanding to fully reflect its strong fundamentals.
The firm maintains its Buy rating and $110 price target.
Innovation Pipeline And Recent Acquisitions To Augment Long-Term Value Propositions
BTIG noted that the company adeptly changed its selling motion in the United States over the past quarter to align with a market shift, with the domestic bounce back coinciding with strength across the geographies. The firm sees the innovation pipeline and recent acquisitions as augmenting the company's long-term value proposition, and believes in salesforce's ability to drive shareholder value.
BTIG maintains its Buy rating and $100 price target on the shares of the company.
Pre-Print Decline De-Risked The Stock
Canaccord Genuity noted that the pre-print decline in salesforce.com shares de-risked the stock, with the third quarter beat and fairly in-line guidance for 2017 vouching for the strong fundamentals. The firm believes if some other software titans such as Workday Inc (NYSE: WDAY) and Autodesk, Inc. (NASDAQ: ADSK) issue good prints, the markets might witness a broader software rally. On the contrary, if the prints prove mixed, then the firm advises investors to use any pullback to build out a full position in one of the top handful of large-cap growth software companies.
The firm rates Salesforce.com a Buy with a $95 price target.
Salesforce.com A Core SaaS Holding
Citi believes the return of the solid execution again in the third quarter and solid outlook provides evidence that the second-quarter weakness was a lapse in execution than a fundamental slowdown. Though bigger M&A questions persist, Citi is of the view that combination of growth at scale and steadily improving margins at a reasonable valuation makes CRM a core SaaS holding.
Citi has a Buy rating on the shares of the company, while it raised its price target to $95 from $89.
At last check, Salesforce.com was up 3.14 percent at $77.55.
Posted-In: Analyst Color Earnings Long Ideas News Guidance Reiteration Analyst Ratings Movers Best of Benzinga
View Comments and Join the Discussion!