2 Of The Most Popular Leveraged Oil Trading Vehicles To Be Delisted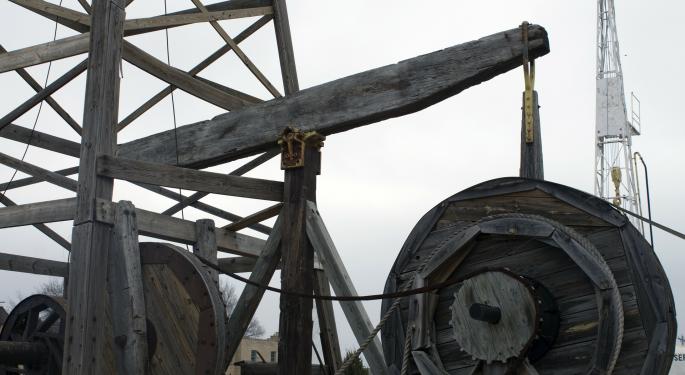 Two of the most popular instruments for making levered bets on oil prices we be delisted on December 9. Credit Suisse has announced that it will be discontinuing its Velocity Shares 3X Long Crude ETN linked to the S&P GSCI Crude Oil Index Excess Return (NYSE: UWTI) and Velocity Shares 3X Inverse Crude ETN linked to the S&P GSCI Crude Oil Index Excess Return (NYSE: DWTI).
"As part of its continuing effort to monitor and manage its suite of exchange traded notes, Credit Suisse AG has decided to delist the foregoing ETNs with a view to better align its product suite with its broader strategic growth plans," the firm said in a statement.
Popularity Doesn't Ensure Longevity
The two ETNs are wildly popular among traders, averaging a combined daily volume of more than 21 million. However, the steep contango associated with levered ETNs tied to the futures market has led to intense scrutiny from regulators. This contango is the reason why both ETNs are down more than 50 percent year-to-date.
PreMarket Prep host Dennis Dick discussed the dangers associated with the controversial ETNs on Thursday morning's show.
"People don't understand these vehicles," Dick explained. "People think if you buy this triple long UWTI and if oil goes up 10 percent this year, they think they're going to be up 30 percent. I bet you 90 percent of investors think that, and they're all wrong."
In reality, these ETNs are designed only to track the daily moves in oil futures, not the long-term moves.
"Once you start holding these things overnight, that's when it starts to get sloppy, that's when it gets messy, and that's what investors don't understand," Dick added.
Many traders have been using these triple-levered ETNs to get around margin restrictions in their trading accounts. Dick is not a fan of any triple-levered trading instruments and sees a much better alternative for investors looking to increase exposure.
"If you want to triple exposure to something, buy three times as much of it!" he suggested. "If you don't have the money to do it, maybe you shouldn't be putting that much money into something."
Listen to the full discussion at 2:25 in the clip below.
PreMarket Prep is a daily trading ideas show that focuses on technical analysis and actionable short term trades. You can listen to the show live every morning from 8–9 ET here, or catch the podcast here.
View Comments and Join the Discussion!
Posted-In: Analyst Color News Specialty ETFs Futures Commodities Markets Analyst Ratings Media Best of Benzinga