Ray Dalio: Trump Era Will Have A 'Big Impact' On Global Economies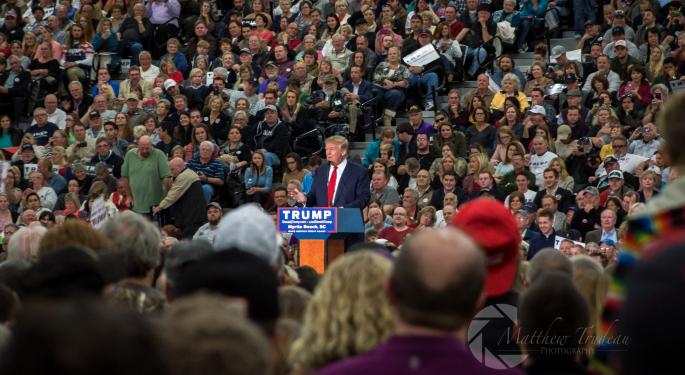 Investors aren't quite sure what to think following the election of Donald Trump as the next president of the United States. So far, the SPDR S&P 500 ETF Trust (NYSE: SPY) is up roughly 1.4 percent since the election, implying cautious optimism among the investing community.
Considering the relatively calm initial market reaction to the news, investors may begin to draw the conclusion that Trump's election isn't a big deal for the economy. According to Bridgewater Associates Chief Investment Officer Ray Dalio, it's actually very a big deal.
Don't Be Lulled By The 'Calm'
"We want to be clear that we think that the man's policies will have a big impact on the world," Dalio said in a new article on LinkedIn.
Dalio believes Trump's election marks the end of an era of increasing globalization, free trade and "sluggish" domestic growth and the beginning of a new era of isolationism, fiscal stimulus, stronger growth and higher inflation.
"The main point we're trying to convey is that there is a good chance that we are at one of those major reversals that last a decade (like the 1970-71 shift from the 1960s period of non-inflationary growth to the 1970s decade of stagflation, or the 1980s shift to disinflationary strong growth)," Dalio added.
In terms of what investors can expect from the new era of economics, Dalio believes bond prices have hit a 30-year peak. In addition, he predicts that inflation has likely bottomed.
A New Era Of Economics
He predicts that tightening Fed policy coupled with stronger U.S. growth is a recipe for long-term strength in the dollar as well.
While Dalio classifies this ideological transition as "broadly positive" for the U.S. economy, he notes that much of the initial potential of the shift will hinge on the effectiveness of the Trump administration.
"The headline is that the ideological/environmental shifts are clear, their magnitudes will be large, and there's a good chance that the 'craziness' factor will be smaller and play a lesser role in driving outcomes than many had feared," Dalio concluded.
For stock investors, he believes the new era of economics will be good for profitability and stocks, particularly ones with mostly domestic exposure.
Image Credit: By Matthew Trudeau Photography from Murrells inlet , USA (Donald Trump) [CC0], via Wikimedia Commons
Posted-In: Analyst Color Broad U.S. Equity ETFs Politics Top Stories Economics Federal Reserve Markets Analyst Ratings Best of Benzinga
View Comments and Join the Discussion!