Beer & Beverage: Will The Tie-Up Make Sense?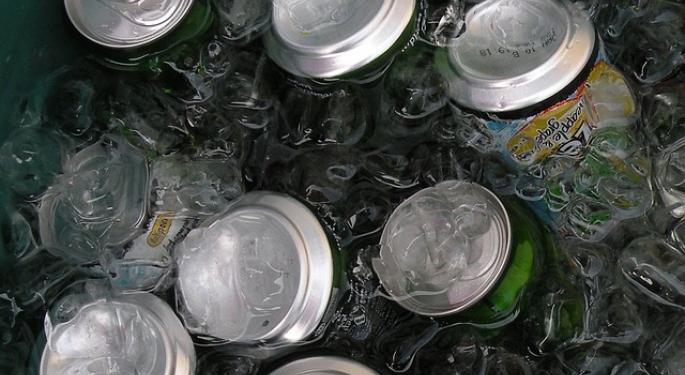 A marriage of soft and hard drinks may not be unthinkable after all. A report that appeared in U.K.'s Telegraph over last weekend broached the possibility of U.S. beverage giant The Coca-Cola Co (NYSE: KO) being considered as a target by Belgian-Brazilian brewing giant Anheuser Busch Inbev SA NV (ADR) (NYSE: BUD), which acquired U.K. brewer SABMiller plc recently.
Thirst For Pepsi
Earlier in 2014, before Anheuser Busch negotiated a deal with SABMiller, it was believed the former, which has grown itself primarily through the inorganic route, was considering making advances toward PepsiCo, Inc. (NYSE: PEP).
Anheuser Busch reportedly studied the possibility of buying Pepsi, with analysts even going to the extent of suggesting that the former may look to divest the snacks business of Pepsi, which does not fit into its vision of evolving into a drinks company.
At that time, Anheuser Busch was even speculated to be considering bids for companies such as Monster Beverage Corporation (NASDAQ: MNST) and Keurig Green Mountain Inc (NASDAQ: GMCR).
SABMiller Deal Done And Dusted
With Anheuser Busch finally agreeing to buy SABMiller in October 2015, the M&A talks of the company gulping down beverage companies were put to rest. The completion of the deal in late October 2016 following a long-winding process has set the tongues wagging on another mega-deal the company may be considering to fuel growth.
Beer–Beverage Tie-Ups
Among the other beer–beverage flings in the past, Japanese brewer Kirin Holdings announced in 2009 a bid for Coca-Cola Amatil, an Australian soft drink maker in which Coca-Cola has a majority stake. The deal was never consummated.
French dairy giant Danone announced the sale of its drinks subsidiary Frucor, based in Australia and New Zealand, to Suntory, a Japanese company, which has since then divested its food & beverage business, for over 600 million euros in cash. This deal was announced in February 2009.
Coca-Cola Interest: A Long Shot?
The speculation has a lot to do with the company's revelation of "Dream 2020" through its recent Form 20-F filing. The plan calls for revenues of $100 billion by 2020, a long way from the $43.6 billion generated in 2015. If the company achieves the target, the top 65 managers will share "6 million options with a strike price of $121.89, which will vest five years after date of the offer letter." If it fails to hit the target in 2020, "there are two more bites at the cherry in 2021 and 2022."
The newfound speculative interest of Anheuser Busch in Coca-Cola comes at a tough time for the company. Recently, the company trimmed its full-year revenue growth per hectoliter forecast to be in line with inflation from the previous expectations of above-inflation, citing weakness in the Brazilian market. In the third quarter, beer volume in Brazil slid 4.1 percent and the United States didn't fare any better, with a 2.5 percent drop.
To stem the macroeconomic-induced rot in some geographies, the company is now acquiring craft beer makers, which are small breweries making beer in a traditional or non-mechanized way. Craft beer is now the flavor of the town. Mass market beer sales are stagnating even as craft beer is going great guns, given consumer preference for it.
Goldman Sachs said in a note in early October that it expects Anheuser Busch to acquire again in 2020 — a $80 billion deal that could add 8 percent to 2020 earnings per share estimate. The company has a free cash flow yield of 5 percent estimated for 2017 compared to 4.4 percent for European staples.
Given that Anheuser Busch has only recently completed the arduous processes involved in consummating a mega-merger and picked up several small craft beer companies along the way, the probability of it seeking merger, especially a horizontal one, looks remote. However, you never can tell, a be(er)hemoth such as Anheuser Busch could spring a surprise, given its ravenous appetite for bulking up.
At Time Of Writing ...
Anheuser Busch was slumping 4.58 percent to $102.90.
Coca-Cola was down 0.32 percent to $40.90.
PepsiCo was losing 1.91 percent to $101.22.
View Comments and Join the Discussion!
Posted-In: Analyst Color M&A News Emerging Markets Rumors Markets Analyst Ratings Movers Best of Benzinga