Why The GE-Baker Hughes Deal Is So Complicated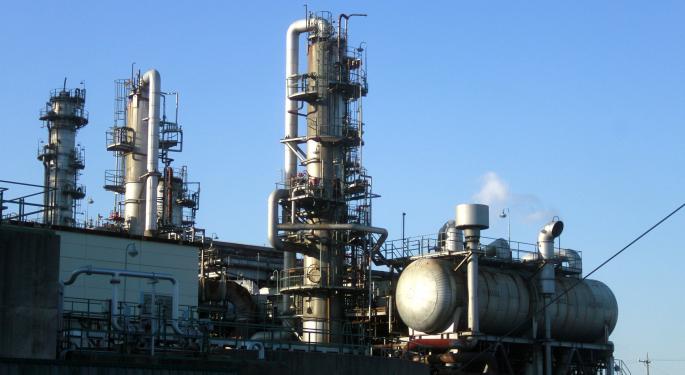 General Electric Company (NYSE: GE) is merging its oil and gas (O&G) business with Baker Hughes Incorporated (NYSE: BHI) in a complex deal, creating a "digital industrial company" in the oilfield services sector and a stronger rival to Schlumberger Limited. (NYSE: SLB).
Baker Hughes shareholders get $17.50 a share in a cash dividend and will control 37.5 percent of a newly-formed company. GE will control the majority 62.5 percent.
Credit Suisse said, despite the deal being complicated, it makes sense for the following reasons:
"It isolates the O&G earnings, without GE having to exit the business and risk being viewed as 'buying high and selling low', which is a common problem of EE/MI management teams."
"It gives GE O&G access to 'self-help' or a means of growing its earnings independent of the cycle, via the scope for potential synergy generation in the medium-term, for $7 billion rather than $30 billion +."
"For GE O&G, it increases its exposure to 'early-cycle' O&G businesses which might rebound sooner (2017/early 2018) and hence reduces its exposure to businesses which may have a prolonged industry downturn (subsea equipment)."
"It crystallizes value for the O&G business, which we think was important for GE as it is the only company we cover where the investment community seems more focused on the downside risks from O&G, rather than the upside potential from a cyclical rebound."
The combined firm will focus on digitizing and automating each and every aspect of the industry and may pressure peers to follow the same. For Baker Hughes, the deal broadens revenue opportunities and provides new customer relationships.
"Our current target price on BHI is $61 and our preliminary valuation of BHI in the transaction is ~$66," analyst Julian Mitchell wrote in a note.
Addressing investor concerns on why GE contributed $7.4 billion in a special dividend, the analyst said the control of Baker Hughes is shifting to GE, and expects the EBITDA split will be closer to 50/50 by the end of the decade.
"From a GE perspective, we believe the deal is worth an incremental ~$0.40/share in total value by 2018," Mitchell highlighted.
The analyst noted that GE's recent strategic steps on its product portfolio should continue if the stock lags in to 2017. This portfolio pruning should re-assure longer-term investors, despite the considerable short-term complexity.
"We could see GE enact further changes to its portfolio, if the stock continues to lag into 2017. In particular, the future of the Healthcare business may come under some scrutiny," Mitchell continued.
Further, the analyst expects GE's M&A path to continue with more than $10 billion of estimated drypower left after the third quarter acquisitions and cash to Baker Hughes shareholders.
However, shares of Baker Hughes continue to fall on the news, as investors were anticipating an acquisition rather than a partnership. But, Mitchell feels the future value of the deal will take time to unlock.
At the time of writing, shares of GE were down 1.13 percent to $28.77. Baker Hughes fell 1.50 percent to $54.57.
View Comments and Join the Discussion!
Posted-In: Analyst Color M&A News Price Target Commodities Reiteration Markets Analyst Ratings Best of Benzinga