Trick Or Treat! Will Fed, Earnings, Jobs Report Offer Candy Or A Bag Of Rocks?
Halloween is upon us, and so are more earnings, the monthly jobs report, a Fed meeting, and additional economic data on everything from car sales to factory orders. Don't get spooked, but this coming week's full slate of potential market-moving news ahead of the U.S. election might create a little market volatility.
The CBOE's VIX index, which measures volatility, was close to 15 on Friday, below the October high of 17 but up from recent lows. Keep an eye on VIX as the week advances, because it often spikes as an election approaches. In choppy markets, investors might want to consider paying extra close attention to the market, and also need to be careful not to let large daily moves in either direction lead to any rash decisions.
Speaking of decisions, the decision on a rate hike is widely expected to be "no" when the Federal Open Market Committee (FOMC) meets this coming Tuesday and Wednesday. There's just a 9% chance of a hike, according to futures prices at the CME Group. Still, it's not advised to get too sanguine, because the Fed may make observations about the economy, and anything Fed officials say has the potential to move the market.
The Fed almost certainly took note of Friday's Q3 Gross Domestic Product (GDP) estimate, which came in above expectations at 2.9%. That's quite a jump from the rather anemic 1.1% growth posted in the first half, and represents the strongest quarterly performance in two years. It's still early, but data like this could point to a robust holiday shopping season. The spate of recent strong economic data also has the potential to reinforce hawkish perspectives about the Fed's December meeting, where the futures market now predicts a 75% chance of a rate hike. That's one reason why the bond market slumped last week, pushing Treasury yields up to their highest levels since last May. Certain market sectors, including real estate, appeared somewhat haunted by the prospect of higher rates (see below).
As the weather cools off heading into November, the hottest two weeks of earnings season are now behind. But from what we've seen so far, things may be beginning to turn around for many companies. For the first time in more than a year, earnings per share appear set to grow year over year this quarter, though at a modest pace of 0.6% for S&P 500 stocks, according to S&P Global. That's quite an improvement from a 1.8% decline in Q2 and a 6.8% drop in Q1, and would be even stronger if not for energy sector earnings dragging the overall average down. Looking ahead, S&P Global expects Q4 earnings per share to rise 6%, bringing full-year EPS to a slim drop of about 0.4%.
Though earnings season is getting a little long in the tooth, that doesn't mean it's over. Plenty of big names remain, and some on the docket this coming week include Archer Daniels Midland Company (NYSE: ADM), BP plc (ADR) (NYSE: BP) and Pfizer Inc. (NYSE: PFE) on Tuesday; Facebook Inc (NASDAQ: FB) on Wednesday, Starbucks Corporation (NASDAQ: SBUX) on Thursday, and a number of energy and health care companies scattered throughout the week.
And if all that isn't enough to keep things interesting, wait until Friday, when the government reports its monthly jobs data for October. Recall that the September report showed 156,000 new jobs created, a bit below expectations but widely considered solid. Unemployment ticked up to 5%, but that was in part due to more people entering the job market, often seen as a bullish sign. Friday's jobs report is the last major data item to mark off ahead of the Nov. 8 presidential election, and at least until then, get ready for possible frights as the market navigates this tricky season.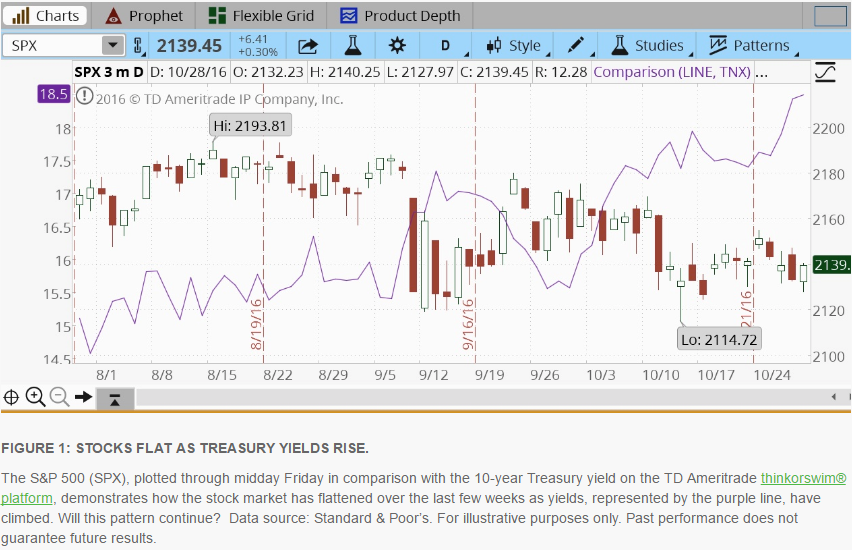 Goodbye Cheap Mortgages? Rising interest rates can often be a sign of economic optimism, but they seem to be playing havoc with the real estate sector. That interest rate-sensitive group fell late last week as U.S. 10-year Treasury yields rose to five-month highs at around 1.86%, and is down nearly 9% over the last month, though it clawed its way back to some early gains Friday. Could current dirt-cheap mortgage rates be on their way out? Though a rate hike isn't expected at next week's FOMC meeting, we could get a sense of the Fed's views on economic performance. Interest rates, even if they rise by the end of the year, remain low historically, perhaps a soothing factor for anyone invested in real estate stocks.
Oil Slumping: Crude oil prices were drifting lower by the end of last week, falling well below $50 a barrel at times on Friday amid renewed concerns about whether an OPEC production freeze deal could be worked out. Some of the biggest energy names reported late last week, and results appeared somewhat mixed in spite of the recent oil market rally. Exxon Mobil Corporation (NYSE: XOM), for instance, beat Wall Street analysts' consensus earnings per share estimate, but revenue missed expectations. Chevron Corporation (NYSE: CVX) also beat EPS estimates but didn't quite match estimates for quarterly revenue. Profit at both companies was down markedly from a year earlier, but that was widely expected considering long-term weakness in crude oil. The oil market remains near its highs for the year, but was on track Friday to post a lower move for the week as a whole.
Post-Election Rally Hopes: This choppy period the market seems stuck in could be due in part to investor uncertainty over the approaching U.S. election, and that extends beyond the presidential race to the House and Senate contests as well. Some say the end of election uncertainty after Nov. 8 could propel stock prices into a more bullish mode. Since World War II, the lifting of this uncertainty, regardless of victor, has seen the S&P 500 index (SPX) rise an average of nearly 2% through the end of the year and gain in price more than 70% of the time, according to research by S&P Global.
The preceding article is from one of our external contributors. It does not represent the opinion of Benzinga and has not been edited.
Posted-In: Analyst Color Earnings News Guidance Events Global Econ #s Economics
View Comments and Join the Discussion!