Earnings Season Surprise: Alcoa Reports Early And Misses Wall Street's Mark.
Let the earnings games begin. Alcoa Inc (NYSE: AA) surprised Wall Street ahead of the open today by announcing results earlier than scheduled and that fell short of expectations. The markets, already sloping downward apparently tied to a fallback in oil prices, slid further after the results were announced. Is that a harbinger of what's ahead on the earnings front?
AA's profit, expected at $0.33 a share, missed analysts' projections by $0.02 cents. Shares sank as much as 7% in pre-market activity, wiping out this year's gain of 6.4% and then some. Investors had not expected to see the Q3 results until after the bell.
Many analysts see the quarter's cumulative on the S&P 500 (SPX) results coming in lower yet again, marking the fifth straight quarter of declining earnings, according to CFRA Research. But if corporations continue to outpace Wall Street's expectations as many have in recent years, that could sway those numbers to the upside, according to some analysts.
"If we can somehow get to flat in earnings, that would be very supportive of equity markets in general," Jon Adams, an investment strategist at BMO Global Asset management, told the Wall Street Journal. "At some point, we need to see top-line growth to justify (current) valuations."
We've got a good six weeks to see if that pans out and it's far too early in the season to make any kind of well-informed prognostications on that. Plus, while AA has the time-honored distinction of leading the earnings parade (though a handful of companies already have reported), many analysts say they look to Friday's results from major banks like JPMorgan Chase & Co. (NYSE: JPM) and Wells Fargo & Co (NYSE: WFC) to be the true start of the third-quarter wrap up. It also will be the first time WFC is facing investors since the phony-account affair was uncovered.
Market Meandering
In the early going, the three major benchmarks retreated. Some analysts also blamed it on a 1% drop in U.S. oil prices after what they described as lingering doubts that Saudi Arabia and Russia will be able to make an output-freeze deal on supplies of crude oil, as promised Monday. That support for a deal from both yesterday appeared to help West Texas Intermediate (CLX6) oil futures surge 3% to close at $51.35 a barrel, a level they haven't seen since July 2015. Early on today, futures were still holding above the key $50-mark but had lost some 1%.
As apparent in Monday's rally, the correlation between crude-oil prices and the S&P 500's (SPX) looked to be in play again. On Monday the SPX energy index spiked as did the Dow Jones Industrials (DJIA), led by robust turns to the upside by components Exxon Mobil Corporation (NYSE: XOM) and Chevron Corporation (NYSE: CVX), the Dow's biggest advancers. Meanwhile, the Nasdaq 100 index set a fresh peak with yesterday's rally. All three were lower at the open.
Among more notable movers Monday were shares of Twitter Inc (NYSE: TWTR), losing another 12% after talks of a takeover fizzled. In the early going, shares were struggling to stay positive amid a published report that salesforce.com, inc. (NYSE: CRM) was still talking about buying the social-media firm.
Meanwhile, Tesla Motors Inc (NASDAQ: TSLA) shares sped higher yesterday after Chief Executive Elon Musk sent a message on Twitter—which some market pundits called "tweet talking" investors—dismissing the company's need to raise capital in Q4. That appeared to be in contrast to statement in a Securities and Exchange filing from Friday in which it said it "is currently planning to raise additional funds by the end of the year." Stay tuned.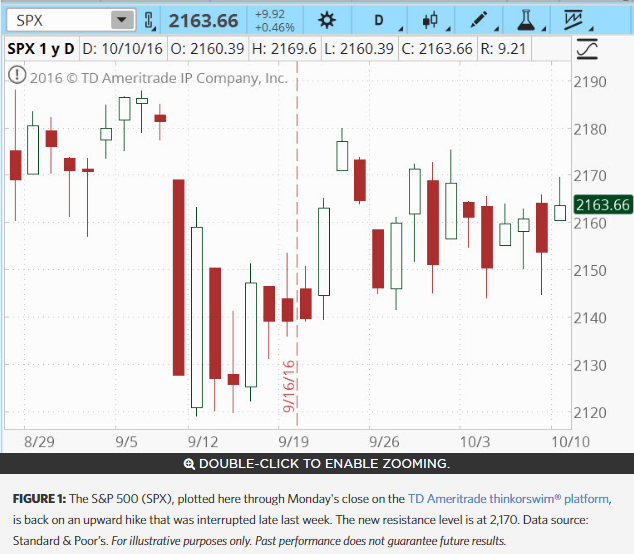 Small Business Confidence Rattled. Like the stock market, small-business confidence goes up and goes down. Small-business owners' comfort and optimism about their economic states stumbled in September, marking the second month of slippage after posting its most upbeat assessment in July, according to a national trade group.
For September, the National Federation of Independent Business' small-business optimism index stood at 94.1 compared with August's 94.4 stance and July's 94.6 level. That was another miss on Wall Street's expectations, which were at 95.
The results of the 10 components weighed were split with five up and five down, but declines in job openings, inventory satisfaction, and plans for inventory investments appeared to outweigh a better outlook on business conditions. The index is often referred to by economists for its readings on hiring and wage trends.
Global Issues, According to Goldman. Some 400 attendees at Goldman Sachs Growth Markets Conference last weekend were queried on their thoughts on some of the key issues challenging the global economy. The responses, among investors, policymakers and government officials across the world were varied, of course. But Goldman grouped the key takeaways together and here are the biggest concerns:
Nearly 70% called the Federal Reserve's low-interest policy "worrisome" to financial imbalances, noting that the worse-case scenario was "too much 'reach for yield' in spread markets." That underscores what many market analysts have been saying for some time, that the search for yield may be among the reasons behind this year's rallies that may not have been supported by basic fundamentals.
Some 45% think higher yielding assets, including emerging markets, will be most at risk if the Fed goes beyond its current projected path of interest-rate hikes.
More than 50% say China's economy, a long-time engine of global growth, will slow down next year.
But 93% see Brazil's engines firing up to move its economy into positive territory next year.
Yes, a Robot Will Take Your Job. But don't worry, be prepared. That's the advice from Christine Lagarde, the International Monetary Fund's managing director. In a recent interview with the Wall Street Journal, Lagarde said the IMF is stepping up efforts to get its 189-member group well equipped to embrace and capitalize on technology at a time when global economic growth is "fairly bleak, fragile and certainly insufficient," she told WSJ in a videotaped interview.
"There is clearly a fear and anxiety that robots are going to take over the jobs and that is going to create significant unemployment," she said. "But this is something that we have seen over and over in the last so many centuries where a breakthrough in technology, a significant innovation, creates fear and anxiety, does eliminate jobs.
"But by the same token, new jobs are created," she added. "The real challenge is how do we prepare…how do we retain those whose jobs will be eliminated by robots to make sure that we don't have more inequality and more disruption." Prepare with new training and education for new opportunities, she added.
TD Ameritrade and all third parties mentioned are separate and unaffiliated companies, and are not responsible for each other's policies or services.
Inclusion of specific security names in this commentary does not constitute a recommendation from TD Ameritrade to buy, sell, or hold.
Market volatility, volume, and system availability may delay account access and trade executions.
Past performance of a security or strategy does not guarantee future results or success.
Options are not suitable for all investors as the special risks inherent to options trading may expose investors to potentially rapid and substantial losses. Options trading subject to TD Ameritrade review and approval. Please read Characteristics and Risks of Standardized Options before investing in options.
Supporting documentation for any claims, comparisons, statistics, or other technical data will be supplied upon request.
The information is not intended to be investment advice or construed as a recommendation or endorsement of any particular investment or investment strategy, and is for illustrative purposes only. Be sure to understand all risks involved with each strategy, including commission costs, before attempting to place any trade. Clients must consider all relevant risk factors, including their own personal financial situations, before trading.
TD Ameritrade, Inc., member FINRA/SIPC. TD Ameritrade is a trademark jointly owned by TD Ameritrade IP Company, Inc. and The Toronto-Dominion Bank. © 2016 TD Ameritrade IP Company, Inc. All rights reserved. Used with permission.
Posted-In: Analyst Color Broad U.S. Equity ETFs Commodities Economics Markets Analyst Ratings Reviews ETFs
View Comments and Join the Discussion!