S&P Futures Almost Make All-Time High, Then Fall Almost 100 Points
Thursday night is turning out to be one of the most exciting nights of the year for financial markets. S&P 500 futures came within 2 percent of the all-time high (2,134) at the close of equity trading Thursday, suggesting a majority of investors expected a clear remain vote. Futures climbed within 0.7 percent of the all-time high shortly after.
However, a nearly 100-point swing (4.7 percent) from peak to trough took place instead. After an initial run higher to 2,119.5, futures fell to 2,025. Here is a five-day chart to put volatility into perspective.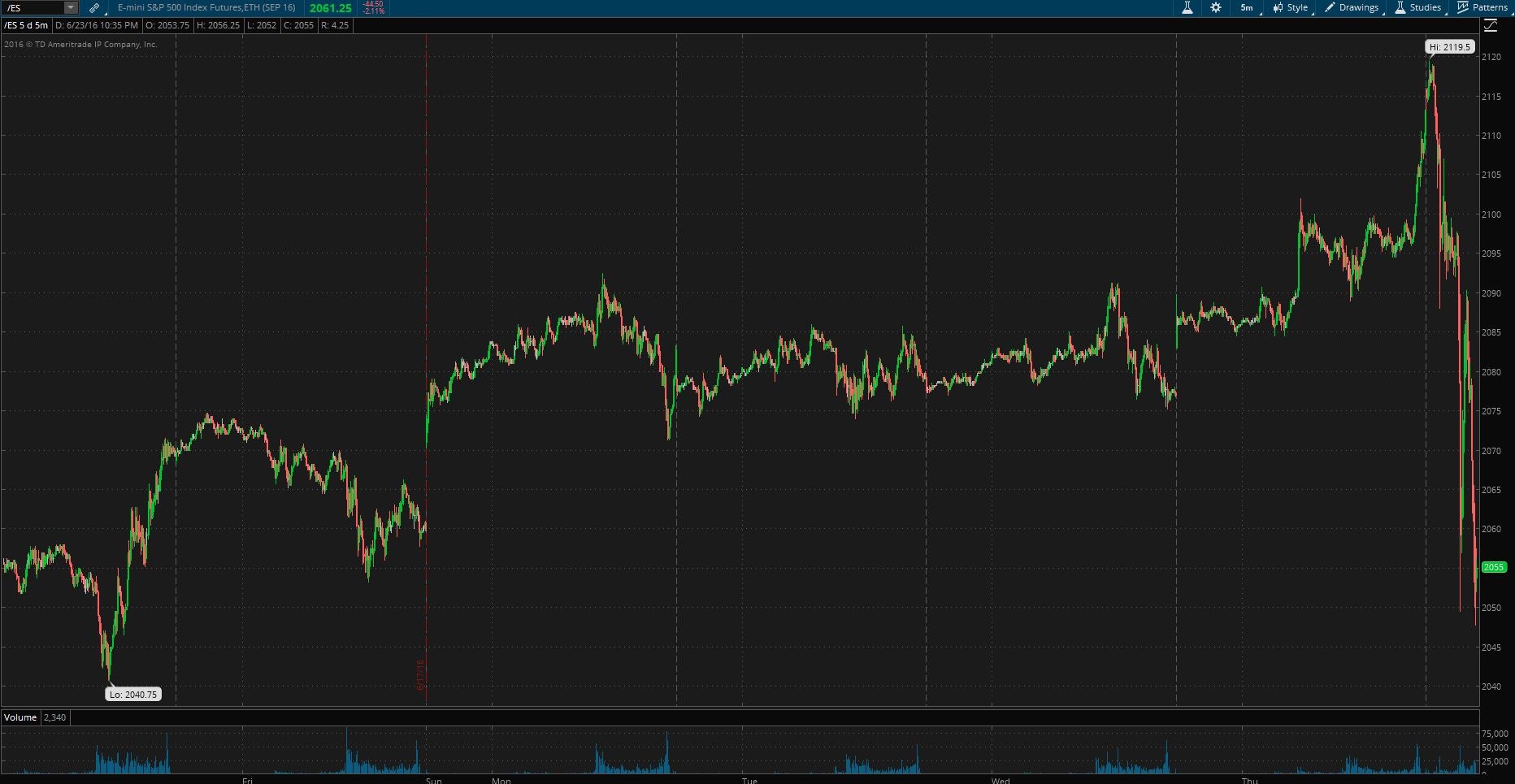 As of 10:40 p.m. EST, 185 of 382 areas have reported results with 48.8 percent voting to remain in the EU and 51.2 percent voting to leave. A final tally can be expected around 2:00 a.m. EST.
Voter turn out is 71.4 percent thus far. In comparison, 54.9 percent of eligible Americans voted in the 2012 presidential election.
Simon Wells of HSBC expects a Brexit may cause a domino effect triggered by initial panic. Wells expects that U.K. GDP growth would be cut in half from 2.3 percent to 0.8-1.3 percent accompanied by a 15-20 percent devaluation in the sterling versus the U.S. Dollar.
At last check, S&P 500 futures were nearing lows at 2,056.5.
Posted-In: Analyst Color News Eurozone Markets
View Comments and Join the Discussion!