The Pros And Cons Of Amazon For Vendors, Retailers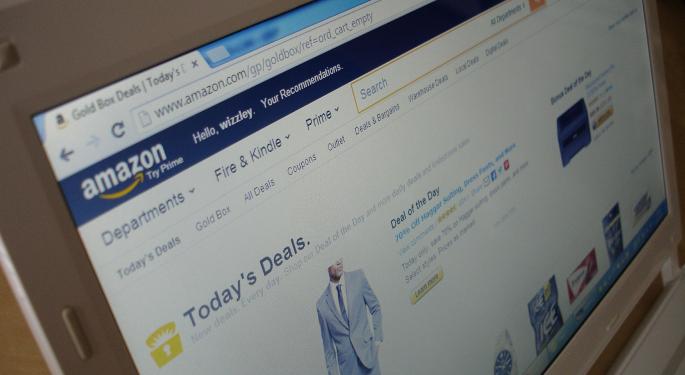 Vendors and retailers have different strategies to face the competitive threat presented by Amazon.com, Inc. (NASDAQ: AMZN). While some view Amazon as another major point of distribution, others have a limit presence on the platform or have entirely avoided the company's websites and services, Citi's Kate McShane said in a report.
Amazon Outpaces Brick-and-Mortar
Traffic trends at US brick-and-mortar outlets have been under pressure over the past couple of years, declining by an average of 4 percent y/y every month since mid-2014. On the other hand, unique visitors to Amazon.com have risen by an average of 16 percent y/y per month over the same period. This ongoing shift is the main reason for heightened interest in Amazon, McShane commented.
Related Link: Ask Siri: How Will You Keep Up With Amazon's Alexa?
Pros Of Partnering With Amazon
McShane enumerated the benefits of partnering with Amazon as:
High traffic levels: Allow to expose product to a wider base of potential customers
Product referrals: Specific sections drive complementary purchases
Lower relative spending requirements: Set up and maintain Amazon store at a significantly lower cost than owned ecommerce site
Leveling of price-based playing field: Amazon is no longer undercutting other wholesale accounts on price
Cons Of Partnering With Amazon
The analyst mentioned the advantages of focusing on one's own direct-to-consumer business as:
Control over brand building: Amazon's branding options are limited
Creating a relationship with the customer: Visitors to Amazon sites are largely loyal to Amazon, rather than to a brand
Products becoming commoditized on Amazon sites: Competition on Amazon is largely price based, eroding margin and brand equity
Retailers following a store-based strategy: Retailers often attract customers with "the treasure-hunt aspect of the instore shopping experience, something that cannot (as of yet) be replicated online."
Posted-In: Citi Kate McShaneAnalyst Color Top Stories Tech Best of Benzinga
View Comments and Join the Discussion!