What Would A Gannett-Tribune Takeover Mean For The News Industry?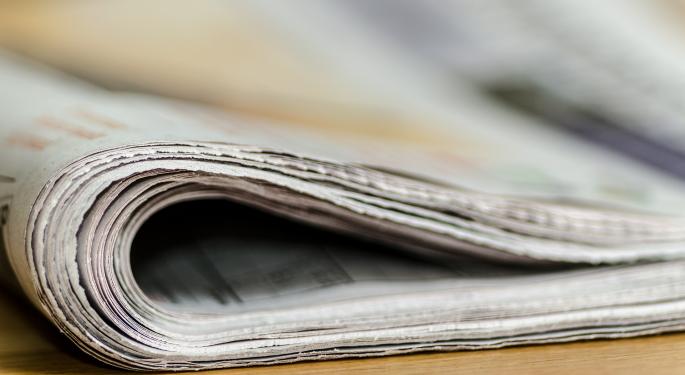 "Newspaper reporter" was recently named the worst job of 2016, as a "gradual decline in print publications at the turn of the century became a steep downturn for the past decade." As layoffs and consolidation in the industry have picked up, so has merger and acquisition talk. The latest comes from two of the biggest names in the industry.
On Monday morning, Gannett Co Inc (NYSE: GCI), the largest newspaper publisher in the country, disclosed it has proposed to buy Tribune Publishing Co (NYSE: TPUB) for $12.25/share in cash. The proposal calculated the total value to be about $815 million, including the assumption of some liabilities such as $390 million outstanding debt as of December last year.
Gannett Chairman John Jeffry Louis noted, among other things, "a combination with Tribune would rapidly advance Gannett's strategy to grow the USA TODAY NETWORK, the largest local to national network of journalists in the country."
Related Link: Tribune Publishing Confirms Unsolicited Offer From Gannett
For its part, Tribune said immediately upon receiving the proposal, it communicated to Gannett that the board would hire financial and legal advisors to help in reviewing the proposal. The company indicated that it would respond to Gannett as soon as possible.
What Does It Mean?
So, what does this mean for the state of news media?
"Gannett is going for the newspaper/news website/news mobile knockout punch so as to be way bigger than all the rest," Dr. John Hartman told Benzinga. "Gannett spun off its television stations a year or so ago to a company called TEGNA so it no longer has to worry about prohibitions against owning TV stations and newspapers in the same market, so it can expand its news empire with few restraints."
Hartman is professor emeritus of journalism at Central Michigan University. He has written two books on the industry: "The USA Today Way 2: The Future" (2000) and "The USA Today Way" (1992).
"All Gannett papers are part of the USA TODAY Network and carry content from USA TODAY every day, so the whole thing put together will truly be a coast to coast operation."
Hartman acknowledged Tribune was in bankruptcy for several years and has struggled since emerging. Tribune's current chairman Michael Ferro recently took over, although he had no newspaper background or operating record. Hartman echoed sentiment from Capital New York: Gannett made Ferro an offer too good to refuse.
Gannett Surviving
Gannett has remained profitable, even as the newspaper industry slumped, and hasn't had to resort to bankruptcy court like many others. However, Gannett recently reported Q4 revenues down 9.7 percent. While job cuts would most likely occur, Hartman noted some of the top reporters, columnists, photographers for Los Angeles Times, Chicago Tribune and others will now have a national audience.
After splitting from its TV division, Tribune Media Co (NYSE: TRCO), in August 2014, Tribune Publishing's stock fell from around $25 a share to just over $7. The stock spiked more than 50 percent to $11.50 on Monday following the takeover report.
Gannett bought Journal Media newspapers late in 2015. Capital New York continued, "[Gannett CEO Robert] Dickey said the company had an appetite for more. Though Dickey said Gannett, long focused on smaller-than-metro-market-sized dailies, would consider metro markets, a reach for this set of papers is surprising. Metro markets have consistently performed even less well than dailies overall."
Hartman concluded in an email, "Gannett may spin off LA Times to group of billionaires in LA who want to make it great again and reflect region. Could happen with ChiTrib but less likely. Gannett's websites are state of the art and mobile efforts laudatory so that will help Tribune papers as well."
Gannett's stock closed at $16.79, up more than 6.4 percent on the day.
View Comments and Join the Discussion!
Posted-In: Capital New York ChiTrib John HartmanAnalyst Color M&A News Top Stories Exclusives Best of Benzinga