Anheuser-Busch InBev: Future M&A Potential?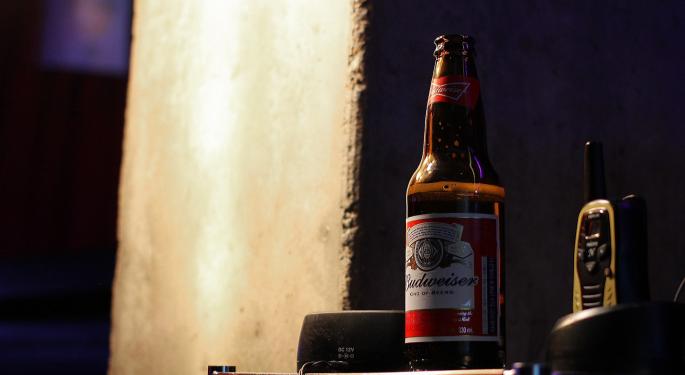 Anheuser Busch Inbev SA (ADR) (NYSE: BUD) may look at potential M&A opportunities to achieve its long-term target of $100 billion revenue by 2020, according to a note from Bernstein analyst Trevor Stirling.
According to a Form 20-F, the company's "Dream 2020" plan calls for revenues of $100 billion by 2020. In 2015, the company generated revenue of $43.6 billion. If the company achieves the target, the top 65 managers will share "6 million options with a strike price of $121.89, which will vest five years after date of the offer letter." If it fails to hit the target in 2020, "there are two more bites at the cherry in 2021 and 2022."
Why M&A Activity Might Make Sense
Stirling said the $100 billion target is unlikely to achieve with organic growth and the company has to pursue M&A.
Stirling estimates the proforma 2016 revenues for MegaBrew (Anheuser-Busch InBev and SABMiller plc (ADR) (OTC: SBMRY) (OTC: SBMRF)) at $55.7 billion as the organic growth will be offset by forex headwinds. In this scenario, ABI will have to generate $44 billion revenue in six years to hit the target.
Related Link: Cramer: Constellation Brands "Can Take Over The World"
"Even assuming an optimistic 7 percent blended organic top-line growth rate, and no further-FX headwinds, revenues would fall well short of the $100 billion target, at c.$73 billion in 2020, and c.$83 billion in 2022," Stirling explained.
"It would require favorable FX tailwinds of approx 30 percent to bridge the gap by 2022 (conceivable but hard to rely on), which leaves the possibility of further M&A to span the remaining $17 billion of revenue that would be required to reach the goal in 2022," the analyst highlighted.
Possible Targets
In the beer market, Stirling noted that ABI could look at buying remaining shares of Castel not held by SABMiller, which has a Right of First Refusal (RFR) if Pierre Castel or his family ever decides to sell shares outside the family. The analyst estimates Castel had about $6 billion of revenue in 2015.
"Assuming that this RFR transfers to ABI as an acquirer, and that the Castel family decide at some stage to sell, this would clearly potentially be a most attractive bolt-on deal. But there is no way of being sure that this transaction could take place before 2022," Stirling noted.
The analyst also sees the beer businesses of Diageo plc (ADR) (NYSE: DEO) (about $2.8 billion of revenue) and Anadolu Efes Biracilik ve Malt Sanayi AS (OTC: AEBMY) (OTC: AEBMF) (about $1.4 billion of beer revenue) as attractive targets for Anheuser Busch.
Related Link: Anheuser Busch InBev Announces Ashai To Acquire Certian SABMiller European Premium Brands
The analyst estimates that the beer business of Diageo could be worth up to £7.4 billion, but noted that the London-based brewer would be reluctant to sell its beer businesses.
Meanwhile, Efes' 51 percent stake in CocaCola Içecek (The Coca Cola Co (NYSE: KO)) may act as a roadblock in the potential deal, as the analyst said, "We believe that Coca Cola is likely to be very uncomfortable at the prospect of ABI being an anchor bottler in S Africa."
"If we are right, the same logic could make a full acquisition of EFES infeasible; although one could envisage a spinoff of CCI," the analyst added.
In addition, the analyst noted that Tsingtao, Snow and Beijing Yanjing are "almost certainly beyond ABI's reach for competition/regulatory reasons."
Triple Play?
owever, Stirling said Anheuser Busch would miss the $100 billion target even after acquiring these three businesses.
The analyst said though acquiring all of Diageo ($15.6 billion revenue) would "fill the gap in one fell swoop, we suspect that the fickle characteristics of the premium spirits industry make it inherently less attractive than beer and 'near-beer'."
Stirling also explored the possibility of ABI buying Coca-Cola and termed the potential merger as "MegaBev."
The potential acquisition of Coke makes sense for Anheuser Busch, as it would help company achieve its long-term target in one shot, with Coke hitting 2015 sales of $44.3 billion.
Further, the potential acquisition of Coke, which the analyst estimates would create a company with an enterprise value of more than $500 billion, offers the opportunity to take out cost and provides integration synergies with Coca-Cola-owned bottlers in emerging markets.
According to TipRanks, Stirling has a success rate of 50 percent with an average return per recommendation of -0.6 percent. The analyst is ranked 2,497 out of 3,907 analysts.
ADRs of Anheuser Busch Inbev were down 0.55 percent to $127.85. Stirling has a Market-Perform rating and $125 price target on the stock.
View Comments and Join the Discussion!
Posted-In: Analyst Color Long Ideas M&A News Price Target Analyst Ratings Movers Trading Ideas Best of Benzinga