2 Winners From AACR Flying Under The Radar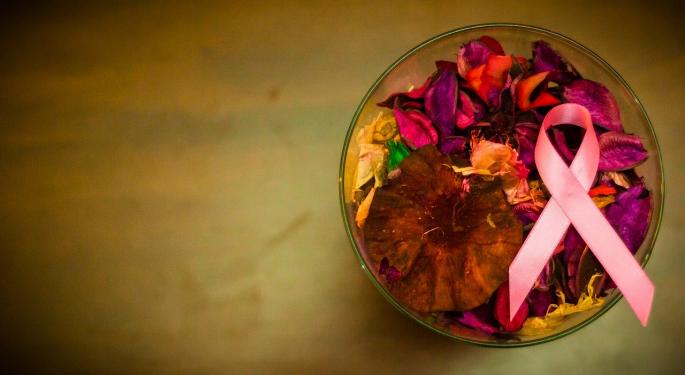 The American Association for Cancer Research (AACR) annual meeting is being held in New Orleans this week. Among the companies that presented data in the event are Juno Therapeutics Inc (NASDAQ: JUNO) and Five Prime Therapeutics Inc (NASDAQ: FPRX), two winners that are flying under the radar so far. So, let's take a closer look at the presented data and the companies themselves in order to find out if they stand as attractive investment options.
Juno's Promising Leukemia Data
The National Cancer Institute shared an update on the Phase 1 trial with Juno's fully-human anti-CD22 CAR T cell-based therapy in pediatric and young adult acute myeloid leukemia (ALL). The study showed an improvement in CRs, from 1/6 to 3/9 (or 100 percent at high dose) with duration of response of three to six months.
In a report issued Monday, SunTrust analyst Peter Lawson called this "a positive for Juno, that currently has anti-CD22 CAR T cells in the clinic (and Cellectis' UCART22 is in discovery phase)." Consequently, he reiterated a Buy rating and a $50 price target for the stock.
Related Link: Kite Pharma Falls 6%, Co. Confirms Review Of All Facilities Involving Sterile Material
Five Prime's Control Of Tumor Growth
For its part, Five Prime made public pre-clinical data for FPA144 (FGFR2b antibody) at the convention. The monoclonal antibody demonstrated additive activity in limiting tumor growth in vivo when combined with an anti-PD-1 mAb in mouse models.
Investors should recall that FPA144 is Fc-optimized for enhanced antibody dependent cell-mediated cytotoxicity (ADCC) and has proven NK-cell infiltration and persistence within tumors.
Five Prime also confirmed the antibody "upregulates PD-L1 expression and modulates the tumor micro-environment," an Oppenheimer report explicated.
Analysts Christopher Marai and Michelle Gilson "continue to expect initiation of a Phase 1b/2 trial of FPA144 in combination with an anti-PD-1 therapy."
Moreover, they noted that, while the company will not provide updates for FPA008 (anti-CSF1r antibody) at the AACR conference, competitors will present clinical data. For instance, on Wednesday evening, Amgen, Inc. (NASDAQ: AMGN) will present data on AMG820, which competes with Five Prime's anti-CSF1r antibody in solid tumors.
Oppenheimer has issued an Outperform rating on shares of Five Prime Therapeutics.
Disclosure: Javier Hasse holds no positions in any of the securities mentioned above.
Posted-In: Analyst Color Biotech Long Ideas News Health Care Price Target Reiteration Events Best of Benzinga
View Comments and Join the Discussion!